When I was living in my first apartment, I had absolutely NO room for anything!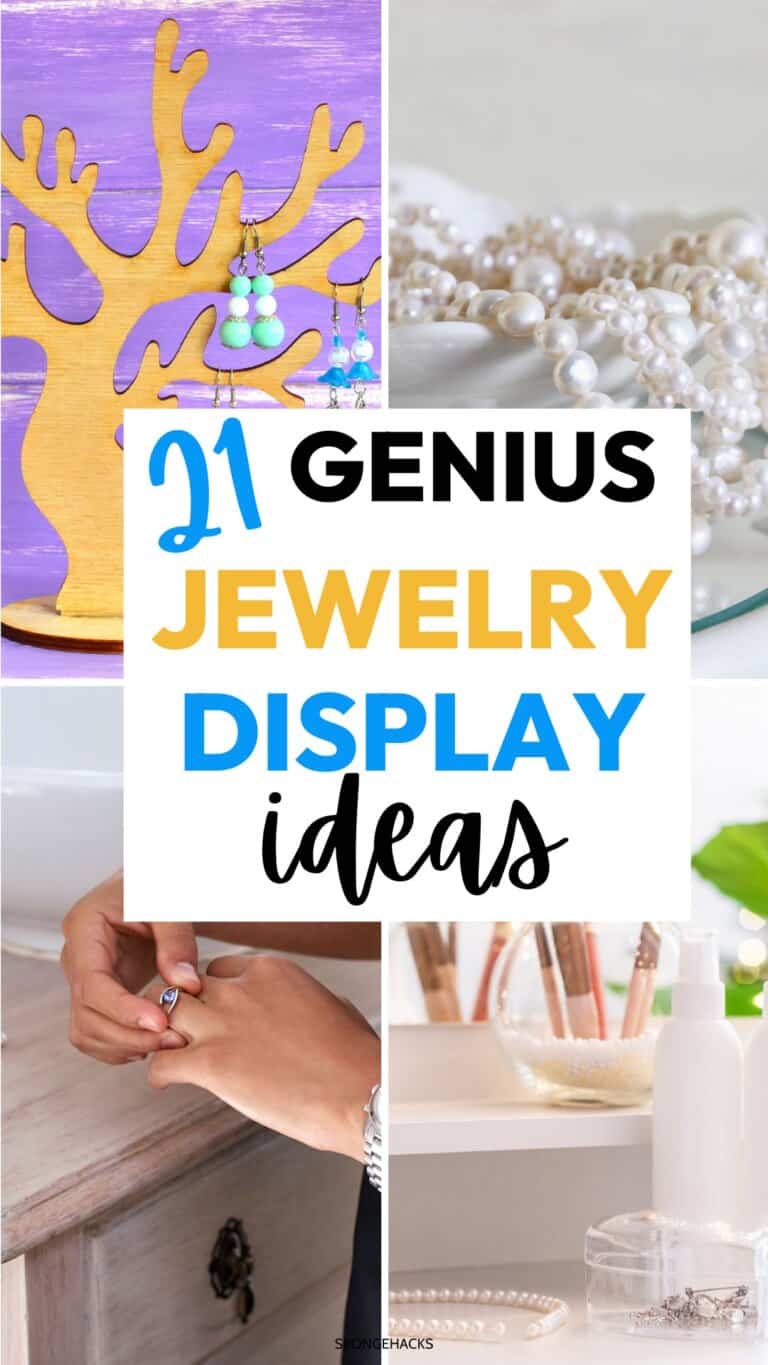 No makeup storage let alone ways to display my jewelry.
As I moved apartments and later bought my first home, I made sure that rooms and bathrooms had the space.
And now?
I need some easy jewelry display ideas because I can show them off.
I'm in luck (and so are you!).
I've looked all over and found the best ideas for jewelry display and I want to share them with you!
From table display ideas to DIY and more, I know you'll find the right now for you.
So, get ready!
Jewelry Display Ideas for Home
If you've been struggling to find a chic and space-saving way to show off your precious jewels in your small apartment, I've got a solution for you: display them on the wall!
Using vertical space is the key to optimizing your cozy digs.
Plus, not only will your jewelry be easily accessible, but they'll also double as wall art – talk about #multi-functional.
Whether you go for a simple pegboard setup or a stylish jewelry organizer, transforming your walls into a stunning jewelry display is sure to be a game-changer.
So, let's raise a glass to the magic of jewelry wall display ideas!
1. Hanging Jewelry Organizer
Are you tired of constantly digging through a tangled mess of jewelry every time you need to accessorize your outfit?
Say goodbye to that frustration and hello to the hanging jewelry organizer!
This convenient little wonder allows you to stylishly display all your favorite earrings, necklaces, and bracelets with ease.
Not only does it free up valuable drawer or countertop space, but it also provides a fun way to showcase your unique style.
No more misplaced earrings or broken chains – the hanging jewelry organizer keeps everything in its place.
So let's hang on tight to our cherished treasures and say hello to clutter-free accessory organization!
2. Hanging Jewelry Wall Organizer
I'M OBSESSED with this idea!
Say goodbye to the daily struggle and hello to convenience with a hanging jewelry wall organizer!
This nifty invention allows you to neatly display all of your necklaces, bracelets, and even your favorite perfume bottles.
Plus, it adds a touch of chic decor to your room! No more tangled chains or misplaced accessories – it's time to show off your stunning jewelry collection with style and ease.
3. Make it Look like Art
Don't you just LOVE this look? I do!
The honeycomb design provides ample space for all your favorite dangling earrings, stud earrings, and hoop earrings, as well as necklaces to hang with ease.
Versatility is key, and our organizer has got you covered. Say goodbye to cluttered drawers and hello to a stylish solution for your jewelry storage needs!
4. Jewelry Branches
Are you tired of constantly untangling your necklaces and searching for lost earrings?
Enter the jewelry branch organizer – your new best friend!
This 6-tier beauty has branches specifically designed to hold your necklaces and earrings, so you can say goodbye to the chaos.
And the best part?
It's so easy to install with the command strips included! Whether you want to hang it on the wall, closet, door, or mirror, this organizer has got you covered.
So, take a break from the mess and treat yourself to an organized and playful jewelry display!
5. Display Jewelry With Photos
Picture this: you stumble into your bedroom after a night out, dying to ditch your bling and hit the hay. But where the heck did you put your favorite necklace?
Instead of tearing apart your dresser drawers and overturning your bedside table, you can keep all of your treasures in one place with a hanging photo box!
Not only can you store all of your necklaces and earrings inside, but on the front, you can display your favorite photos to brighten up your room.
It's like a little gallery of your memories and accessories all in one.
So when you crash into bed at night, you can relax knowing that your gems are safely tucked away, and you can wake up to a delightful reminder of your adventures.
6. Macrame Jewelry Organizer
I am OBSESSED with macrame!
When I see it at the store, I want it and I end up buying it. That's why I MUST have this macrame jewelry organizer!
This is such a unique jewelry display idea that you could almost get away putting it anywhere in your apartment or home!
Jewelry Table Display Ideas
Are you looking for some fresh new ideas to spruce up your jewelry table display?
Jazz up your table by incorporating a variety of textures and colors.
Add some greenery with a potted succulent or two.
Whatever you do you'll gain some nice jewelry display table ideas or stand ideas or case ideas!
jewelry case display ideas
jewelry display table ideas
7. Jewelry Organizer Stand
I recently stumbled upon a game-changing addition to my room decor – this jewelry stand.
Let me tell you, this thing is a game-changer. It's fully assembled, so no need to worry about putting it together yourself.
The metal structure has a padded bottom, so all of your precious bling-bling is kept safely hung and organized.
The stand is perfect for storing necklaces, bracelets, earrings, and rings – no more rummaging around in a drawer looking for that one pair of earrings.
The best part? It doesn't have any pesky drawers, which is great since I already have a jewelry box.
I absolutely love this product!
8. Cute Deer Antler Jewelry Table Stand
Of all the jewelry display table ideas there are, this one is the BEST!
Don't you just LOVE how it looks?
This stand has everything you need to store and showcase your jewelry.
The antler branches are perfect for hanging your favorite necklaces, bracelets, and earrings.
But my favorite part is the bottom drawer – it's the perfect size for storing all of your rings, watches, and other treasures.
Plus, the design doesn't call for strict organization, which is perfect for your chaotic cluster of jewelry.
Needless to say, I'm absolutely in love with this antler-shaped display stand!
9. Silver Birds Tree Jewelry Stand
Have you ever found yourself digging through your jewelry box, trying to untangle necklaces or find that missing earring?
Well, not anymore!
This bird tree jewelry stand is here to save the day!
I LOVE how vintage this jewelry stand is – not only cute and functional, but it's also a perfect statement piece for any home.
Hang your bracelets and necklaces on it for easy access and less tangles.
Plus, it's great for keeping your small, dainty necklaces organized and looking their best.
Say goodbye to the dreaded jewelry box and hello to this amazing jewelry stand idea!
10. Four-Tier Jewelry Stand
I've got a game-changer for you – this chic jewelry stand.
This thing is the answer to all your accessory organization problems.
With its four tiers, you can finally say goodbye to the days of tangled necklaces and missing earrings.
And the space-saving tree design? Genius.
It'll bring a touch of nature to your living space while keeping your favorite baubles within arm's reach.
Plus, it's super cute and won't clutter up your room or bathroom counter.
You won't believe how much you can fit on this bad boy -–I'm talking 20-25 necklaces on the first 2 rows alone.
And they all fit comfortably with plenty of space in between.
Say hello to your new best friend, the FOUR-TIER jewelry stand.
Pegboard Jewelry Display Ideas
If you're looking for a fun and unique way to display your favorite jewelry pieces, then you'll love these pegboard ideas.
Get ready for a playful take on the traditional jewelry stand that's sure to bring a smile to your face.
With endless possibilities for customization with these pegboard jewelry display ideas, you can create a display that's as unique and quirky as you are.
Whether you're a minimalist at heart or a maximalist with a love for all things sparkly, the pegboard provides the perfect canvas for showcasing your favorite baubles.
So, let's get creative and explore some of the most exciting pegboard jewelry display ideas that will help your jewelry pop and provide you with some fun ideas!
11. Metal Pegboard Display
Want to keep your favorite accessories organized and within reach?
Check out this metal pegboard display rack!
Not only is it compact and perfect for those with limited counter space, but it also makes arranging and selecting your bracelets and necklaces a breeze.
And, let's be real, who doesn't love a good display to show off their favorite pieces?
So add some fun and practicality to your home or office space with this charming pegboard display!
12. Velvet Peg Jewelry Display
Looking for something soft and sleek to display your gorgeous jewelry collection?
Then this velvet peg jewelry display is for you!
With 17 hooks per tray, this black boutique display board can hang a whopping 34 of your most stunning necklaces, bracelets, and more.
And with its classy and sophisticated design, your jewelry will shine like never before.
Just be sure to keep it indoors – while the foldable cardboard stand is convenient for storage, it won't hold up under the sun.
So if you're looking to show off your accessories in style, get this peg board jewelry stand.
13. Rotating Peg Board Display
Are you tired of your customers struggling to get a clear look at all the fabulous pieces you have to offer?
Well, fear not – the rotating pegboard display is here to save the day!
With its nifty 360-degree base, you can examine your jewelry from every angle without ever having to move an inch.
Plus, the accessibility factor is through the roof – no more reaching or stretching to get the perfect necklace. Keep your stuff within arm's reach with this playful display.
DIY Jewelry Display Ideas
If you're anything like me, you love creating your own jewelry pieces.
But what's the point in making something fabulous if you can't show it off, right?
That's where DIY jewelry display ideas come in!
Whether you're looking to organize your current collection or display your latest creations, there are plenty of fun and creative ways to do so.
From rustic driftwood displays to chic geometric wire frames, the options are endless.
So don't let your beautiful baubles hide away any longer – let's get crafty and create a one-of-a-kind display to show them off!
14. Rustic Look
15. Use a Photo Frame
16. Try Old Bottles!
17. Use Rice
18. Make a Statement Piece
19. Construct Something Simple
20. Make a Rustic Tree
21. Make a Display
Clever Ways to Store Jewelry
Oh the joys of finding that perfect piece of jewelry to complete an outfit!
But as our collection grows, keeping it organized can become quite the challenge.
That's why I loved this list of some genius jewelry organization ideas!
I hope you find the one that fits your style.
Please follow me on Pinterest for more home decor and organizational ideas!