I've got the itch…to organize under my bathroom sink!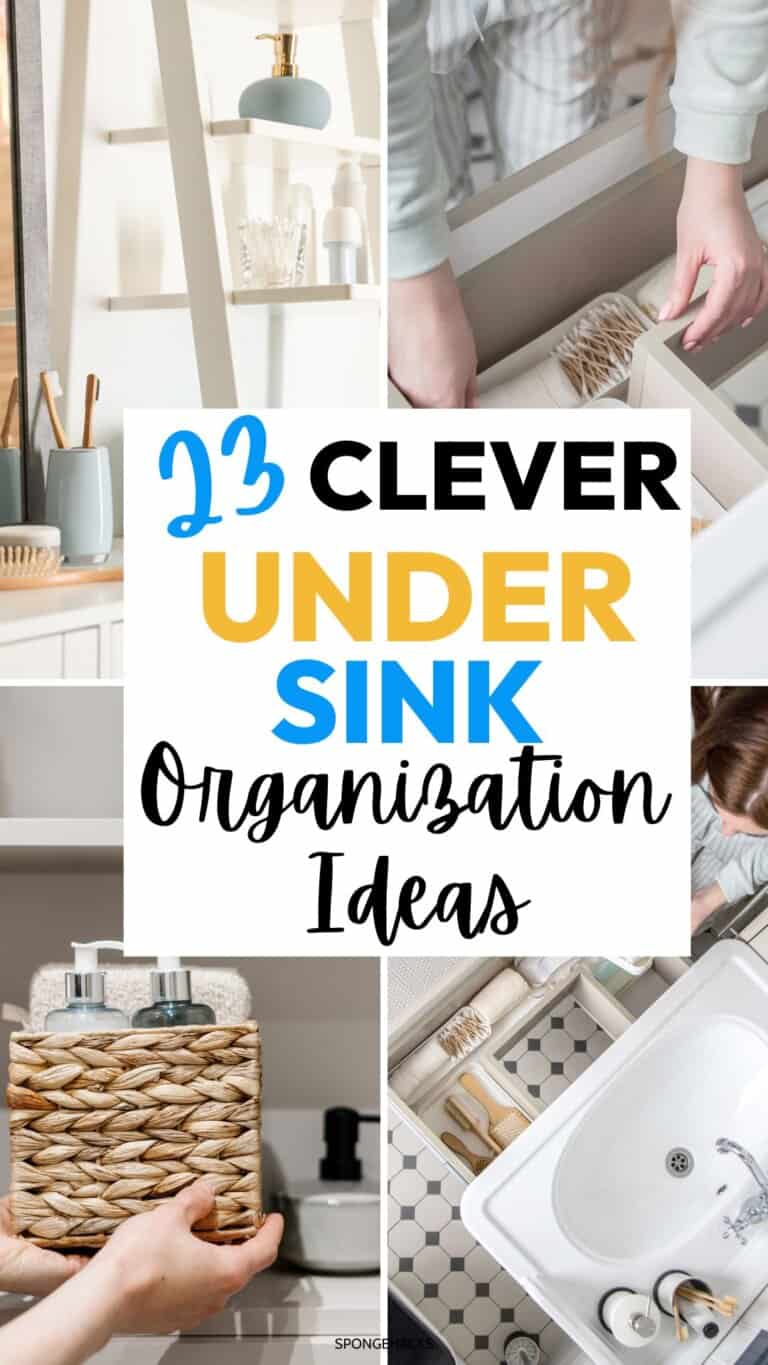 It's been bothering me soo much.
Yes! It's time to say peace out to the chaos and hello to a fresh undersink organization!
There is a lot of wasted space under there that can be used, especially if you don't have a bathroom closet you can organize – like me!
So, let me show you how to work some magic and make every inch count.
Don't matter if your bathroom is small – you can still make it happen!
You have to be really clever because under the bathroom sink is small. But if you're lucky, your sink will have a cabinet under it.
If not, don't worry! I have some ideas for that too!
Ready to tackle this mess?
Here are some clever ideas to level up your bathroom organization game.
Check Out These Bathroom Under Sink Organization Ideas
If the state of your bathroom under the sink is looking like a war zone these days, fear not!
Check out these ingenious organization ideas that'll have you saying goodbye to organizational chaos.
From organizing items with caddies and containers to installing drawers, you can make your under-sink area look on point.
And don't forget to add labels so you know exactly where everything lives—no more rummaging around each time you need something!
With creative solutions like these, tidying up won't be such a chore after all!
1. Install a Pull-Out Organizer
How easy does this look?
Install a pull-out organizer or basket for all your hair brushes, hair dryers and more at the back of the cabinet easily.
Look for one that is sturdy and fits under your sink. Also, make sure it glides smoothly – you don't want to be fighting a stuck drawer when you need your hair straightener!
Follow the instructions to install the drawer and enjoy your easy-to-access under-the-sink storage drawers!
Oh, and some pull-out drawers don't even need to be installed, like a sliding drawer basket organizer that just sits under your sink with usable drawers.
Awesome!
Drawers are great for storing toiletries, cleaning supplies, and towels so you don't have to go digging around for them.
2. Use a Hanging Caddy
Or, if you want something more chic, try this hanging caddy for over the cabinet door!
A caddy can help you keep all of your bathroom essentials organized and portable.
Forget about rummaging around on your hands and knees for that bottle of cleaner under the sink – this undersink organization has you covered!
Instead of dealing with cluttered cabinets and cramped countertops, just hang it over your cabinet door and store everything in one easy-to-access spot.
Put an end to disorderly spaces and experience the joys of having all your bathroom must-haves within arm's reach.
3. Use Clutter Catchers
Why not get some clutter catchers for all those little things you use in the bathroom?
You know, q-tips, tweezers, makeup and more!
Organize your items by type, putting the same things together so you know where to look for them when you need them.
For example, if your bathroom is small, it might be easier to keep all cleaning supplies together in one place instead of having separate containers for each type of cleaner (one for dish soap, another for laundry detergent, etc.).
Using clear containers is a great way to keep things organized and visible, but using a caddy means that you can easily pull it out from under your sink and use it where needed.
For example, if you're really low on space in your bathroom, you can keep all of your shampoos, conditioners, and body washes in a caddy and grab it whenever you take a shower.
4. Use an Over the Cabinet Wire Hanger
Keep it clean but also keep it together: an over the cabinet wire hanger is the perfect simple solution to getting and keeping your bathroom sink organized.
Don't worry about clutter and chaos – with just a few minutes of your time and some help from this trusty gadget, you can immediately upgrade your sinkside swag game.
With space for towels, washcloths, toiletries, and basically anything else you need to get accessible in the bathroom, this clever little hanger is basically a magician with your storage issues.
Make some extra room under your sink today with an over the cabinet wire hanger!
5. Install an Adjustable Expandable Shelf Under Your Sink
You can install an extendable shelf to help you maximize vertical space and keep your items organized or mount an adjustable shelf to hold your items.
This is a great space-saving idea because it frees up room on top of the countertops.
Plus it extends so the pipes don't get in the way under the sink.
You may want to consider purchasing a corner shelf if you have limited space in your bathroom.
If you do decide on this option, make sure that its dimensions fit properly into your corner so that it doesn't cover any plumbing pipes or water lines (you don't want those clogged!).
6. Use a 2-Tier System
Got a lot of stuff stashed under your bathroom sink?
Don't let it turn into an episode of Hoarders!
Take control and use a two-tiered organization system to keep your STUFF in check.
Rethink your whole approach by clearly assigning categories for each shelf: the top one can be just for toiletries and the bottom one for cleaning supplies.
Keep everything separated and labeled so that it's easy to grab what you need without having to rifle through a mountain of half-used bottles.
Plus, it'll help you stay on top of when you need to restock – no more running out of soap at the crucial moment!
So why not get tier'd up to maximize space and avoid taking a dive into chaos?
7. Use an Over-the-Door Shoe Organizer
Hang an over-the-door shoe organizer on the inside of the cabinet door to store smaller items such as hair accessories, makeup, or toiletries.
If you have a small bathroom, it's unlikely that you'll have room for an entire cabinet dedicated solely to toiletries.
That's why hanging a few over-the-door organizers on top of your under-the-sink storage cabinet doors is such an awesome solution!
They can be hung on either side of the door – inside or out – and are great for storing items like razor blades and toothbrushes (and even shampoo bottles).
8. Use a Tool Organizer for Under the Sink
Keeping your bathroom sink neat and organized can sometimes seem like a total 'shero' task (because it is!).
But don't worry, there's an easy way to get the job done.
An awesome tool organizer specifically made for under your sink will take all the stress away!
Pull it out once, put everything in its place, and enjoy the chic look this organizer gives off!
Trust us, when you start organizing with a great tool for under your sink, the storage solutions at your fingertips will make life easier even on those hectic days.
9. Use Stackable Makeup Bins
Stackable makeup bins can help you organize and categorize your items, making it easier to find what you need.
Choose bins that fit under your sink and stack neatly.
There's no point in trying to clean up the mess under your sink if you make a new one!
Bins with straight sides, instead of tapered ones, are easier to stack and will maximize your under-the-sink storage.
You can organize your bins by category, grouping similar items together to make everything easier to find.
For example, you can organize your makeup into one bin so you can easily pull it out every morning.
10. Use a Lazy Susan
I love Lazy Susans!
They are such a fabulous idea for under-the-bathroom sink storage!
A Lazy Susan can help you access items stored in the back of the cabinet without having to reach or move items around.
Basically, it's a tray that spins around, so you don't have to play Tetris to get to what you need under your sink.
Some Lazy Susans are just the tray, but others come with multiple compartments to help you organize your bathroom items.
For example, you can get one that is designed to hold your makeup to help keep things organized.
Or one with a lip to keep items from falling off.
11. Hang a Tension Rod with Baskets
In order to create some under-the-sink storage, you can hang a tension rod with baskets from it to hold towels or your bathroom cleaning supplies.
If you have cleaning supplies in spray bottles, you can just hang them by their nozzles!
Using tension rods and baskets makes use of the vertical space under your sink, keeping some items up high so you can store more underneath.
And using baskets will help keep your toiletries and stuff organized and make them easy to grab when you need them.
12. Use a File Holder or Magazine Holder
A file holder or magazine holder can be used to organize and store items such as hair styling tools or flat irons.
Or, if you actually keep magazines in your bathroom – magazines!
File holders are great because a lot of them are made with different sections that cascade in front of each other, so you can see exactly what is in them.
Some have a box structure that allows you to organize your items side by side.
Or you can grab a mesh wall magazine holder that you can attach to your under-the-sink storage cabinet doors.
There's so much you can do with these!
13. Add Command Hooks Inside the Cabinet Door
Command hooks can be installed on the inside of the cabinet door to hang items such as washcloths or loofahs.
Or you can attach a small pegboard so you can move around the hooks!
Pegboards are cheap and easy to install so they can be used in any room of your house (and trust me when I say this will make more sense once you see how cool it looks).
Once installed, hang hooks in different sizes along the board to accommodate all sizes of products, from shampoo bottles to conditioner containers.
Then place them according to use – first things first!
14. Make Everything Match!
I know this isn't really a storage or organizing tip for under the sink, but isn't just beautiful when everything matches…behind a cabinet door?
Get the same clutter catchers, jars and spray bottles to make everything look like a magazine photo!
What About Storage Under a Pedestal Sink?
If you have a pedestal sink in your bathroom, storage options can be limited!
I love the minimalist look of a pedestal sink, but they suck when it comes to counter space and finding a place to put all of your toiletries.
But if you have a pedestal sink, don't worry!
There are still several ways to maximize storage space in a bathroom with a pedestal sink.
15. Use a Vanity Cabinet for a Pedestal Sink
With a vanity cabinet, you'll have that extra bit of oomph to elevate your pedestal sink into an eye-catcher. n can make for some sass in any bathroom!
If you're looking for ways to add more modern style and storage to your biffy, then a vanity cabinet could be the missing piece of the puzzle.
When paired with a pedestal sink, it's the perfect way to spruce up your washroom and keep all those necessary items within reach.
Plus, let's face it, having less clutter in such close quarters is pretty hard to beat!
16. Use Floating Shelves
Floating shelves can be installed above the sink to hold toiletries, towels, and other small items.
Take your bathroom from "blah" to "hello!" with a few stylish floating shelves above your pedestal sink.
No more throwing toiletries, towels, and other bits onto the floor; now you can store all those small items in style with the convenience of never having to fumble underneath the sink.
A floating shelf is an easy and affordable way to add both style and storage to your bathroom while giving it that extra oomph.
Who said you couldn't make a bathroom mirror selfie-worthy?
Get creative and make use of offbeat colours or decorative products on the shelves — bring in a hint of zing and jazz up your personal space!
17. Use a Pedestal Storage Rack
Storing all your bathroom essentials in a pedestal storage rack can make using your pedestal sink a breeze.
Forget having to dig through piles of cleaning supplies and toiletries every time you need something, and instead put them on display with this handy little rack.
Perfect for those who are short on storage space but still want to add a bit of charm and convenience to their bathrooms, this storage rack is sure to solve all your bathroom woes.
Plus, it's pretty cute too!
So, don't let the small size fool you—This useful piece of decor will help you get the most out of your pedestal sink.
18. Use a Ladder Shelf
If you're living the single life, cooking up dishes in your solo kitchen, there's no better way to show off that status than with a ladder shelf. A ladder shelf can be placed next to the sink to hold towels, washcloths, and other bathroom essentials.
This is perfect for tight spaces like a pedestal sink, it'll let you display all that sweet hand towel swag and other bathroom essentials.
No matter what, your visitors will know that you've got everything to sink in the style department.
19. Add a Cabinet
Sick and tired of having no storage in your restroom?
Step it up a notch and add a little cabinet to the wall next to your pedestal sink.
Not only does this look sleek, but you'll finally have somewhere to put all those odds and ends that always seem to accumulate around the room.
It won't take long to install, so don't stress – once you see the new look your bathroom will be rockin,' and you can start bragging about how cute it looks with pride.
No more messy counters or looking for places for toothpaste because soon you'll have an adorable mini cabinet keeping things afloat!
20. Use a Standing Caddy
Who knew a standing caddy could make your pedestal sink so chic?
This nifty accessory can really upgrade any basic bathroom – give it an instant facelift, if you will.
Hold those toothbrushes and shaving cream cans in style with the trusty standing caddy plopped beside the sink or atop it.
Plus it'll free up space elsewhere in the bathroom for other necessities!
Don't let your bare pedestal sink cramp your style – let a caddy turn your powder room into a stylish oasis.
21. Install a Corner Shelf
Installing a corner shelf for a pedestal sink in the bathroom is the perfect way to free up counter space and keep your toiletries and other small items within reach.
And it's pretty much next level – no more bending down, no mess on the floors or counters – what could be better?
Plus, you don't have to do any drilling with custom-design shelves, making installation easy and faster than ever.
So why not take things up a notch and give that bare corner some functional style with a convenient corner shelf?
22. Hang a Wire Basket
A wire basket can be hung on the wall next to the sink to hold towels or toiletries.
Add hooks
Hooks can be installed on the wall next to the sink to hold towels and washcloths.
23. Use a Rolling Cart
A small rolling cart can be placed next to the sink to hold toiletries and other bathroom essentials.
Having a pedestal sink is no excuse for a messy bathroom. Use these tips to keep everything in order!
Clever Under the Sink Storage Ideas
I hope these tips have inspired you to get creative with your bathroom under-sink organization!
No matter how big or small your bathroom is, a little creativity goes a long way to use the space under your sink more constructively to help declutter and organize your bathroom.
There are many ways to use the space under your sink, from storing extra cleaning supplies to organizing beauty products.
The key is finding solutions that work best for you!
Make sure to follow me on Pinterest for more organization, storage and cleaning ideas!