Moving into your first apartment is like finally getting your driver's license – exciting, scary, and you finally feel free!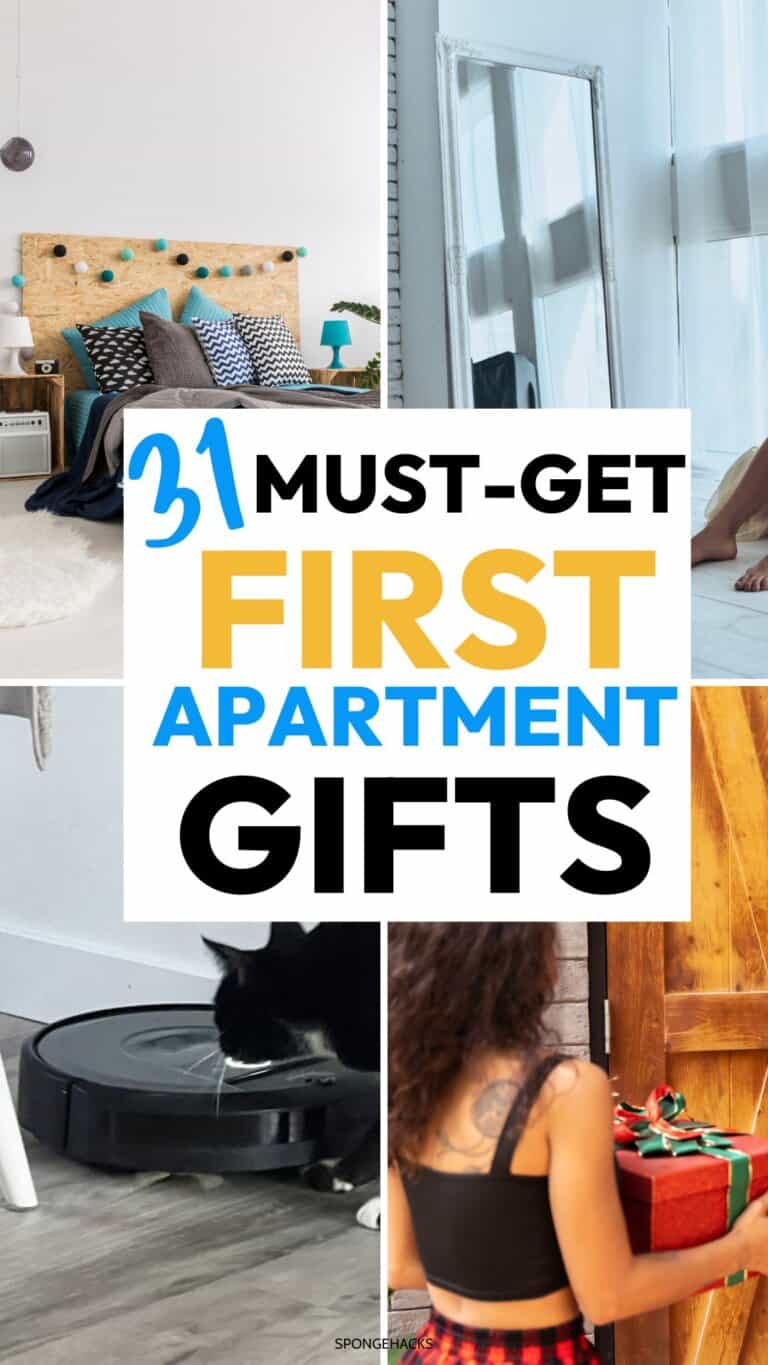 But with freedom comes responsibilities, and in this case, decorating responsibilities!
Choosing the right furniture and appliances is a chance for us to create a chic and cozy space.
And what better way to celebrate this milestone than with some fabulous first apartment gifts?
Finding the perfect idea can be just the cherry on top of an already sweet sundae.
But before we get into the gift ideas, let's talk about how to choose the perfect gift anyone moving into their first apartment will love and use.
What Are Good Gifts for a First Time Apartment Renter?
Choosing gifts to give someone who just moved into their first apartment can be a challenge since you want to make sure you get them something they will like and use.
Just think about their style – are they more into minimalism, or do they like eclectic decor?
Knowing how they prefer to decorate will help you choose a gift that will fit in with their personality.
You should also think about functionality and find out what they need. If they already have a coffee maker, they probably don't need another one – but maybe they need some new pots and pans.
Giving practical gifts is super thoughtful and can make first-time apartment living so much easier!
And most importantly, respect their lifestyle! Don't get them gifts you would love to have.
Give them gifts you think they would love to have.
Things that are practical and reflect their personality are the best gifts to give someone who just moved into their first apartment!
Okay, so we've talked about how to choose the perfect gift, now let's look at some awesome must-get first apartment gifts.
First Apartment Gifts for Her
Let's start with some new apartment gifts for the ladies!
I just want to say that while these are perfect first apartment gifts for her, there are plenty of men out there who would love gifts like these as well.
Just keep that in mind, 'kay?
So, let's check out the best gifts for first apartment peeps!
1. Bedding Set
Let's be real, there's nothing better than coming home after a long day and crawling into a cozy, stylish bed. It's like a little slice of heaven on earth.
It's my absolutely FAVORITE thing to do when coming home.
And if you're anything like me, then you know that a luxurious bedding set is a MUST for gifts for first apartment dwellers.
But it's not just about the comfort, honey – it's also about the aesthetic. Imagine having a bedroom set that looks like it belongs in a boutique hotel or on front of a magazine cover?
That's the kind of #goals we should all be striving for. (And don't worry, you don't need a Kardashian-sized bank account to make it happen for a friend or family member.)
2. Candles
Scented candles are a girl's best friend, no matter what mood you're in.
They don't only add a touch of elegance to your living space but create a relaxing atmosphere that can soothe your soul.
There's simply nothing quite like the flickering flame of a candle while you're lounging around in your new digs — it's practically custom-made for taking the edge off any hectic day.
Whether you're looking for your friend to destress after a long day, or just in the mood to create a cosy vibe before settling into that Netflix marathon, the right scented candle is the ultimate mood enhancer.
3. Cookware Set
When it comes to kitchen essentials, a new set of pots and pans is like the cherry on top of a sundae.
And let's face it, who doesn't love a little extra sweetening in their life?
Don't forget, appliances make good housewarming gifts for first apartment owners.
But here's the real tea: not all cookware sets are created equally. If you want to whip up culinary creations that would impress even Gordon Ramsay himself, you need to invest in high-quality pots and pans.
Trust me, you'll feel like a true chef extraordinaire with the right tools in hand.
And who knows, maybe you'll even be inspired to launch your own food empire like the queen herself, Kylie Jenner.
4. Wall Art
A blank wall doesn't have to be boring – with vintage wall art, it can be the canvas to showcase your friend or family's inner personality.
Whether it's a pop-art poster or a funky collage, choosing the right kind of wall art can perfectly encapsulate their vibe.
It's their way of saying "Hey world, this is me!"– and who doesn't love a little self-expression?
Plus, it's the perfect ice-breaker when hosting get-togethers, as guests can't help but ask about that quirky piece hanging on your wall.
5. Indoor Plants
I mean, who doesn't love a low-maintenance plant?
They're like the perfect roommate, always looking good without requiring constant attention.
And the fact that they purify the air?
That's like having a built-in air freshener that looks good too.
Plus, let's not forget the aesthetic benefits – plants just make spaces look so much better, you know?
It's like Mother Nature's way of giving your apartment a little extra spark.
So, if you're in need of a first apartment gift idea, then low-maintenance indoor plants are definitely the way to go.
Trust me, your apartment (and your Instagram) will thank you.
6. Jewelry Accessories
Anyone who owns jewelry knows how hard it can be to keep everything organized, which is why a jewelry box makes a good first apartment gift.
And not only is it functional, but it can become part of the decor as well!
7. Iced/Hot Keurig Coffee Maker
For the caffeine enthusiasts (and morning zombies), a hot/iced coffee maker is 100% a must-have appliance for a new apartment!
We all know the struggle of rolling out of bed in the morning, still half-asleep and in dire need of a caffeine boost.
But for those lucky apartment dwellers, the salvation they seek might be closer than they think.
No more shelling out absurd amounts of cash at cafes for subpar lattes – now, the sweet aroma of freshly brewed coffee can be all theirs.
And let's be real, who doesn't want to wake up to the heavenly scent of their favorite dark roast wafting through the air?
It's no surprise that coffee is the liquid lifeblood of the chicest and most trendy out there, proving that saving a few bucks has never been so stylish.
8. Full-Length Mirror
When it comes to apartment warming gifts, practicality and style are key.
And what better gift to give than a full-length mirror?
Not only is it a chic addition to any space, but it also serves as a confidence boost to anyone starting their day.
No more feeling unsure about an outfit choice or second-guessing a hairstyle.
With a full-length mirror, your friend will be able to strut out of her apartment with the confidence of a Kardashian (or perhaps a Jenner, since we're going with that tone of voice).
So go ahead and make your friend's day – gift her a stylish apartment warming gift that'll have her feeling like a million bucks every time she checks her reflection.
First Apartment Gifts for Him
Okay, now it's time for the gents!
Again, these gendered gifts are easily interchangeable – I mean, I know tons of ladies who would love a new toolset!
(And some men that would love a full-length mirror!)
So let's check out these first apartment gifts for him.
9. Tool Set
A toolset is one of the best gifts for someone with their first apartment so they can take care of small repairs and fixes around their new place (who doesn't want their damage deposit back?).
Plus, it's great to have for putting together furniture and hanging shelves.
10. Bluetooth Speaker
If your apartment friend is one of those people who can't function without music, then you know there's nothing worse than being stuck in silence.
Whether they're in a room, on their balcony, or even doing dishes, a portable Bluetooth speaker is the perfect welcome gift for him.
Not only can you blast your favorite songs, but you can also catch up on all the latest podcasts and audiobooks (because who has time to actually read?).
11. Ergonomic Chair
If the gent works from home, games, or spends a lot of time at his computer, then he needs an ergonomic chair to keep his back in good shape.
Not only will it support his productivity and/or hobbies, but it will support his spine as well.
12. Kitchen Gadgets
Help him elevate his culinary skills with some new kitchen gadgets, like an air fryer or food processor.
From quickly prepping ingredients to experimenting with new recipes, a fancy kitchen gadget will help him unleash his inner chef!
13. Barware Set
Looking for the perfect apartment warming gift for the budding mixologist in your life?
Then check out this sleek and chic barware set!
With all the right tools and glasses, they'll be mixing up delicious cocktails faster than you can say Taylor Swifts and Travis Kelce's mashup name "Traylor."
Whether they're entertaining guests or just enjoying a night in alone, this thoughtful and stylish gift is sure to impress.
So go ahead and raise a glass to the good life – with their new barware set, they'll be living it up in style!
14. Board Games
A collection of board games is perfect for date nights at home so that couples can have fun and spend quality time together.
From competitive strategy games to cooperative adventures, board games are an awesome addition to a new apartment.
15. Coffee Mugs
His and Hers coffee mugs can make the couple's morning routine even sweeter!
And they are the perfect gifts for someone moving into first apartment.
They can enjoy their favorite brews together with personalized and matching mugs
16. Matching Aprons
Speaking of matchy-matchy couples gifts, why not matching aprons?
They're practical and can make cooking together more fun and endearing.
And they make for cute best gifts for first time apartment renters.
17. Dual Shower Head
What are good gifts for first time apartment?
Let's be real, a fancy shower head isn't just any old bathroom upgrade – it's like the sweet cherry on top of the self-care sundae.
And who doesn't want to feel like a bougie superstar while they scrub themselves clean?
It doesn't matter if your friend is living in a tiny studio apartment or a penthouse, installing a dual shower head will take their bathroom game to a whole new level.
Cute First Apartment Gifts
Not all of the best gifts for first time apartment renters have to be super practical.
You can add a dash of charm and playfulness with these cute first apartment gift ideas.
18. Custom Doormat
Who says you can't make your rented space feel like home?
With a personalized doormat, you can add some major charm to an apartment entrance while also giving guests a laugh (or a sappy sentiment, if you're feeling sentimental).
And a custom doormat makes for the perfect housewarming present or wedding gift for your favorite couple.
Impress your visitors with your fabulous taste and show off your interior design skills.
19. Throw Blankets
Soft and decorative throw blankets can create a cozy and snuggly atmosphere in someone's first apartment.
Use them for snuggling on the couch, draping over the bed, or adding an extra layer of comfort.
20. Fairy Lights
Fairy lights are so much more than decor – they create a warm and magical ambiance in any space!
You can hang them on walls, wrap them around shelves, hang them from your curtain rods, or suspend them from the ceiling.
What an awesome way to add a touch of whimsy to a new apartment!
21. Mini Fridge
A compact mini fridge has just enough space for keeping snacks and drinks cool in living rooms and bedrooms.
Whether you're chilling a cold drink or preserving a late-night snack, mini fridges are a great way to make sure your munchies are within arm's reach!
Funny First Apartment Gifts
Who says gifts for someone moving into their first apartment have to be serious business?
Let's make the transition into apartment living more fun and entertaining!
22. Funny Shower Curtain
A funny or quirky shower curtain can really add some personality to an apartment bathroom.
There are tons of playful quotes and hilarious designs out there, so make sure to spend time finding the perfect one for a gift.
23. Cheeseburger Sheet Set
Who wouldn't want to climb into bed sheets that looks like a cheeseburger?
Food-themed bedding is hilarious and can really add some playfulness to an apartment bedroom.
24. Fish Toilet Paper Holder
If someone has a good sense of humor, I can see how this could easily fit into their decor!
A fish toilet paper holder (or any other whacky toilet paper holder) is a fantastic way to add a bit of quirk to an otherwise ordinary space – unless they already have a cat riding a whale and holding a trident shower curtain.
25. Dinosaur Taco Holder
Yes, this is 100% a thing and a hilarious thing to give or receive as a gift for a first apartment.
This quirky kitchen accessory is fun and unique, and although I never thought taco night could be any more awesome, these will certainly elevate the occasion.
Cool Gifts for First Apartment
If you're looking to transform a first apartment into a stylish and modern living space, then you need some cool gifts!
From techy gadgets to trendy decor, here are some of the best housewarming gifts for a first apartment to add a statement of personal style:
26. Projector and Screen
Who's ready for the ultimate movie night?
A projector and screen create the perfect setup for movie nights and can bring cinematic magic to a new apartment.
27. Robot Vacuum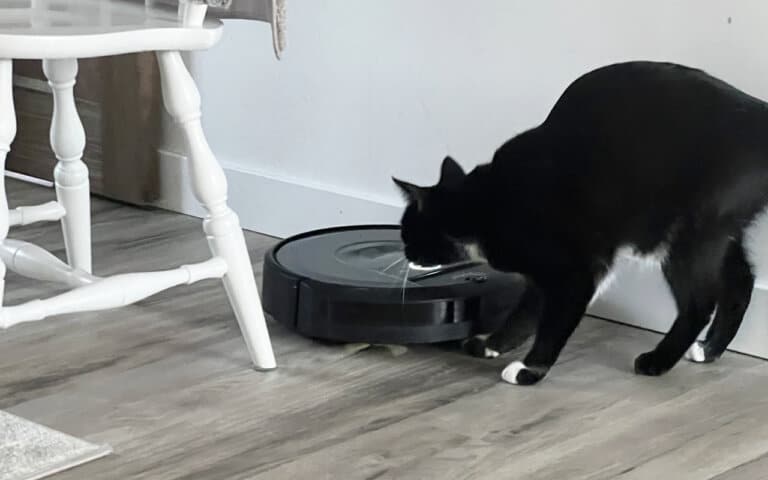 Robot vacuums aren't just a cool gadget, they're a time saver! It keeps apartments clean with minimal effort, and some can be programmed to sweep and vacuum while others can actually mop!
28. Retro Turntable
A vinyl turntable is a cool way to play music, but it's also a vintage-inspired piece of decor that can add a touch of nostalgia to a new apartment.
If you love old-school style and classic records, this is a must-have!
29. Bean Bag Chairs
Speaking of vintage, what about retro?
Bean bags are coming back into style, and they are a super comfy way to enjoy lounging around in a new apartment while watching movies, playing games, or hanging out with friends.
30. Smart Lights
Smart lighting systems let you customize your light and are also an energy-efficient option.
You can adjust colors and brightness by using an app or voice command.
How cool would that be for a first apartment?
31. Wireless Charging Station
Wireless charging stations are super cool and practical, allowing you to charge multiple devices at the same time.
No more cords or frantically running around looking for a charger!
And they make for good first apartment gifts too!
Celebrate Apartment-Warming Success with These Thoughtful Gifts!
Here's to making your first apartment feel like home!
Getting your own space is something definitely worth celebrating with new things.
The best gifts for first time apartment renters are practical, playful, and charming and will set the stage for a cozy and comfortable living space. From things that look cool to things that are useful, there are a ton of great ideas to choose from!
And if you're looking for other ways to settle in your new dwelling, check out these articles about living in your first apartment:
Now you're all set!
And remember to follow me on Pinterest for more home decor, organizing and cleaning tips!