Raise your hand if you've ever looked at your coffee table and thought, "Ugh, could you be any more boring?"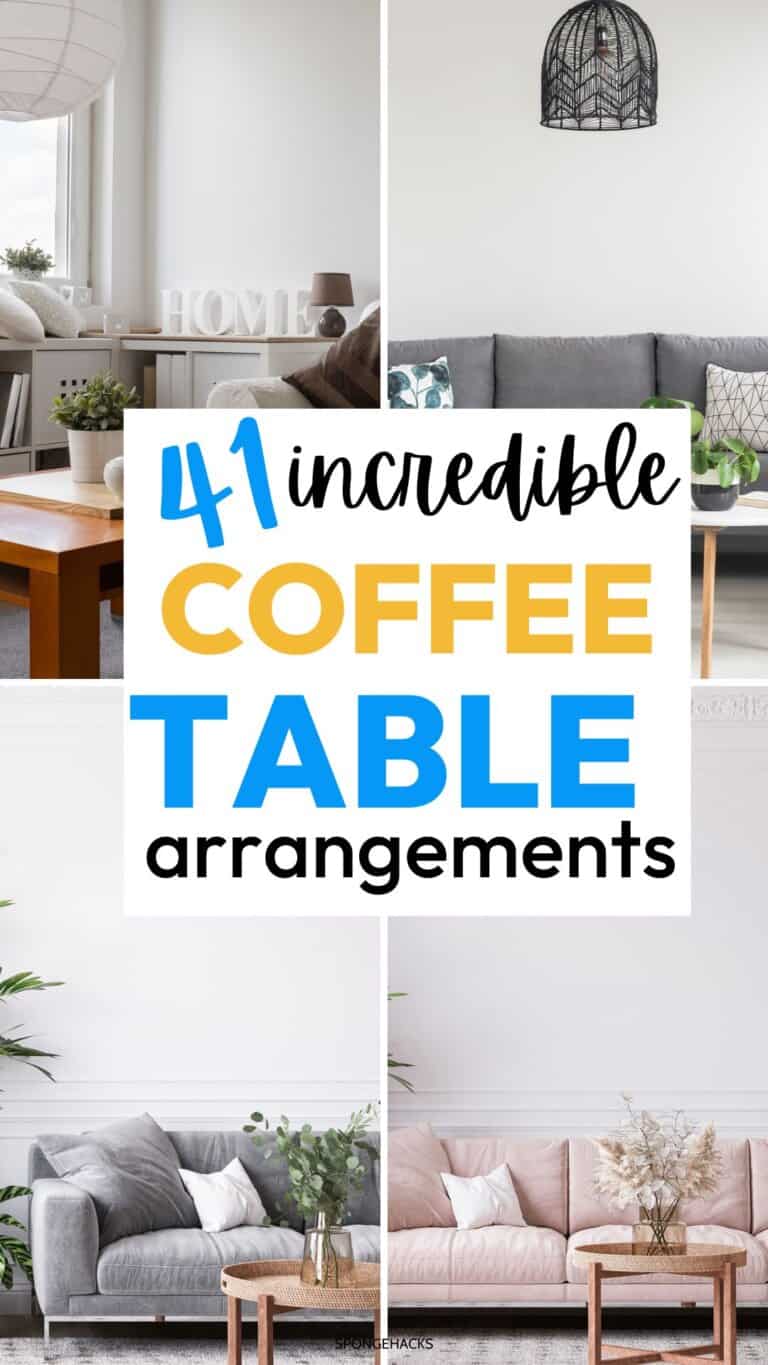 Yeah, me too.
I mean, let's be real, our coffee tables are at the center of our living room and probably the first thing you see when you open the door, right?
At least for me it is!
But more often than not, my coffee table ends up being this neglected space that's just screaming for some love and attention or just a dumping ground for anything and everything.
I don't know about you, but my coffee table is currently a sad, uninspiring sight.
It's like the 'blah' of furniture.
It's not that it's ugly; it's just that it's not doing anything for me right now.
So, if you're in the same boat, or if you're just looking for a little spruce-up, you've come to the right place.
I'm about to dive deep into the world of coffee table arrangements that are anything but dull.
So grab a cup of coffee (or tea, or wine, no judgment here), and let's get this coffee table party started!
Coffee Table Flower Arrangement
Who doesn't like flowers in their apartment or house?
Why not let your coffee table be the center of attention and give it that extra oomph with some floral fabulousness?
1. Simple and White Flower Arrangement for Coffee Table
Don't you just LOVE this look?
I'm seriously OBSESSED with everything white. White blankets, white sheets, white walls, white curtains and now white floral arrangements!
Get this look:
There's something so ethereal, so calming, and yet so luxe about an all-white flower arrangement on a coffee table.
And the best part?
It's so easy to pull off, yet the impact is 100% "Oh la la!"
This all-white floral fantasy is perfect for any season and any decor style.
Whether you're going for a minimalist aesthetic or you're all about that glam, an all-white arrangement is like the little black dress of home decor—it never goes out of style and it always turns heads.
2. Styling a Coffee Table Vintage Style
Check out this vintage inspired way to style a coffee table!
Picture this: A sleek glass coffee table that's as timeless as Audrey Hepburn in "Breakfast at Tiffany's."
On it, a beautiful glass ribbed vase, with books about luxurious spots like Paris.
Now, what to put in those vases each rimmed with a touch of gold, like the halo of a 1920s flapper.
Classic flowers, but not just any blooms.
Think roses for that eternal romantic vibe, or perhaps some peonies for a touch of old-world elegance.
And let's not forget hydrangeas, which are basically the vintage darlings of the flower world.
3. Glass and Chic Coffee Table Arrangement
This screams Manhattan high-rise living!
I'm here for it.
It's high fashion meets high function.
Get ready for a Glass and Chic arrangement that's as sophisticated as a Christian Dior gown.
Yes, we're going THAT chic!
Complete this look with some intrigue. A magnifying glass, but not just any magnifying glass.
Choose one with a handle that screams luxury—perhaps a gold or silver finish.
Place it atop one of the Dior books, and voila!
You've got yourself an arrangement that's not just chic but also a conversation starter. "Oh, this old thing? I use it to examine the finer details of life," you'll say, casually, as your guests ooh and aah.
4. Silver and Wood
Traditional doesn't mean boring!
Let's give a nod to the classics with a traditional coffee table arrangement that's as cozy as your grandma's hugs.
We're talking silver vases, bowls of nuts, and decorative plates.
Yes, we're going full-on traditional glam!
5. Soft Pink Look
Don't you just love this look?
I'm talking about a soft and dreamy as a cloud at dusk.
There are soft pink flowers, muted color books, and little candle votives that shine like fairy lights.
Bring on the soft pink fantasy!
This soft pink arrangement is perfect for those who love a touch of romance and whimsy in their decor.
It's a look that says, "I'm sophisticated, but I also believe in fairy tales."
And let's be honest, who couldn't use a little more magic in their lives?
6. Farmhouse Look
This farmhouse coffee table arrangement is perfect for those who want to bring a little bit of country warmth into their modern lives.
First up, the foundation of any good farmhouse setup—a wooden tray basket.
Choose one that's got that weathered, lived-in look, like it's seen a few harvest seasons.
Whether it's a little decorative ceramic bird that looks like it came from a vintage market or a rooster that's cooing to a sunrise, this is the whimsical touch that brings your farmhouse look to life.
Place it on your wooden tray, maybe next to a cute little potted plant, and voila!
Instant charm.
But what's a farmhouse arrangement without some good ol' country flowers in a farmhouse milk jug?
Put in sunflowers for that sunny disposition, or lavender for a touch of Provencal magic, or even daisies for that girl-next-door vibe.
Place these vases on or around your wooden tray, and you've got yourself a coffee table that'll make others jelous.
7. Rustic and Chic
This is such a BIG look! I mean those candles!
Choose tall candle sticks that have that weathered, rustic look, like they were hand-carved by a woodsman with an eye for elegance.
Top them with candles that complement the vibe—think earthy tones or even muted metallics for that touch of glam.
Add to this look with a wooden letter.
Whether it's the first letter of your name, your partner's name, or even an 'X' for that mysterious allure, this is your chance to make a statement.
Place it near your candle sticks, and suddenly, your coffee table moved up a notch.
And to complete the look, scatter a few decorative balls around your candles and wooden letter for that added texture and visual interest.
8. All About the Vase
Yes!!
This modern coffee table arrangement is perfect for those who live for the 'now' and love a decor style that's as current as the latest smartphone.
For the vase, choose one with clean lines and a minimalist design.
Fill it with green flowers for a pop of color that's unexpected but totally on-trend.
Think green chrysanthemums for a lush look, or even green-tinted roses for a modern twist on a classic.
Place it in the center of your table, and you've got yourself a focal point that's as refreshing as a mint mojito.
For the candlesticks, look for ones with geometric shapes or even abstract forms.
Top them with simple, sleek candles—perhaps in white or even a soft gray for that monochrome magic.
9. It's Faux and That's Okay
Who says you couldn't style a coffee table arrangement with faux flowers?
Add a pop of Pink with a vase filled with pink flowers sitting in a woven coffee tray.
It's so simple to recreate!
Get this look:
10. Fruit and Flowers
Now, I can get behind this coffee table arrangement!
Check out the vibrant bouquet of peonies sitting pretty in a pretty marble vase, their golden petals reaching for the sky, paired with a bowl of zesty oranges in a wire basket that look like they were just plucked from a Mediterranean grove.
It's a fruit and flower combo that not only brightens up your coffee table but also tickles your senses with a visual and aromatic feast
11. Flowers and Books Galore
You gotta love this colorful look!
Are you ready for a coffee table arrangement that's as intellectually stimulating as it is visually stunning?
Picture a curated stack of your favorite reads—perhaps some classic literature or even a splashy fashion tome—nestled next to pristine white vases filled with blooms that could make even a librarian gasp.
It's like your coffee table just got its PhD in fabulous!
12. Cute Succulents
For a unique and creative look, try succulents.
Gather a collection of adorable succulents, each one more charming than the last, sitting pretty next to a candle that smells like heaven had a bake sale.
It's like your coffee table just became the zen garden you never knew you needed, but absolutely do!
Centrepiece Coffee Table Decor
So, we've zhuzhed up our coffee tables and even made them bloom like a spring garden, but what about that pièce de résistance, that show-stopping, jaw-dropping centrepiece?
You know, the one that makes your guests go, "Wow, you really know how to live!"
Yes, it's time to talk about centrepiece coffee table arrangement ideas that's as fabulous as you are!
13. Height Matters
OMG! Here's a gleaming silver coffee tray that's practically shouting "luxury," adorned with a HOME sign that adds that personal, welcoming touch.
Nestled beside it, a vase filled with tall wooden sticks adorned with delicate flower buds and leaves, flanked by an entourage of fake green plants that are so lifelike, they could fool Mother Nature herself.
It's like your coffee table just became the cover star of "Better Homes and Gardens."
14. Keep It Simple
I need a simple decor arrangement for my round coffee table and I think I found my inspiration!
With this round coffee table, all you need are the essentials: a single, low-light indoor plant, a curated stack of books that scream "I'm cultured, but not cluttered," a sleek candle, and one modern decor item that's as eye-catching as it is understated.
It's like your coffee table just enrolled in a masterclass on 'Less is More,' and graduated with honors.
15. Books and Bowls
Wow! Love this look! It has a touch of sea life with some white coral, colorful books and an extravagant floral arrangement.
The combination of these elements creates a vibe that's both luxurious and whimsical.
I love how the white coral adds a touch of maritime magic, the colorful books offer intellectual charm, and the extravagant floral arrangement brings in a burst of life and color.
It's a balanced yet dynamic setup that invites conversation, admiration, and maybe even a little daydreaming of far-off seas and adventures.
16. Use Candles and Roses
This works.
You have some roses sitting next to (love this brand) white candles that could make even a spa jealous.
Add a stack of fashion magazines and a simple glass vase filled with eucalyptus leaves that bring a touch of the Australian outback to your urban oasis.
This creates an atmosphere that's both luxurious and relaxed.
The roses add a touch of timeless beauty, the candles bring in serenity, the fashion magazines offer a dash of glamour, and the eucalyptus leaves provide a natural, calming element.
It's a coffee table arrangement that invites you to sit down, relax, and maybe even dream a little.
17. Functional and Pretty
Love this look. It's just SIMPLE and makes sense.
Fill your vase with classic white tulips. They are easy to care for and long-lasting, plus they add a touch of sophistication without demanding too much attention.
Place them in a vase that complements their minimalist charm—perhaps something in glass or ceramic.
Next, a basket for your books and magazines.
Choose one that matches the vibe of your living room, be it wicker for a rustic touch or metal for a modern edge.
These elements creates a coffee table that's as practical as it is pretty. It's a setup that invites you to both admire and utilize, to enjoy the beauty and embrace the practicality.
18. Use Earth Tones
Wondering what furniture arrangement works best with a round coffee table?
I say opt for a two-tiered round coffee table like this one, a Persian rug like this one, and place it in the middle the rug so it's the center piece of your living room.
Use vases, plants, candle stick holders and magazines or books to decorate your coffee table.
19. Keep It Simple
This is beautiful! Another simple and minimalistic design!
Pulling it all together, the white flowers and vase bring a touch of natural beauty, the fashion magazines offer a dash of glamour, the chain link adds a modern edge, and the dusty rose mug provides a subtle, warm contrast.
It's a setup that invites you to both admire and relax, to enjoy the beauty while appreciating the function.
20. Baskets Make the Look
If you like the rustic look, then these baskets complete the look.
Get baskets of all sizes and shapes to store your:
Magazines
Books
Remote controls
Coasters
Candles
Candle sticks
21. Use a Bright Floral Arrangement
Don't you just love all the color?
From the colorful pillows on the couch to the colorful books and boquet of flowers!
Create a cohesive look in your living room by using the colors in your room to use for your coffee table arrangement.
Your centerpiece for the coffee table should be one that isn't too overpowering like the on in the Pin!
22. For the Seasons
Go ahead and create a coffee table arrangement around the seasons.
For spring, add ceramic bunnies, for summer, go with coral, for fall try some autumn leaves in a vase and fall fruit.
Then for winter, use white and silver to create a wintery atmosphere.
23. Natural Look
I love this look! Why not look to nature to gain inspiration for your coffee table designs?
I love how this coffee table was arranged. Simple wooden basket and trays with natural decor items and a green leafy plant.
Coffee Table Decor Ideas – More!
Need more inspiration?
Let's be honest, your coffee table is more than just a piece of furniture—it's the social hub of your living room, the gathering spot for Netflix binges, wine nights, and deep (or not-so-deep) conversations.
So why let it be anything less than extraordinary?
It's time to give that table a makeover that even reality TV would be jealous of.
Let's look at living room ideas and more coffee table centerpiece ideas!
Living Room Centerpiece Coffee Table Decor
24. Keep It Neurtal
25. Use One Main Color
26. Be Bold
Do you have a blue sofa and don't know how to decorate it? Why not make your coffee table arrangement all blue?
27. Make it Elegant
28. Fresh Flowers Do It All
29. Use a Creative Vase
30. Hide Clutter This Way
More Coffee Table Centerpiece Ideas
I'm diving into the world of centrepieces that range from the elegantly understated to the "OMG, is that a miniature fountain?!" level of extra.
Whether you're into the minimalist aesthetic or you're all about that maximalist life, there's a centrepiece that's just screaming your name. Here are more ideas for you!
31. Aztec Inspired
32. Use a Sturdy Tray
33. A Pop of Color
If you're all into black and white (you know the white curtains and the black sink) then add a pop of color with your centerpiece coffee table!
34. A Fresh Look
35. Seaside Look
36. Add a Glam Vase
37. A Manly Look
38. Add Unique Elements
39. Boho Chic
40. Fall Inspired
41. Cute Coasters
The Best Coffee Table Arrangement Ideas!
Remember, your coffee table is more than just a functional piece of wood or glass; it's a canvas for your creativity, a stage for your style, and yes, the unsung hero of your living room.
So don't hold back—let your table be as extra or as minimalist as you are.
Whether you've gone for a boho-chic vibe, a sleek modern look, or a cozy hygge haven, the most important thing is that it reflects YOU.
So go ahead, snap that Instagram pic, host that wine night with yummy fruit trays too or simply enjoy a quiet evening with your newly fabulous coffee table.
Make sure to follow me on Pinterest for more organizing and decor ideas for your apartment or small home!