OMG! The time is here!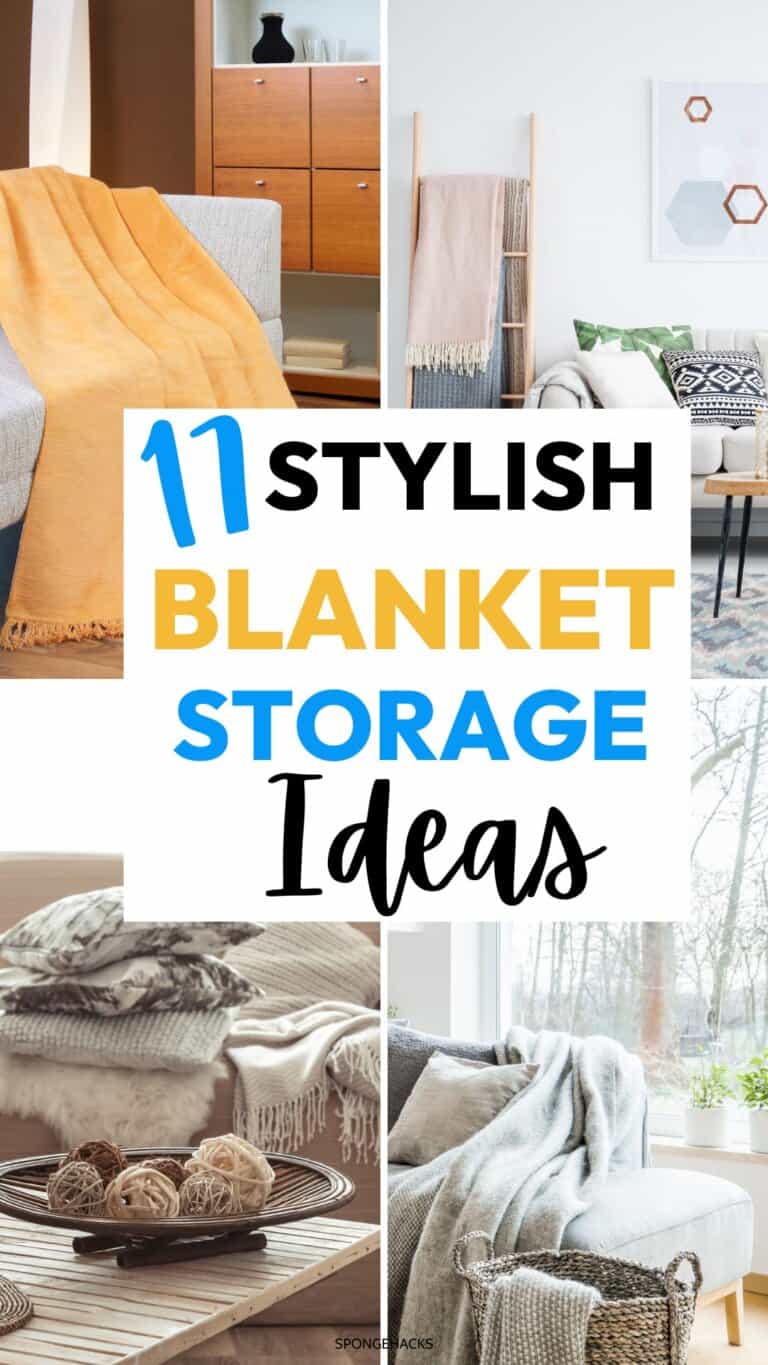 Fall and the cool weather is coming and that means it's getting cold, cold cold.
And you know what that ALSO means?
Blankets are going to flood your tiny place! Oh no!
If you live in a small place like an apartment or small house, trying to figure out where to store all of those comfy blankets in a stylish way can be quite the headache.
How do you find storage for large blankets?
Or what about your blanket and pillow storage?
Where does it all go?
Let's check out 15 genius ideas for blanket storage that will keep your place looking high-end and organized.
Living Room Blanket Storage Ideas
Storing blankets in your living room can be tricky – you want to keep things neat and tidy but also cozy.
I don't know about you, but as soon the temperature drops a hair, I'm all decked out in my coziest gear and needing about a million blankets when I watch Netflix.
But then I fall asleep and just dump all the blankets on the couch and go to bed.
Oh, no I didn't!
With a small place, you CAN'T do this!
Luckily, there are easy ways for getting the most out of any limited space.
Try adding a pull-out sofa in the living room that doubles as a day bed or sleeping bunk come nightfall.
That way, you can corral all your extra bedding in one place without having to find other places in the house.
Win-win!
Of course, when it comes to blanket storage ideas it's always best to find something that fits your style and reflects your personality – if nothing else it'll make snuggling up on the sofa with a good book even cozier!
And that's why you want your living room blanket storage to be chic and practical if you take the time to get creative.
So let's check out these blanket storage ideas for living room.
1. Use an Ottoman
I LOVE LOVE LOVE ottoman's so much!
They are cute and compact and they look gorgeous in any small place.
Get yourself an ottoman with a hinged lid. This way you can keep blankets inside and use the ottoman as a seat or footstool.
2. Try a Blanket Ladder
Let me introduce you to the blanket ladder: your soon-to-be best friend!
Hang your blankets up in a neat and organized fashion; with no more mess or bulky piles – plus it's easy to reach them whenever you need it!
Say goodbye to the "blanket mountain" blues – hang them all up on your trusty blanket ladder with this extra blanket storage idea.
Plus, isn't it lovely when everything looks so put together?
Immediately after use?
Simply drape it over the ladder for a nice snug fit.
Making housework flow like magic!
With blank ladders you'll never have to worry about where those fuzzies are going again — trust us, they're in safe hands now!
Go ahead and show off your perfectly curated home!
Now snag yourself one of these snuggly lifesavers before they're all gone!
3. Stuff Them in a Coffee Table
Who doesn't have a coffee table in their living room?
It's an essential for any place – apartment or not.
But, a cool thing is to make your coffee table versatile.
Simply stuff the inside of the coffee table with all sorts of cozy blankets and throws.
Not only is this a great way to keep your living room looking neat and tidy, but also it's a practical way to have multiple blankets on hand for when you have guests over. Talk about an all-in-one storage solution!
4. With a Decorative Basket
Sure, you can just throw your blankets over the couch or hide them in the closet, but why not show off your blankets in style by putting them in a decorative basket?
One of the cute blanket storage ideas in this list for sure!
Not sure where to start?
Here are some tips to get you going on the blanket-basket journey.
First, pick out a basket that's big enough to store all of your blankets while also adding some flare to your interior design.
Then place the basket front-and-center in a cozy corner for easy access to bedding and extra style points!
Easy peasy!
Getting creative with storing blankets doesn't have to be a chore – it can actually be fun!
You can easily fit 3-5 thin cozy blankets like these fleece ones in a big decorative basket.
Blanket Storage Ideas for Small Spaces
Blanket storage can be a hassle, especially if you're dealing with limited space.
Most small apartments don't have a dining room and only a bar for the kitchen!
Got me some tight living here!
If you're like me, your blankets are probably shoved into whatever corner of the closet or bedroom you can find, making for an eyesore and a jumbled mess.
Even if your space is tight, there are plenty of creative blanket storage ideas that will keep your blankets organized and easily accessible.
So, let's check 'em out!
5. Roll Up Blankets to Store on a Bookshelf
Got a bookshelf in the living room?
Use the bottom shelf to roll up your blankets and store them!
No need to buy an organization bin or whatnot for this blanket storage idea!
LOVE it!
6. Use a Blanket Wall Rack
If you're anything like me, having too much stuff and not enough storage space is a daily struggle.
No space for shoes, my makeup or my clothes! Ugh!
But, I love me some warm blankets and need a way to store them when there is absolutely no room.
Solution?
Try adding a blanket wall rack to your arsenal of furniture solutions.
This rack provides an ingenious solution for small spaces and can be used to store extra blankets in a pinch.
I absolutely love how this rack looks chic, modern and compact!
You just mount the rack on the wall at what ever height you want and then slide the blanket onto each of the rungs.
Voilà – now all that extra blankets are beautifully tucked away, while also adding some eye-catching decoration to an otherwise dull wall.
This rack will also look great in your bathroom too!
7. Try a Wall Mounted Coat Rack
Instead of compromising on coziness and warmth, why not get creative?
A wall mounted coat rack is the perfect thing when you live in a small space and need some throw blanket storage ideas.
Not only does it help keep the area clutter-free, but if the hooks are spaced short enough, the blankets almost look like wall art!
Such an easy way to store your blankets too!
8. Try These Nesting Tables
How perfect is this?
These stylish nesting tables have extra storage in them for your blankets.
How cute!
It's really the ultimate in multitasking furnishings!
Each table is like a box of chocolates – you never know what you may find.
Place one in the living room and get ready to curl up under a thick throw blanket; put one in the bedroom, and store blankets and linens out of sight; keep one close to the door!
The possibilities are endless with these multi-purpose nesting tables.
And best of all, when not in use, they nest inside each other to save space.
So no more excuses for carrying armfuls of blankets around – give yourself a break and make blanket storage nesting tables part of your decorating lineup today!
Happy nesting!
9. Use a Standing Towel Rack
If you have room in your living room, then this modern standing towel rack to store your blankets would be perfect!
Large Blanket Storage Ideas
If you're like me, then you LOVE big blankets you can swim in and wrap yourself up in.
I love the feeling of those large chunky blankets while I watch TV.
But, what do I do with them?
What large blanket storage ideas are there?
10. In a Vintage Trunk
Is that huge collection of blankets cluttering your home?
Sure, they come in handy on those cold nights, but they sure don't look good the next morning hanging over your couch!
It's time to organize them in style with a vintage trunk.
Not only is this a worldly option but it serves practical purposes too!
For one thing, the narrow design means that you can store a lot of blankets even in small spaces.
Score a point for the vintage trunk!
Secondly, the tight lid will keep dust and insects out while also protecting against mildew and other moisture buildup.
Plus, their decorative wooden exterior gives each blanket its own special place without taking up too much room.
In fact, it's the perfect addition to living room – cozy enough for a bedroom but elegant enough for a living area.
11. Hang Them in Your Closet
If you have room in your entranceway, why not hang those large blankets in your closet?
It's not a bad choice when you have a small place and they are out of the way, helping you keep a clean and organized home.
12. Turn Your Blankets Into Pillows!
Oh yea!
You gotta love this ingenious idea!
And yes, it's a TikTok thing!
13. Place Them Behind the Door
While this isn't technically in the living room, you can add towel bars behind your door or a guest room's door and hang your large blankets there.
14. Use a Trendy College Truck
Add a statement piece to your living room with this ultra cool college trunk.
You may even have one from back in the college days.
Plant it in the middle of your living room and store your large blankets in them.
DIY Blanket Storage Ideas
So, do you have a large collection of blankets but don't know what to do with them?
It's a BIG problem: you need everything in its place and out of the way, but you can't let go of your cozy mementos.
But if you are tight on money, you need cheap blanket storage ideas.
Let's check out some DIY storage ideas anyone can do!
15. Use Standing Shelves
Paint some wooden shelves like these and glue or nail them together to make your own shelving unit to store all your blankets in!
16. Use a Tension Rod
How easy is these DIY blanket storage ideas so far? This is one is even easier to do! Buy a tension rod and store blankets on the shelf in your entrance closet.
17. Style Your Throw Blanket
If you just don't have any way to organize and store your blankets, then decorate with them!
Solve your blanket and throw pillow storage ideas by leaning into it.
Blanket Storage for a Living Room (or Small Space)
I hope you found these fifteen blanket storage ideas helpful!
I really love the wall rack idea and I want to try folding my blankets into pillows now!
What about you?
Make sure to Pin me and follow me on Pinterest for more organizing and cleaning tips!