When I was in my second apartment as a new adult, the bathroom was chic, stylish and clean.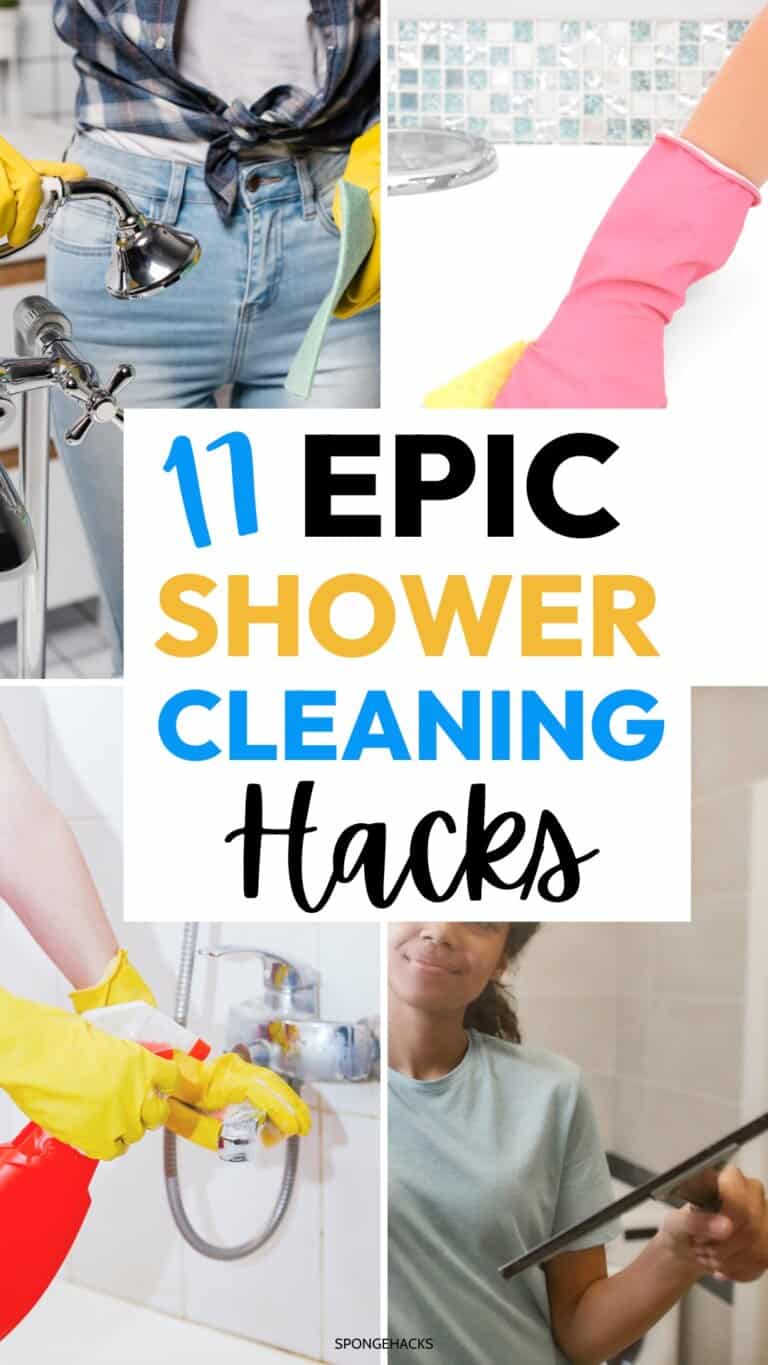 Marble countertops, new chrome faucet and shower head and beautiful rustic tile throughout.
I was in LOVE!
And I wanted to make sure my shower was clean, clean clean.
Plus, it had to be easy and fast.
Well, guess what?
There is none other than Tik Tok to answer my cleaning challenge.
Let's check out these sensational and brilliant shower cleaning hacks from Tik Tok that will leave you speachless!
I know it will because it left me surprised and speechless!
Fun and Easy Shower Cleaning Hacks (TikTok Inspired)
Moving into your first apartment can be crazy; and one of the craziest tasks is deep cleaning that shower!
AMIRIGHT?
Let's face it, this is not something you've had to worry about in your parent's pad.
Believe it or not though, regular shower cleaning will actually save you money in the long run due to avoiding dirt buildup and keeping your drain clear.
Seriously, no need to break out a Hazmat suit—a few minutes of scrubbing every week will help tackle all the funk, plus you'll stay fly AF with a gnarly clean shower.
And, to speed up the process let's check out these shower cleaning hacks.
1. Ziploc Method
Sick and tired of having a grimy shower head?
If regular cleaning methods haven't done the trick, your best bet is a Ziploc bag filled with some vinegar and wrap it around your dirty shower head.
Let it sit for half an hour and your shower head will be sparkling clean!
This genius shower cleaning hack turns what would usually take hours into a 30 minute or less job – no elbow grease or scrubbing required!
So save yourself an unnecessarily long scrub-sesh, get creative with that vinegar, and make your bathroom sparkle like never before.
2. Two-Part Shower Cleaning Hack
I love this shower cleaning hack!
To make it quick and easy, use the two-part cleaning method!
Get ready because first you have to take off the shower head.
Then grab some vinegar spray and coat the shower head.
Let that soak for five minutes before wiping down with a gentle sponge.
Finish up by using something even saucier – a limescale and soap scum spray!
With this swift combo, them grimey shower faucets and doors never had it so good!
3. Use a Shower Scrubber
Soap scrubbers are the most fire thing to hit showers since hot water!
Not only do they get the job done quickly and easily, but they also give you a deep clean that's bangin'!
Got scum tough to remove?
No prob, just get sudsy with your soap scrubber and watch it disappear.
It'll also leave your shower walls sparkling and smelling like fresh flowers.
So if ya wanna cut down on shower time without skimpin' on that deep clean, get down with a soap scrubber!
Here are the three soap scrubbers used in the Tik Tok video:
After you use your scrubbers you can use a motorized soap scrubber to give your shower a deep clean!
End with your squeegee wiper!
4. No Scrub Shower Cleaning Method
Sick of all the grime and grossness that managed to build up in your shower even after scrubbing for hours?
Get yourself a trusty mold and mildew spray, and let the spray do all the scrubbing and work for you!
All you gotta do is pop off the head of the shower and spray your way to a super clean situation.
After letting that sit for 20 minutes, toss it back on and give it one final rinse — suddenly, you have yourself a sparkling, fresh-as-can-be shower!
Who said hard work was the only way to keep things on the up and up?
5. Scrub Daddy Shower Cleaning Hack
Okay –
This is literally GENIUS!
Why haven't I thought of this!
Grab the soap dispensing handle and your Scrub Daddy and wash that shower like a BOSS.
Who would've though that this shower cleaning hack is THE ONE for me?
I love it.
It's fast too. Pop on the Scrub Daddy, add your favorite cleaner or vinegar spray and this can cut scum on shower doors!
6. Use a Mop and Broom Holder to Make Cleaning Your Shower Easier
Yes! Finally, a quick and easy shower cleaning hack for me!
Isn't this amazing.
It's all about the self-adhesive mop broom holder that sticks like glue to your bathroom wall, but instead of holding cleaning tools, you can use it to stash your shower necessities.
Scrub brush, squeegee, razor, the works – slap 'em on that wall-mounted sucker and voila!
You've got yourself a fast and convenient cleaning experience.
No more juggling slippery bottles or reaching for the back of the shower caddy.
Nobody has time for that, am I right?
Keep it simple, keep it clean, and keep it cool with this cool shower hack.
7. Use the Pink Stuff to Clean Grout
The Pink Stuff is a Viral Tik Tok product and what's even better is that it ACTUALLY works!
If you have tile in your shower, then clean grout like an expert with the Pink Stuff!
Say hello to the Pink Stuff, the miracle cleaning solution that will have your shower grout sparkling in no time flat.
This stuff is incredible!
Not only does it work like a charm, but it's also super cheap and easy to find.
So ditch those expensive, fancy cleaning products and get yourself some Pink Stuff. Your grout (and your wallet) will thank you.
8. Baking Soda and Dish Soap Shower Cleaning Hack
I love this shower cleaning hack. It'll leave your shower sparkling in no time.
All you need is some baking soda and dish soap, and you have a powerful cleaning solution!
Mix half a cup of baking soda with a quarter cup of dish soap, apply it to your shower walls and floor, let it sit for a few minutes, and BOOM!
Your shower will be spotless, and you'll have plenty of time to catch up on your Netflix binge-watching.
So next time you're looking to get clean fast, try this DIY experience!
More Simple Shower Cleaning Hacks that Work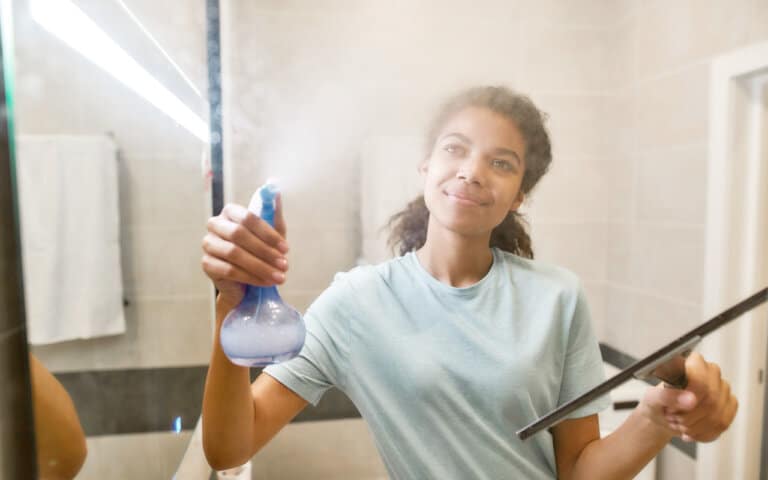 We all know that feeling when you walk into your bathroom and it smells like a spa.
But then you open your shower curtain and are hit with mold and grime, ruining your peaceful oasis.
Fear not, my friends!
I am here to share with you some simple shower cleaning hacks that actually work.
9. Use a Squeegee
After showering, keep a squeegee in the shower and wipe down the excess water from the walls and floor.
This helps prevent the buildup of soap scum and hard water stains and it's super simple!
I try to use my squeegee every time I take a shower to reduce that water build up.
And when you are more consistent, you can have a daily or weekly bathroom cleaning routine! Oh yea!
10. Keep a Sponge Handy
Have a sponge designated for wiping down the shower after use.
This can help prevent mildew and soap scum buildup.
This is something I get my children to do after they shower since they like these hand held sponges.
11. Clean While You Shower
Keep a non-abrasive shower brush in the shower and use it to scrub the walls and floor as you shower.
Rinse with warm water and repeat as necessary.
This is the most laziest shower cleaning method but hey, don't knock it until you try it.
You will seriously have a clean shower without any scrubbing needed!
12. Keep a Scented Candle
If you can't get to cleaning your shower or bathroom that day, just light a scented candle.
Burning a scented candle (or using an essential oil diffuser) in the bathroom can help mask any unpleasant odors and make the shower experience more enjoyable.
13. Switch to a Shower Filter
If you live in an area with hard water, a shower filter can help reduce the buildup of calcium and magnesium, which can cause soap scum and hard water stains.
14. Use a Daily Shower Cleaner
Method bathroom cleaner is a safe choice for daily use.
Simply spray the cleaner on the walls and floor after each shower and let it do the work.
15. Rotate Your Shower Products
Using the same shower gel or shampoo can cause buildup on the walls and floor of the shower.
Try rotating your shower products to prevent this from happening.
16. Use a Magic Eraser
Magic Erasers are great for removing tough soap scum and hard water stains.
Just wet the Magic Eraser and gently scrub the walls and floor of the shower.
17. Dry Your Shower Curtain
Once a month or sooner, I will take down my shower curtain and actually wash it in the washing machine!
It works like a charm.
That funky smell in the bathroom? Totally gone after drying my shower curtain!
Here's how I wash and dry my shower curtain.
It's Time to Use These Shower Cleaning Hack!
Are you excited to start using one of these cleaning hacks?
I sure am!
I want to use the Scrub Daddy one and the Pink Stuff for my grout!
Wish me luck!
And, don't forget to follow me on Pinterest for more cleaning and organizing hacks!