Everyone wants that dream pantry, don't they?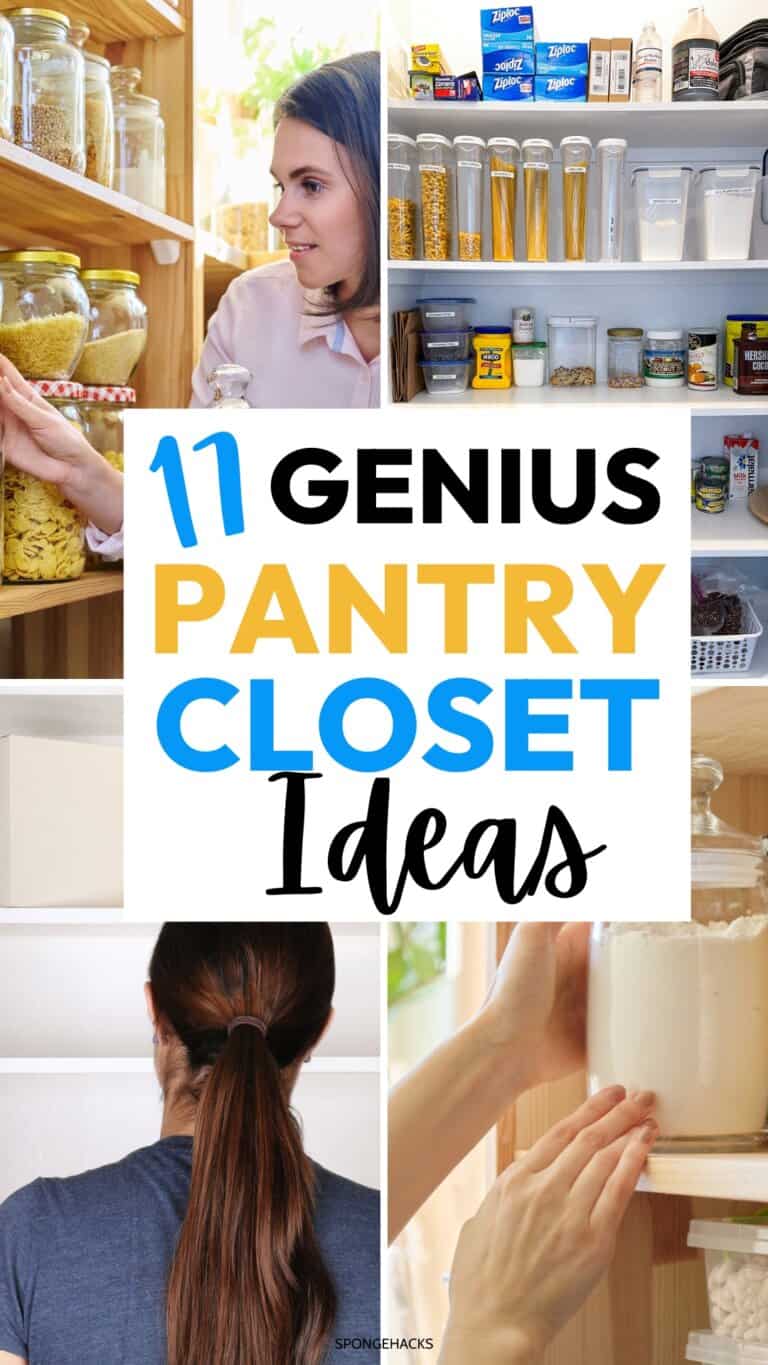 When I was living in my apartment, there was absolutely no room for a pantry, let alone ways to have some shelving ideas!
I just put all my cereal boxes and cans in a cupboard and that was that.
I learned to downsize my cookware and just live with most of my cupboards filled with food.
Fast forward a decade and having a home, I finally have a small closet pantry that I can work with.
This is the time for some kitchen organization and focussing on some pantry closet shelving ideas!
Oh yea! Get ready to decorate, declutter and organize!
Kitchen Pantry Closet Shelving Ideas
Who needs some ideas for pantry closet shelving?
I do!
I don't want to keep cramming bread and cereal onto cramped shelves or stacking food precariously on top of each other.
With pantry closet organizer shelving ideas, you'll be able to keep it organized and actually find what you need without having to dig through a million cans. Trust me, your inner neat freak will thank you.
1. Maximize Space with a Door Organizer
If you're tired of rummaging through your pantry and finding absolutely nothing you want, you have to check out this door organizer.
Trust me, dong this ONE thing will maximize your space like nobody's business.
You'll have tons room hang all your pantry items, from jars to cans to even your dog's food. Plus, it's easy to install and fits right onto your door, making it perfect for small apartments or kitchens.
Don't let clutter slow you down, grab this door organizer and start organizing.
This handy tool will help you maximize your living space and keep all of your essentials in order.
Plus, with its playful design, you can turn your door into a statement piece that's sure to impress all your guests.
2. Use Pull- Out Shelving to Store More Pantry Items
Are you tired of playing Tetris with your pantry items?
Trying to strategically stack cans, boxes, and bags can feel like a game of Jenga waiting to topple over.
Well, no more! Get a load of pull-out shelving!
With the ability to fully extend out of your pantry, you'll never have to reach for that hidden jar of spices again.
It's like the gift that keeps on giving, because not only will it provide ample storage space, but it will also make you feel like a pro organizer.
Who knows, you might just impress a few houseguests with your new pantry prowess.
3. Use the Bottom of Your Closet Pantry for Kid Snacks
Ah, the bottom of the pantry – the place where snacks go to be forgotten.
But, it doesn't have to be that way, especially if you have kids.
It's time to organize that small pantry you have to make it easy for your kids to find their favoriate snacks. I like the idea of using drawer organizers that kids can open in a cinch.
Just imagine the look on your little one's face when they open that drawer and are met with a plethora of perfectly organized snacks.
It's like a mini version of a dream come true, and let's be honest, we all love a good dream come true.
4. Use Stylish Baskets and Labels to Easily Find Pantry Items
One of the best ideas for pantry closet shelving is to simply use baskets and labels!
Yes, you heard me right.
I'm talking about jazzing up your pantry and making it as chic as your makeup storage collection.
With the help of some cute baskets and playful labels, you'll never have to play blind date with your spice jars again.
Who needs a dating app when you have a pantry organizer, am I right?
So go ahead and transform your pantry from chaos to captivating.
Your ingredients will thank you, and your guests will be dazzled by your newfound pantry prowess. Trust me, you'll never go back to boring storage solutions again.
5. Use Containers for EVERYTHING!
Whether you shop at the Container Store, Target or on Amazon, using containers to store your flour, sugar, cereal and snacks not only makes it look incredibly cute and chic, but oh so functional and helpful!
Seriously, you can use them for everything.
Not only will they keep your pantry looking tidy and Instagram-worthy, but they'll also make finding that elusive bag of quinoa a breeze.
Trust me, once you start containerizing everything from cereal to pasta to stray marshmallows, you'll wonder how you ever lived without it.
So go forth, embrace the container life, and join me in the land of pantry organization bliss.
6. Use a Lazy Susan for Deep Pantry Shelves
Are you tired of digging through piles of snacks and spices just to find that one can of tomato sauce?
I am Well, the answer to your pantry problems is here: Lazy Susan's.
Not just any Lazy Susan but multi-tier ones!
Not only do they spin dreams into reality (okay, maybe not dreams, but certainly convenience), but they also add a touch of class to your otherwise mundane pantry.
You can easily rotate your favorite pantry items into view, all while feeling a little bit fancy.
7. Use Spice Clips to Organize Your Spices in the Pantry Closet
If you're tired of digging through your pantry closet to find that one spice jar buried beneath the paprika, it's time to kick your organization game up a notch.
Spice clips are the answer to your cluttered closet pantry.
These handy clips let you organize your spices vertically, so you can see everything you have at a glance.
Plus, you'll never have to worry about a toppled spice tower again!
Trust me, your taste buds will thank you for de-cluttering and simplifying your spice game.
Wire Pantry Closet Shelving Ideas
It's time to look at those dreaded wire shelving in your pantry!
With wire shelving, you'll maximize your space and have more room for all of your favorite snacks. Plus, the sleek design will make your pantry look like an absolute snack itself.
Not to mention, wire shelves are a cinch to install.
But, let's face it –
Wire shelving just are UGLY and aren't practical. Things tip and fall through the wires.
So, let's check out these wire pantry closet shelving ideas you can try!
8. Use Contact Paper to Jazz Up Your Wire Pantry Closet
This magical sticky stuff can transform your pantry from drab to fab in no time.
All you need is foam boards and contact paper to recreate this look.
With endless patterns and colors to choose from, your pantry will be the envy of all your neighbors.
Plus, if you ever decide to move, your landlord will thank you for not painting the walls a bright pink.
So, go ahead and let your creative juices flow with some contact paper and give your pantry closet the pizzazz it deserves!
9. Cover Wire Shelving With Wood
I'm about to reveal a trick that will take your wire shelving from shabby to chic.
Are you ready for it? Cover it with wood!
No need to toss out that wire shelving that's leaving you feeling underwhelmed.
Simply grab some pieces of plywood, cut them to size, and wrap them around each shelf. Voila!
You now have a rustic and stylish shelving unit that will have your guests thinking you're a master carpenter.
Don't waste any more time wishing your wire shelves were different.
Get your hands on some wood and let your inner DIY-er shine!
10. Flip Your Wire Shelving Upside Down!
Out of all the closet pantry shelving ideas, I absolutely LOVE this one!
If you have wire pantry closet shelves, go ahead and flip them upside down and use them to organize your canned food!
GENIUS!
You can flip one or two wire shelves in your pantry and that's all you need for all your cans!
11. Use Shelve Steps for Small Items on Wire Shelving
Hate losing small items or having items roll off your wire shelves?
I do!
That's why I LOVE LOVE LOVE these shelve steps for small items and canned items.
These nimble little steps will give your small items a place to call home and prevent them from falling victim to the wire shelves.
Not only will your pantry look neater, but you'll also feel like a professional organizer (even if you're still eating cereal straight out of the box).
Small Pantry Closet Shelving Ideas
With the right shelving ideas, you can transform that cramped space into a well-organized haven for all your snacks and canned goods.
Let's get creative with some pantry closet shelving ideas.
Who needs a walk-in pantry when you can have a closet that's packed with personality?
So go ahead, embrace the cozy vibes and rock your small pantry like the culinary superstar you are!
12. Add a Chalkboard on the Pantry Door
Create a farmhouse look by adding chalkboard paint on your pantry door!
Adding a coat of chalkboard paint can instantly transform a plain door into a stylish statement piece.
Not only does it give off those chic farmhouse vibes, but it also allows you to have a fun space for writing down your grocery list or leaving cute messages for your loved ones.
It's an easy and affordable DIY project that will have your guests ooh-ing and aah-ing over your latest home decor addition.
13. Cool Pantry Closet Shelving Ideas Under Stairs
Use wooden cubes to create shelving under the stairs!
Don't you love this idea! We have a small space under the stairs and I bet I can do something with it.
Check out these other pantry closet shelving ideas under stairs.
A good way to organize your pantry under the stairs is to use corner shelving.
You can even optimize the corner with Lazy Susan's!
For even the smallest space you can literally put shelving UNDER the stairs to store up to six months of food!
14. Remove the Door to Make Your Pantry Look Bigger
Want to give your pantry a new look that won't break the bank?
Why not try removing the door?
It may seem like a small change, but trust us, it can make a huge difference.
Suddenly, your pantry will feel open, airy, and oh so spacious!
Plus, you'll be forced to keep your pantry organized at all times (no more hiding your mess behind a closed door).
And let's not forget how much easier it is to grab snacks and spices when you don't have to finagle with a handle or hinge.
DIY Closet Pantry Shelving Ideas
If you're creative and love to DIY things, then you can very well DIY your closet pantry shelving.
Check out these fun and easy ideas.
15. Create a Quick Bag Clip Rack
I'm OBSESSED with this idea!
So simply but GENIOUS!
You can make a chip rack for cheap.
16. Make Floating Shelving in Your Pantry
If you're a little adventurous, try this DIY hack to make some floating shelves in your pantry.
You may need someone to help!
17. Add Removable Wallpaper
Instantly transform your drab pantry to a chic on by adding removable wallpaper.
Easy Closet Pantry Shelving Ideas!
There ya go!
I hope you enjoyed all these fun and creative ideas for your pantry.
Follow me on Pinterest for more organizing and home decor tips!