Last night, I was making my famous spaghetti and meatball dish and guess what?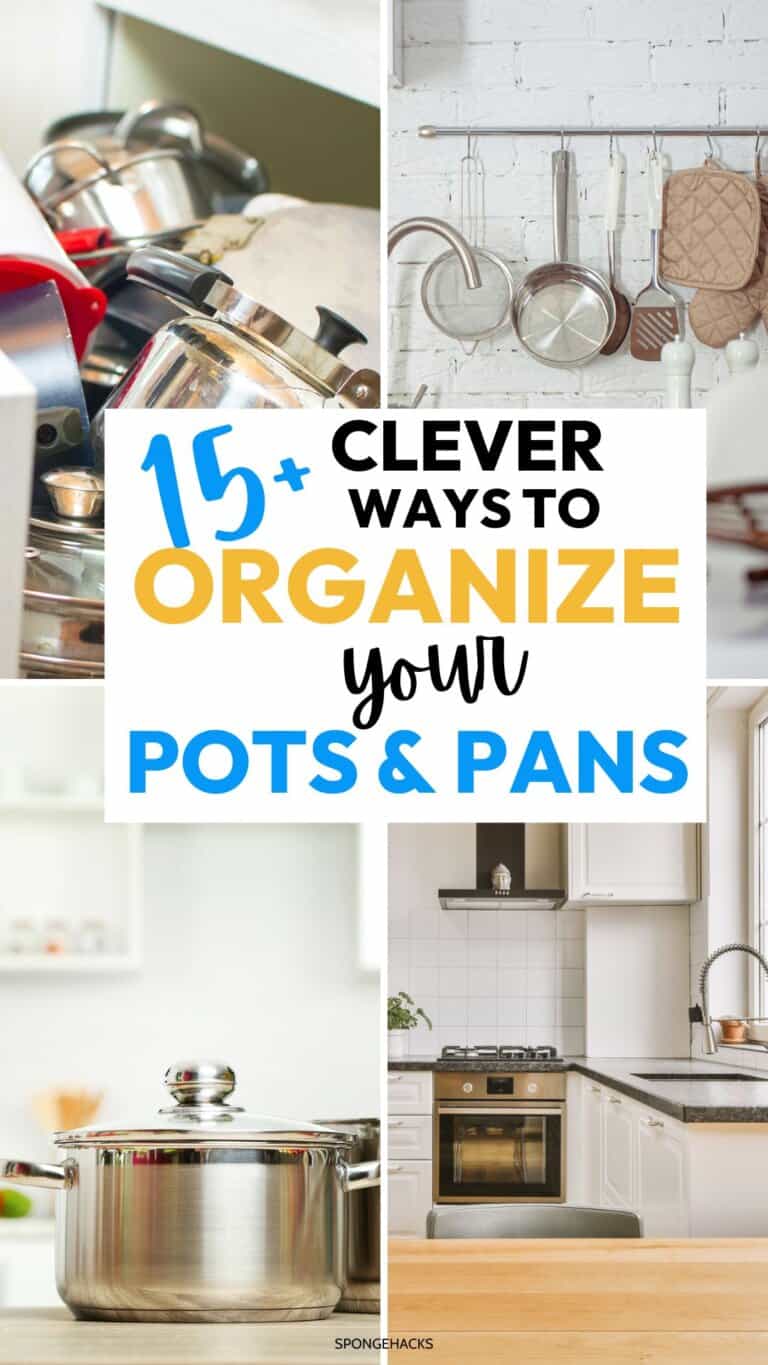 The chopping boards for cutting onions and garlic and all the pots and pans to make homemade sauce got all dumped in the sink.
Well, while I was cooking, I needed a pan, but – guess what? – it was buried behind a pile of dirty dishes.
Grr!
The solution to this problem is simple but involves more than just throwing everything into one drawer or cabinet!
I wish!
I need to organize my pots and pans BETTER so I can find what I need quickly and easily.
Are you the same when you cook?
You want that Instagram look and vibe to your pots and pans but instead, you're just tossing them in one chaotic mess.
So, I'm on a mission to get my kitchen organized and that also means my pots, pans, casserole dishes and cabinets!
If you're not sure how to get started, I'll show you what I'm going to do to organize my pots and pans so that your kitchen will be neat and tidy while still being functional!
Let's go!
Before You Begin, It's Time to Be Honest and Declutter
There's no point in following these ideas to organize pots and pans if you have more dishes than you need!
Let's be honest here.
There are some amazing gadgets for the kitchen out there but that doesn't mean you have to buy them all!
Okay, I'm talking to myself but it's true and I know it.
But, how many pots and pans do you really need?
I'd recommend getting a set of three pans and three pots.
This should handle using multiple cookware for meals.
The first step is to take out all your pots, pans, cooking bowls, casserole dishes and cutting boards and start decluttering.
Get rid of any items that are damaged, worn out, or that you don't use.
Check for scratches and loose handles that can't be tightened. Also, take a look at your lids for cracks and broken handles.
Give them a toss, and you'll see you'll now have room for some organization!
1. Organize Your Pots and Pans According to Size (and Nest Them)
Now you can group your pots and pans by size – pretty quick and easy to do.
The 10-set piece I have makes it a cinch to nest my pans and pots quickly!
Just make sure you get protectors to place in between your pots and pans.
If you skip this step, you'll damage your cookware and you don't want that, right?
Now, I can pull out the set, take the pot I want to start my cooking.
Win-win!
This makes it easier to find what you need without having to rummage through an entire cabinet full of different types of pans every time you want a certain one.
It also makes it easier to match lids with pots and pans, so you're not pulling your entire kitchen apart looking for the right one!
What about different types of pots and pans?
You know, like stainless steel vs. cast iron?
Just try to match like with like!
This really won't make a huge difference, but your cupboards will look nice and well, that's what we all try to achieve right? That Instagram feel!
2. Store Your Pots and Pans in the Cupboard Not on the Countertop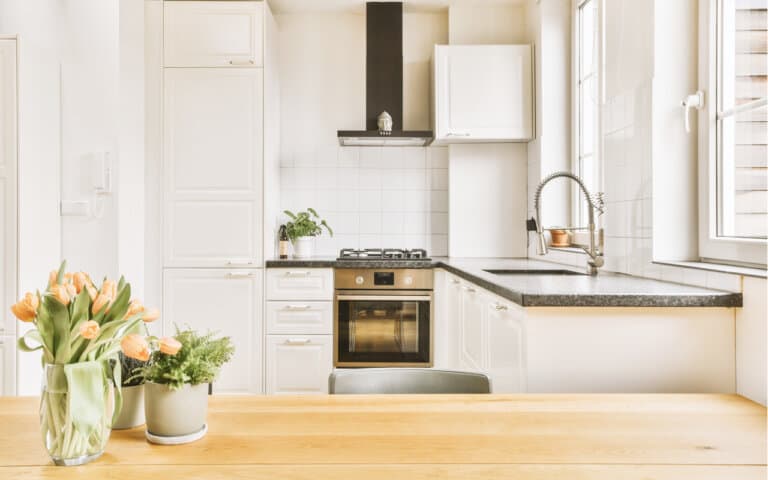 Raise your hand if you're guilty of storing your pots and pans on the countertop?
I am!
Well, I put them on my microwave cart, but it's like the same!
Repeat after me: Keep your cookware off of your kitchen countertop.
You don't need that kind of clutter in your life!
Plus, you can always use that space for some bangin' countertop decor ideas.
It's best just to store them in a cupboard or other area where they can be quickly and easily accessed when you need them.
Pots and pans take up a lot of room on your kitchen countertop, and if they're out in plain sight, they'll just get dusty or dirty or just plain gross.
Who wants to wash a pot after they use it and have to wash it again before they use it?
Not me!
By storing them away from sight and out of mind in a cupboard or drawer, where no one will accidentally bump into them while moving around inside their home kitchen space.
And that's the best way to store your cookware too!
But how do you do this, you ask?
How can I possibly organize my pots and pans in a small kitchen with zero space?
There's always a way!
Let's get into the different ways you can organize your pots and pans.
3. Use a Dish Rack
How GENIUS is this organizational method!
LOVE IT!
Sure, it's not the most Pinterest-worthy look, but c'mon! Practical, cheap and it works.
Fit your lids and small pans into your dish rack and then nest your pots next to it in your cupboard or cabinet!
Viola!
Plus, if you ever need a dish rack, you already have one!
4. Use a Vertical Pot Rack
OMG!
I'm OBSESSED with this idea for my cookware.
If you have a corner in your kitchen then this would be the PERFECT way to get all your pots and pans stored easily and it just looks soo cute!
This vertical pot rack is best use for those heavy cast iron pans so don't worry about packing heavy items on this rack!
What I like about this way is that you can now find room for your bigger appliances like your Instant Pot, bread maker and rice cooker!
5. Use Pot and Pan Racks in Your Cabinets
Are you trying to figure out how to organize your pots and pas in your kitchen cabinets?
Use racks in your cabinets to keep your pots and pans organized and easy to access.
These can help you separate and organize your pots and pans by size and type.
You can grab this rack to organize your pots and pans. It expands so you can easily fit it into your cupboard!
This is perfect if you're curious about how to organize pots and pans in a small cabinet.
Or you can get one that stacks your pots and pans vertically if you have enough room in your cupboards.
I love these because you can easily keep your pots and pans out of sight, but you don't have to go digging around your cupboard when you need one.
Plus, it's great for tight spaces so if your kitchen is small like mine then this will be a great space saver.
6. Organize Your Pots and Pans in Drawers
Are you also wondering how to organize your pots and pans in drawers?
This is by far the most practical way to organize your cookware – especially if you have deep drawers made for big items like your pots.
Most deep drawers are around 34 inches tall so getting deep drawer dividers is a must to help you section and organize your lids and pots.
So easy when you open the drawer to grab what you need.
You can also pop one of those adjustable racks I mentioned before into a drawer to keep everything in one place.
Don't have a big enough drawer?
You can always use the drawer under your oven!
Even though these were originally created to keep food warm, nobody does that nowadays.
It's the perfect space to store your pots and pans where you can easily reach them.
7. Use a Pot Lid Organizer
If you're wondering how to organize pots and pans lids, you can always use a pot lid organizer.
Now, when looking at some lid organizers, you will see different kinds. My favorite is the a mountable lid organizer that you can install on the inside of your cabinet doors.
A pot lid organizer can help you keep your pot lids organized and easy to access. You can use a rack or a pull-out drawer to store your pot lids.
Then you can stack your pots and pans together in the cabinet and use the door to store the lids.
This will help you save tons of space!
8. Use a Pegboard on Your Kitchen Walls
If you have some extra wall space in your kitchen, this is the perfect place to organize your pots and pans.
Grab a large piece of pegboard (these are flat pieces of wood with holes all through it) and attach it securely to your wall.
Stick one end of a metal S-hook into a hole and use the other end to hang your pot.
You can also use your pegboard to hang cooking utensils, scissors, measuring cups, and more. Bonus!
9. Put in a Hanging Pot Rack
Hanging pot racks have a really cool old-school look, and they are super easy to install!
Just make sure you hang it low enough so you can reach your pots and pans, lol.
You can add length to the chains to get the perfect height.
Now, you can easily hang your pots from overhead to clear up counter and cabinet space.
10. Try a Pot and Pan Rail
Why not try a pot and pan rail?
They are designed to hang your cookware from a wall and make your kitchen picture-worthy for sure!
These are easy to install and you might even become addicted to buying more!
Place them up a free wall in your kitchen or, just hang them off a cabinet too!
11. Use a Towel Bar
Or, you can try a towel bar for the wall or the side of your cabinets!
It's a cheaper option and great if you have a small space to organize your pots.
Whether you use a rail or towel bar, it's an easy and cheap option for storing your pots and pans!
12. Use a Lazy Susan
Lazy Susans are usually small circular bases that spin to help organize things like spices and other kitchen things.
But did you know that you can get a big one just for storing pots and pans?
I love this idea!
You can place it in your cabinet and spin it around to get the pot, pan, and lid you need.
And if you're wondering how to organize a lazy susan for pots and pans, this one has you covered with slots to hang your stuff and room at the base to store lids.
GENIUS!
Or, if the handle of the lid is big enough, you can slide the handles of your pots and pans through it and hang it that way.
Then everything you need is easy to grab!
13. Use Mug Hooks
I don't know about you but after I saw this on Pinterest I just had to see what this is all about.
These special mug hooks slide under the bottom shelf in your cabinet and depending on how much room you have from your countertop, you can store your pots and pans (and lids if they have handles and not knobs!)
I love this option because it's highly practical and well, it looks Pinterest-worthy!
14. Use a Wire Storage Rack
If your kitchen has no counter space and has a free wall (you know, back in the day, people would put their table there to eat on that free wall), well why not put in a wire storage rack to hold all your appliances?
It will hold heavy items like your Dutch oven, mixer and Instant Pot.
But it will also be great storage for your cookie sheets, muffin pans, mixing bowls and – of course – your pots and your pans!
15. Use Coat Hooks
If you want to store your pots and pans without a rack then try this hack!
Hey that rhymes!
Use coat hooks to display your pots and pans like art!
It's beautiful, functional and cheap.
There are many different coat hooks you can use but I like this one because it's modern and you can use the top hook for decor!
Love it!
Ideas to Organize Your Pots and Pans – More Tips!
If you thought I was done, I have some more tips for you to help you organize your pots and pans:
Use sticky 3M hooks on the inside of your cabinet doors to hold lids.
Use screw-in hooks under your cabinet shelves to hang your pots and pans by their handles.
Put tension rods in your cabinets to create baking sheets and pans dividers.
Put your pot and pan lids in a plastic tub to keep them all in one place.
I know some people store some of their pots and pans right in their oven, but I'm not sure if that's a great idea.
I would definitely be that person that would preheat the oven and forget they were in there! LOL
And if the pots and pans had plastic parts, can you imagine the mess??
Maybe just stick to the tips and ideas above, 'kay?
Rock Your Kitchen Space!
Your kitchen is an important part of your home, but it can really be a pain to keep it organized (especially if you're short on space).
These ideas to organize your pots and pans are definitely going to help you make your kitchen more functional and save a ton of space.
And you don't have to go all out!
A bunch of these ideas and tips are easy and affordable.
So there's really no excuse for having a messy and disorganized kitchen.
Okay – what are you waiting for? Go organize your kitchen!
And don't forget to follow me on Pinterest for more organizing and cleaning tips!