Have you ever seen cleaning slime and wondered what exactly it's used for?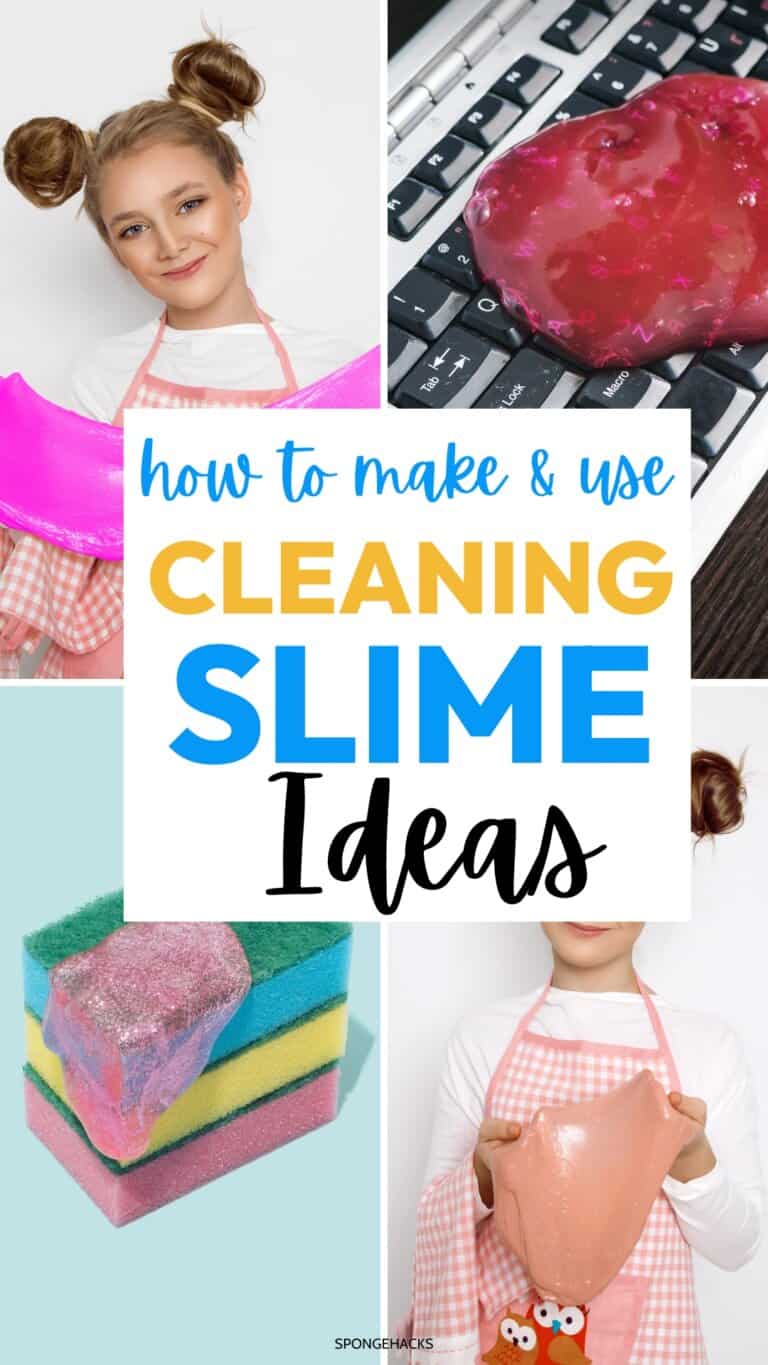 I sure have!
At first I thought it was just another slime recipe for my child!
Little did I know that this slime is for ADULTS!
Um, adults who like to clean! Yeah!
Cleaning slime is a new product on the market, and it's taking the cleaning world by storm!
This fun, colorful, and super-effective cleaner can clean almost anything in your home super quick.
From keeping your electronics clean to using car cleaning slime, it really gets the job done.
And the best part?
You can easily make it yourself!
The cleaning slime recipe I'm going to share only requires a few ingredients that you probably already have around your house.
Cleaning slime makes cleaning fun!
In this article, I'll show you how to make cleaning slime in three very easy steps, what cleaning slime is used for, and the best cleaning slimes you can buy.
Let's do it!
Cleaning Slime: The Recipe
I know we've all seen these two words pop up all over TikTok: cleaning slime.
Once thought to be a fun activity for kids, this combo of white glue and borax has become a major player when it comes to household cleaning.
I love cleaning slime and want to show you how to make it too. It's super easy and tons of fun!
Step 1: Gather Your Ingredients
To make your slime, you'll need the following ingredients:
1/2 cup white school glue
1/2 teaspoon baking soda
1 ½ tablespoon multi-purpose contact solution
Or you can also use:
1/2 cup white school glue
1/2 cup liquid starch
1/2 cup water
You can also add food coloring to your DIY cleaning slime if you want to make it a cool color!
Or drop in some essential oils to give your cleaning slime a fresh scent. I would only add in a drop or two to be safe.
Step 2: Combine the Ingredients in a Mixing Bowl
Combine the ingredients in a mixing bowl until well combined.
Keep your glue on hand because you can add more if the mixture is too runny.
If it's too thick, add more water until you get your desired consistency.
If you have borax on hand, you can add some to make it firmer.
Step 3: Stir Until the Mixture Thickens Into a Slime-Like Consistency
After you've added the borax, stir the mixture until it thickens and becomes more like a slime-like consistency.
If you don't stir enough, your cleaning slime will remain liquid – but if you stir too much (and I mean A LOT), then it will become a solid mass of goop that isn't useful at all!
As soon as your cleaning slime stops looking like water and starts resembling a sticky mess (i.e., when it turns from clear/transparent to white), stop stirring immediately.
That's it! Your cleaning slime is now ready to tackle any cleaning challenge!
The Many Awesome Uses for Cleaning Slime
Cleaning slime can be used for so many cleaning tasks, especially in hard-to-reach areas where other cleaning tools may not be effective.
Here are some common uses for cleaning slime (and why you'll absolutely love cleaning slime!):
1. Electronics
Cleaning slime is fantastic for electronice.
Those tiny ridges between your keyboard keys and phone screen crevices?
Yeah, that's where all the dirt, dust, and grime hide away until cleaning slime comes to save the day.
Don't even attempt to bring out a traditional duster for this one, it ain't gonna cut it!
Get your hands in there and give that baby an adequate clean 'cuz you know you want dem screens super sparkly clear.
Cleaning slime FTW!
Cleaning slime is also perfect for computer screens, light fixtures, Playstations, laptops and other electronic devices.
It can pick up all that guck from between keys and other small crevices.
2. Car Detailing
Whether you just rolled it off the lot, or have had your car since Clinton was president, cleaning out those pesky little spots in your car's interior can be a real hassle.
Enter car cleaning slime: your new BFF.
This gunk gets into all the nooks and crannies of your dash, air vents, cup holders, and other tiny spots like no soap and brush could.
Not only does it make sure every last fleck of dirt is clear from these hard-to-reach places, but regular use can help keep dust and grime from building up over time.
Get on this jawn and bring some freshness back to your whip!
3. Household Cleaning
How great is this?
This stuff can get into nooks and crannies you never knew existed, meaning that annoying dust bunnies don't stand a chance.
Best of all, it's a great tool for cleaning up pet hair from couches, rugs, and car seats.
It's a cinch to use and leave those hard-to-reach areas (your hair dryer for example!) completely spotless. So why not give it a try and make cleaning easier than ever?
4. Remove Stains
Who knew one tiny blob of goop could make a nasty stain disappear in a flash?
Just press the slime onto the carpet or upholstery and – what do you know? – all that dirt and debris is gone. How easy is that? Plus, if you're dealing with a tough stain, have no fear; cleaning slime has got your back!
Just repeat the process until you get your desired results — and voilà, goodbye mess, hello sparkling clean surface!
5. Jewelry Cleaning
Cleaning your jewelry with slime might seem odd, but it's an effective way to get deep down into the crevices of small pieces like earrings and rings.
Those dirt and grime bad boys are like tiny burglars that have set up camp in the night.
Time to bust out the slime and give them their eviction notice!
Not only is it effective, but taking care of your jewelry this way can be soothingly satisfying.
Plus as a bonus, you can give your slimy creation a creative name before sending it off on its mission!
6. Arts and Crafts
There's something oddly satisfying about making, and then playing with, slime.
Whether it's that weird gloopy satisfaction of watching the ingredients combine, or the sparkles of the glitter you add to the mix, there's definitely something special about cleaning up with this childhood favorite.
Plus, there are a multitude of ways to use slime to help get things back in order: from collecting bits of paper or craft supplies lying around to flicking away errant beads.
And, well it just looks so good!
Make your kids think they've just got to have a go while simultaneously tidying up – win-win!
Overall, cleaning slime is a versatile and effective cleaning tool that can help you keep your home, car, and other belongings clean and tidy.
It's the perfect mess-free cleaning tool!
Top-Rated Cleaning Slime
When buying a cleaning slime, there are a few things you should think about, like what ingredients it's made out of and its quality.
Many commercial cleaning slimes are made with biodegradable ingredients, but ensure they are non-toxic and safe.
You'll also want to make sure the cleaning slime is stretchy and not sticky or runny.
With all of this in mind, here are some of the top-rated cleaning slimes you should definitely check out:
1. ColorCoral Cleaning Slime (Lemon)
This simple and convenient gel can be used on your keyboard, phone, printer, car, and more!
With this gel, you can easily clean really whatever you want!
Not only does it work wonders, but it also smells delightful and doesn't keep your hands feeling icky after.
Oh, and best yet: it's made of biodegradable gel so you don't have to worry about damaging our planet. Go on – give it a shot!
2. ColorCoral Cleaning Slime (Lavender)
If you're looking for a more soothing scent, check out ColorCoral's cleaning slime in lavender!
Yummy!
You know me and wanting the best smelling cleaners for my home and now my car!
3. ASFSKY Cleaning Gel
This jelly-cleaning putty is perfect for hard-to-reach areas.
If you're trying to keep your home spick-and-span, the perfect tool is here! This cleaning gel makes it easier than ever to get rid of tricky dust and dirt hiding in places you can't typically reach.
With this putty in hand, all your worries about crumbs, pet hair, and other unwelcome messes become a distant memory.
Perfect for any particular perfectionist, this is one must-have cleaning product you won't want to miss out on!
4. ASFSKY Cleaning Gel (Orange)
ASFSKY's cleaning gel also comes in an awesome orange scent!
Another yummy scent that can fill my entire car with orange goodness 🙂
5. Ticarve Cleaning Slime
If you're looking to freshen up your home this spring, why not reach for a jar of this amazing cleaning slime?
This powerful cleaning product is perfect for tight spaces; just leave it in that hard-to-reach nook or cranny, wait a few hours, and emerge to find the dust gone with no effort on your part!
Sweet!
Also, the cherry blossom scent helps make the sometimes tedious task of tidying up just MORE enjoyable.
So if you're ready to make your chores something to look forward to, grab a jar of this unique slime today.
6. Car Cleaning Slime Pack
What's better than one jar of car slime? How about six?
This car-cleaning slime pack comes with six different cleaning slimes and a brush to take the mess out of cleaning the nitty-gritty areas of your car.
FAQs About Cleaning Slime
Have questions about cleaning slime? I'm not surprised!
Cleaning slime is amazing, so I'm sure you have tons of questions to learn more about it.
So let's get some frequently asked questions out of the way so you can go make your own DIY cleaning slime!
1. Is cleaning slime safe to use on all surfaces?
Cleaning slime is generally safe to use on most surfaces, including electronics, keyboards, car vents, and other hard-to-reach areas.
However, testing the slime on a small, inconspicuous area is always a good idea before using it on a larger surface.
Avoid using cleaning slime on fabrics, carpets, or other porous materials.
2. How long does cleaning slime last?
The lifespan of cleaning slime can vary depending on how often you use it and how well you take care of it.
With proper care and storage, cleaning slime can last for several months.
Keeping the slime in an airtight container is important to prevent it from drying out.
3. How do I clean my cleaning slime?
Yes, even cleaning slime needs to be cleaned!
To clean your cleaning slime, simply knead it with your hands until any dirt or debris is absorbed.
If the slime becomes too dirty or starts to lose its stickiness, you can make a new batch using the same recipe.
4. Can I make cleaning slime without liquid starch?
Yes, several other recipes for making cleaning slime don't require liquid starch. Some common alternatives include borax, contact lens solution, or even laundry detergent.
5. Is cleaning slime safe for children to use?
Cleaning slime can be a fun and engaging activity for children, but it's important to supervise them and make sure they don't ingest the slime.
While the ingredients in cleaning slime are generally non-toxic, keeping it away from young children and pets is still a good idea.
Are cleaning slime and cleaning putty the same thing?
Not exactly.
While both cleaning slime and cleaning putty are awesome cleaning tools, they are made with different ingredients and have a totally different textures.
Cleaning slime is stretchy and squishy, and cleaning putting is denser, kind of like a piece of clay.
DIY Cleaning Slime for the Win!
Cleaning slime is a new trend in home cleaning which has been becoming increasingly popular over the past few years.
And now you have a fancy new tool for making your home sparkle!
I love that you can make slime at home in no time at all.
Not only are you making your own cleaning supplies, but seeing how simple the process is is surprising and satisfying.
And I love that no fake fragrances or dyes are needed!
Anyway, with this fun little activity, you can turn everyday ingredients into a slimy concoction that eats away grime and leave everything sparkling clean.
Give it try!
Oh, and take a look at these other unbelievable TikTik cleaning hacks!