If you spend your free time looking on Tik Tok for some serious inspo, I'm sure you have come across some cleaning gadgets. I know I have!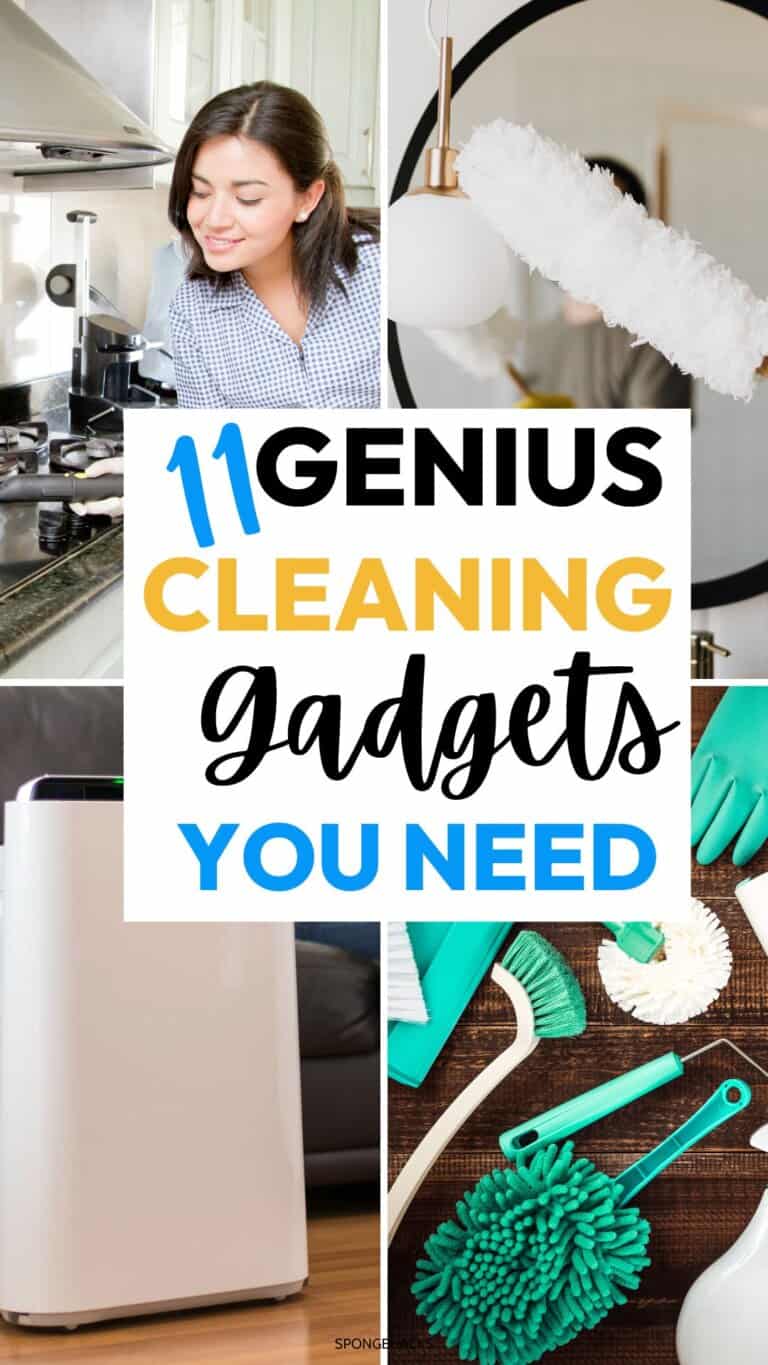 And while I sometimes get all jelly seeing the amazing magazine-worthy living rooms and bathrooms, I can't get my mind off of these magical cleaning supplies.
I just don't like cleaning.
Call me a lazy girl, but seriously, I'd rather do my taxes than spend the time cleaning my bathroom or kitchen.
That's why I'm excited to share these amazing cleaning gadgets for the lazy girl!
Oh yea! I'm seriously OBSESSED with these!
Some of these are viral on Tik Tok and others are just plain necessary for any apartment or home.
So, are you ready? Let's check out 11 cleaning gadgets that are worth YOUR time.
1. A Cleaning Drill Brush
Raise your hand if you love cleaning kitchen grout?
That's what I thought!
No one LOVES to scrub, scrub, scrub for twenty minutes, do they?
That's why I am OBSESSED with this viral TikTok cleaning gadget!
Living in a small apartment with limited amount of time can make it hard to keep up with bathroom cleaning.
This drill set takes the large work of scrubbing your tub off your hands and eliminates the need for vigorous scrubbing that leaves your muscles aching afterwards.
It's so easy to deep clean all those hidden areas in and around your shower stall or sink that tend to accumulate bacteria and grime over time.
Seriously, OBSESSED!
2. JOYMOOP Mop
Don't ya just hate bending over with tired arms mopping away your kitchen floor? I sure don't
That's why I'm IN LOVE with JOYMOOP! Isn't the name just bring a smile to your face?
With its special self-cleaning mop system, you'll save yourself oodles of time and work while enjoying a spotless apartment in no time.
Whether it's wiping up spilled orange juice on the kitchen floor or scrubbing up dirt from the tiles, this little mop and bucket makes it easier than ever .
All you have to do is slide your mop into the wash removable basin, give it a few pulls, and voila! Cleanliness is restored with minimal effort involved. Who doesn't want that?
3. Electric Spin Scrubber
Y'all ready for the cleanest apartment on the block?
This little ol' cleaning gadget is all you need to keep your place squeaky clean!
Ready for a life of no more getting down on your knees, scraping away, and making those horrible sounds trying to get the grime off your tub?!
Just turn that magic spin scrubber loose and watch it do its thing!
With three adjustable angles and an extendable stainless-steel rod, cleaning won't be an issue.
Plus, with four interchangeable brushes specifically designed for various surfaces – bathtubs, tiles, floors – you'll be able to tackle all kinds of messes.
Speed demon feeling? You got it!
You can switch up dual speeds depending on your cleaning needs. Lightweight and with a super comfy handle design, this bad boy can make even difficult cleaning jobs totally manageable.
So forget about hours wasted scrubbing – get this electric spin scrubber and start living life easy-breezy clean style!
4. Groove Cap Cleaning Tool
Check out the ultimate sidekick to take on every dirt bopping mission and element sliding caper you can imagine.

This incredible cleaning gadget is designed to obliterate gunk, grime and grimy residue from keeping those window tracks and shower doors gleaming!
And, it's not all about cleaning power; this bad boy also boasts an elevated curved handle with built-in finger grips for the most comfortable of holds, so you can fight funk til dawn without your hand straining.
Whether it's defeating sticky summer heat window track debris or taking down a fortress of dirt inside shower door grooves, this handy helper has your back.

5. Dryer Vent Cleaner
I don't know about you, but I worry a lot when I clean the lint from my dryer.
I think I heard some story on social media or maybe just the regular news, about how a house was burned down because the owners didn't remove all the lint from their dryer!
Yikes!
When I heard that I researched what I needed and found this amazing cleaning tool!
Ya gotta try it! It will literally keep your house from burning down!
6. Bendable Microfiber Duster
Do you have fans in your bedrooms?
How about crown molding or high bookcases?
Dusting those areas requires a tall basketball player!
That is if you don't use this bendable mirofiber duster.
What I absolutely am over the moon about is that this duster comes with mini dusters too!
It's perfect for dusting under the bed and with the lightweight pole, it's easy to use and store.
7. Winix Air Purifier
Out of all the cleaning gadgets on this list, the Winix Air Purifier is the one I use the most.
I have one in almost every room and run them almost all day.
They do a bang up job keeping my place free of allergens, dust and pet dander.
8. Upgrade Broom and Dustpan Set
Raise your hand if you own that ole broom and dustpan set.
Ya know, the one with worn-out, crummy bristles, and an old-fashioned dustpan that takes 10 pulls to empty the pan?
Well then it's time for a serious upgrade! The Upgrade Broom and Dustpan Set is perfect for cleaning laminate, tile and anything in between!
This set has it all: built in scraper and comb teeth that make it easy to clean the dirt from the fibers of the broom.
And if you got yourself a furry pet pal at home, this broom is perfect for picking up both our hair as well as pet hair with just one pull.
Plus, it looks super chic with its lightweight design and sleek aesthetics. All in all, this broom and dustpan set is the TOTAL package!
9. The Clean Ball
Y'all need to add the Clean Ball to all your bags stat!
Picture this: never having to worry about those nasty dust bunnies attacking the bottom of your purse, backpack or handbag again.
It's like a lil' tiny secret weapon!
Whether you're a man or a woman, the Clean Ball is the perfect add-on for any bag.
As small as a golf ball, it's discreet and easy to carry around. Whats more, it REALLY works!
Collecting dust dirt and lint like none other – it's even reusable so you can keep your bags fresh season after season. So if you're serious 'bout wanting happy and clean handbags minus the mess, grab yourself some Clean Balls.
10. Cordless Battery Scrubber
I can't get enough of this tiny scrubber!
I'm seriously OBSESSED over this cleaning gadget!
So what makes this scrubber so special, you might ask?
It's 2x faster than a manual scrubber!!
Yup, get ready to get that sparkling clean look without all the elbow grease by using this cordless battery scrubber. Whether you're tackling stubborn grout lines in your walk-in shower or hard-to-reach dirt underneath furniture, this little thing packs a giant punch.
It's here to help you make all those tough spots unseeable for everyone but you. That's why I'm obsessed with this!
11. Steam Cleaner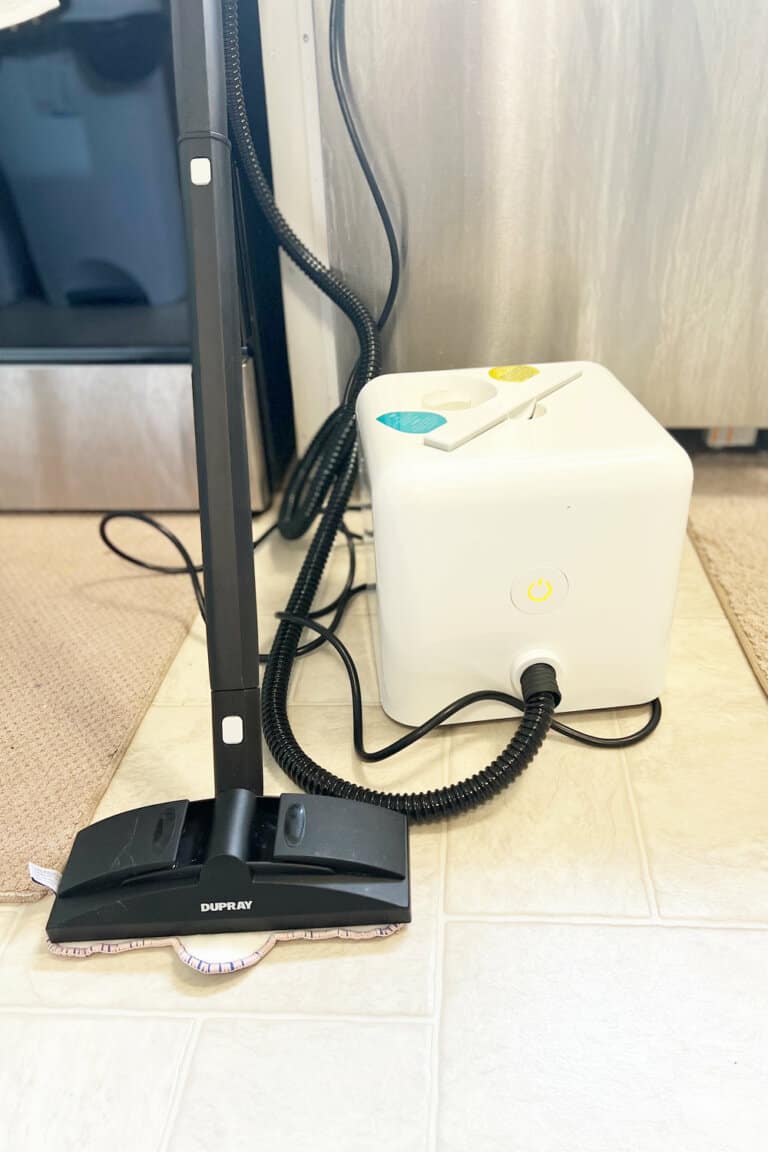 I LOVE LOVE LOVE my steam cleaner. I have the Dupray steam cleaner but honestly, any steam cleaner will do a fantastic job on your grout and get that bathroom smell gone for good.
These cleaning gadgets are soo easy to use too! Just fill the machine with water and turn it on.
Then wait while it warms up and gets all steamy.
When it's ready, you just press the button and steam away!
Many steam cleaners come with attachments for different jobs. I especially like the smaller attachments for around the bathroom and kitchen sink!
Take Care of Your Tools
So, now that you have these tools, you don't want them to wear out, do you?
Taking proper care of your cleaning tools and gadgets is an important part of ensuring they last a long time.
To help you out, here's what you have to do to take care of your cleaning tools and gadgets.
1. Read the Manual
Start by making sure to read the manual that came with your tools and gadgets.
This will give you detailed instructions on how to use them properly, and ensure that their use won't damage them over time.
For example, if you own a steam mop, the manual might tell you not to use it on certain surfaces like certain hardwoods or waxed floors.
2. Use the Correct Cables
When it comes to charging or plugging in any products, always use the correct cables for the product you are using.
Using the wrong cables can cause electrical issues and damage not only the device but also other components or safety features.
Additionally, avoid leaving any charging equipment plugged in for extended periods of time once full charged as this can reduce battery life and cause it to overheat.
3. Use Gentle Soap When Cleaning
When your tools and gadgets need cleaning, make sure to do so gently with a mild soap or detergent solution.
Be careful not to use harsh chemicals or abrasive materials as this could damage surfaces or even corrode electrical parts inside the device.
To protect delicate elements such as wiring, avoid using pressurized water when washing the device.
When drying off after washing, make sure all parts have been dried off completely before putting away; this way you can prevent unnecessary rusting or corrosion from occurring later on.
4. Store Your Cleaning Gadgets Safely
Once finished with use, store them away in a safe place where there will be no chance of other items damaging or coming into contact with it.
For larger tools like the JOYMOOP, the small side closet is fine but for smaller items like dry vent cleaner, I store close to the place where I use them.
Also make sure its stored away from direct sunlight or high temperatures which will deteriorate its life span more quickly with age.
Regularly check up on its condition and if possible update firmware regularly as manufacturers often release new updates that could help improve performance of the device while also extending its lifespan further along too!
There Ya Go!
I hope you enjoyed this post and found the greatest gadgets for cleaning 🙂
Please follow me on Pinterest for more cleaning tips!