Chances are, if you're living in an apartment, it may not have all the bells and whistles you'd like.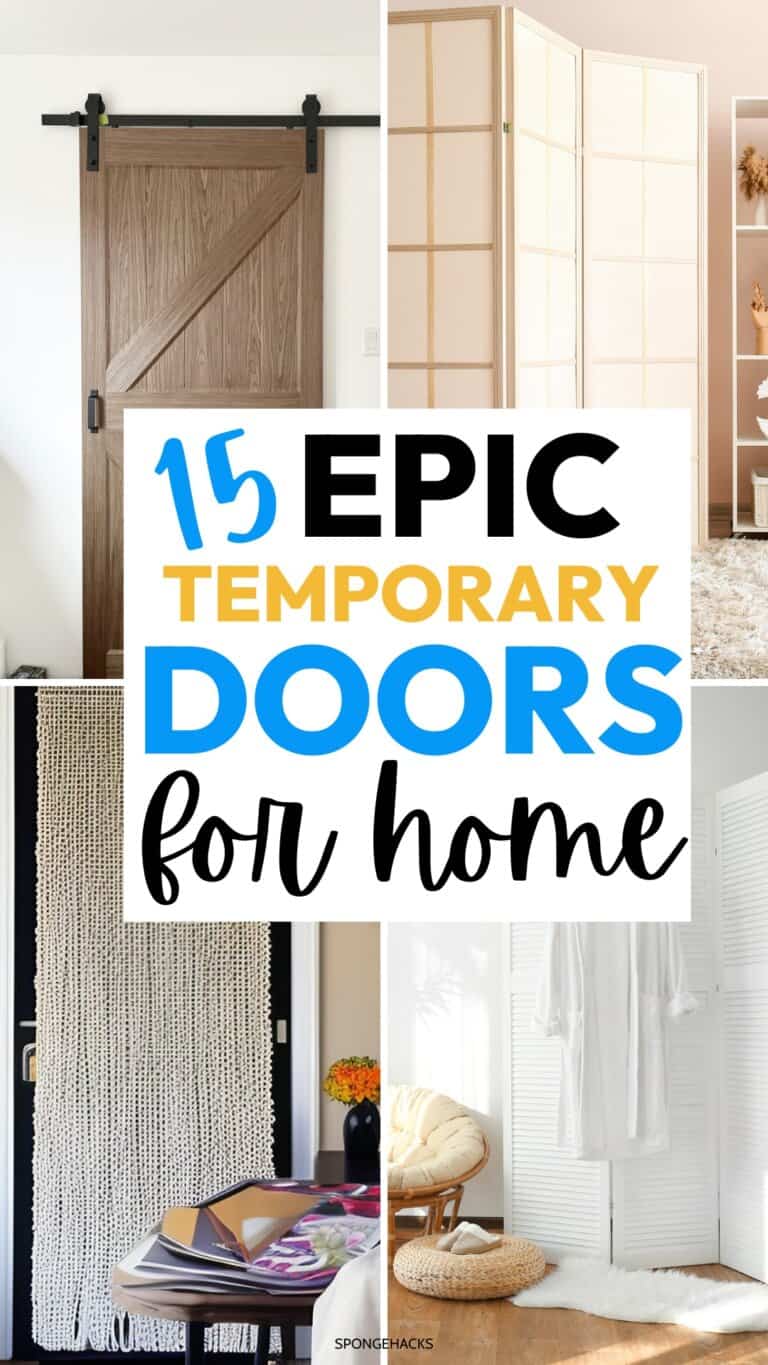 One of the challenges that apartment dwellers face is the lack of flexibility in their living space.
And well, if you live in a smaller home like I do, you are faced with the same challenge.
There are plenty of temporary interior door ideas that can help you create separate areas inside your apartment.
Temporary doors offer a convenient and affordable solution for dividing a room to create a home office or for giving your roommates some much-needed privacy.
And this was something I added to the entrance of our kitchen to keep the kitchen smells in the kitchen and to make sure our kitty doesn't hurt himself when I cook.
Plus, they're lightweight and easy to install, so you won't have to worry about damaging your walls or spending a fortune on permanent installations.
Let's take a look at some creative ideas for how to use temporary doors in your living space!
What is a Temporary Door?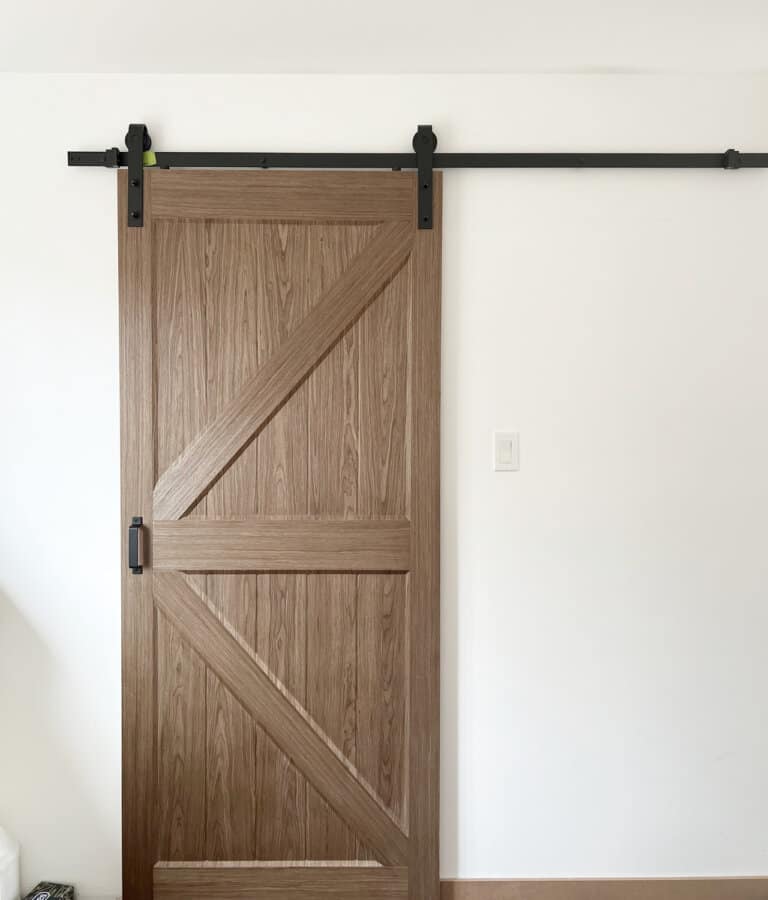 A temporary door is basically a door that's meant to be used for a short period of time, like when you're doing some home renovations or moving stuff around.
It's perfect if you don't want to go through the hassle of drilling holes or doing anything too permanent to the structure around the door.
Plus, they're super trendy and popular with renters or anyone who doesn't want to damage their apartment!
You can get temporary doors in all kinds of styles, from accordion doors to tension rods and magnetic doors.
They're usually made from lightweight materials like vinyl or fabric, and they come in a range of sizes to fit different doorways.
And you can also DIY temporary doors!
So, if you're looking for a quick and easy solution to create a barrier or partition, a temporary door without drilling is the way to go.
Temporary Door Ideas for Arched Doorways
If you have an arched doorway in your home, you may be struggling to find the perfect temporary door solution.
But fear not, my friends!
There are plenty of creative and fun options out there to fit your needs.
For a touch of elegance, consider using a floor-length curtain to drape across the doorway.
Or, if you're feeling crafty, you could make a custom screen door to fit the arch shape.
Another playful option is to create a faux brick wall with removable panels that can be easily taken down when needed.
Whatever option you choose, let your creativity run wild and have fun with it!
1. Tension Rod and Curtain
A tension rod can be a great way to create a temporary door for an arched doorway!
Simply place the rod at the top of the doorway and hang a curtain to cover the opening.
This option is super affordable, easy to intall, and offers flexibility to change out the curtain to match your awesome decor.
2. Folding Screen
A folding screen is a versatile option that can be used to divide a room or provide privacy in an arched doorway.
If DIYing isn't your thing (it's not for me either) check out lightweight screens that can be easily moved and folded up when you don't need it.
You can even paint or decorate the screen to match your style!
3. Contemporary Barn Door with Track
Have you heard about the latest home design trend?
It's all about adding a touch of rustic charm with a modern twist – and what better way to do that than with a contemporary barn door and track system?
And it can work for an archway too!
Picture this: you're hanging out in your living room with friends when someone needs to use the restroom. Rather than a boring old door, they slide open a sleek, industrial-inspired barn door – complete with a track that allows it to effortlessly glide to the side.
It's the little details that really make a space pop, and a barn door is the perfect way to add some personality while also making a functional statement.
So why not hop on board and join the fun?
Temporary Closet Door Ideas
So, let me ask you something – have you ever found yourself in a temporary living situation that just didn't quite have all the features you were hoping for?
Maybe your closet door is a little wonky or non-existent altogether?
There's always a solution to every problem, and in this case, we've got some dope temporary closet door ideas for you to try out.
Jazz up your space with a funky beaded curtain or go for a more modern look with a sleek room divider.
Whatever your style, we've got you covered with these simple and affordable ideas to turn your temporary digs into a cozy oasis.
4. Boho-Inspired Beaded Curtain
Are you ready to travel back to the 60s?
Beaded curtains can be a fun and retro way to add a temporary closet door!
Look for a beaded curtain that fits your space and hang it on a tension rod or attach it to the door frame.
The beads will add some texture and movement to your closet while also covering up your mess.
Unless you want to learn some ways to organize it!
5. Accordion Door
An accordion door can be a great temporary door solution for a closet.
These are lightweight doors that can be easily installed with adhesive strips or temporary mounting brackets.
This option is space-saving and provides easy access to your closet!
When you're ready to remove the door, just detach it from the mounting brackets or remove the adhesive strips.
This type of temporary door can be a practical and stylish solution for your closet door.
6. Macrame Door
Wanna get crafty?
You can add a touch of boho charm to your closet with a macrame door!
Create your own using macrame cord and a wooden dowel – or buy a pre-made macrame door (my style!).
This unique temporary door is perfect if you want to add a bit of personality to your closet space.
Ideas for a Temporary Guest Room Door
Are you in need of a temporary guest room door but tired of those boring, plain options?
Well, fear not my friend, because I have some ideas that will make your guest room the talk of the town (or at least the talk of your guests).
How about a sliding barn door with a funky design or a vintage screen door for a touch of nostalgia?
If you're feeling extra creative, try painting a plywood sheet with an artistic masterpiece or simply add some fun decals for a playful touch.
The possibilities are endless and with a little imagination, your temporary guest room door can become a focal point in your home.
7. Curtain Track & Curtains
A curtain track and curtains can be a very versatile option for adding a temporary door to a guest room.
Look for a track that can be easily installed on the door frame, and hang curtains that can be easily opened and closed.
This option lets you customize the level of privacy for your guest room.
8. Decorative Screen
A decorative screen is a beautiful and functional way to add a temporary door to a guest room.
It can complement the guest room decor and provide privacy for your guests!
You can easily move the screen to another room when your guest room is not being used.
9. Branch Door
Create a charming and rustic temporary door for your guest room using branches or twigs to make a screen!
Use twine or wire to attach the branches together to create a natural and earthy vice.
This unique door idea is awesome for those who want to add a touch of the outdoors to their interior design.
Plus, your guests will love the cozy and welcoming atmosphere this door creates!
10. Fabric Panel
A fabric panel can be a super simple and effective way to add a temporary door to your guest room.
Use a lightweight fabric that matches your style and attach it to the door using temporary adhesive strips (I'm telling ya, these really come in handy!).
When you're ready to take it off, just peel off the strips.
Temporary Door for Basement Ideas
If you're anything like me, you're always on the lookout for a quick and easy solution to your home makeover problems.
And let me tell you, I've got just the thing for your janky basement door situation.
Introducing our brand new temporary door for basement ideas!
This bad boy is the ultimate fixer-upper that's sure to give your basement a fresh new look.
With its easy-to-install design, you'll be able to spruce up your space in no time.
Plus, it's super affordable, so you won't have to break the bank.
Trust me, you won't regret adding this bad boy to your basket. Get ready to hack your way to a more beautiful home with our temporary door for basement ideas.
10. Tarp Door
Need a temporary door for your basement?
Look no further than a tarp!
This cheap and practical option can be used to create a barrier between spaces in your basement.
Just attach the tarp to a frame or pole using bungee cords or rope, and you have an easy-to-intall door that can be taken down whenever.
This is a great solution if you want to create separate zones in your unfinished basement without spending a ton of money!
11. Tapestry
If your basement is finished, you can create a bohemian-inspired temporary door by using a tapestry.
Choose a large tapestry or several smaller ones that go with your decor and hang them across the doorway using a sturdy rod or wire.
This unique idea not only adds color and texture to your basement but also creates a sense of privacy and separation – especially if you're creating a laundry room area.
Plus, the tapestries can be easily removed and used as wall decor in other areas of your home when your temporary door is no longer needed!
Temporary Bedroom Door Ideas
Maybe you're living in a rental or crashing at a friend's place for a bit and don't want to commit to installing a real door.
Don't let a lack of door hold you back from getting that privacy you crave. Get creative and make it work!
12. Room Divider
If you need a temporary door for your bedroom, consider using a room divider!
Room dividers come in a wide range of styles, materials, and sizes, making them a versatile and awesome solution for any living space.
They are perfect for creating a partition or some privacy in your bedroom without the need for a permanent door.
You can go for a folding screen or a curtain-style divider, and easily install it to suit your need.
With a room divider, you can add a unique touch to your room!
13. Magnetic Door Curtain
If you're looking for a temporary door solution for your bedroom that provides privacy while still allowing for easy access, a magnetic insulated door curtain is a great option.
This type of door consists of two thick, insulating panels that are attached to each other with magnets, creating a seamless closure.
Simply attach the panels to the doorway using an adhesive strip or magnetic tape, and you'll have a snug and secure temporary door in no time!
14. Bookshelf
Some temporary door ideas in tight spaces require some out-of-the-box thinking – like using a bookshelf!
By placing a bookshelf in your bedroom, you can create a little private space while also adding in some storage.
This would be perfect if you're looking to use a temporary door to create an office in your room!
I love this innovative temporary door idea because it doesn't take up a lot of space and looks really cool!
15. Shoji Screen
Lastly, you can get really fancy with a temporary door for your bedroom by using a serene and calming shoji screen.
This Japanese-inspired door can be made by constructing wooden frames and adding rice paper to create a delicate and translucent look.
I doubt you have any rice paper lying around, but you can definitely get these shoji screens online!
This unique design allows natural light to filter through while providing privacy and separation in your space.
Transform Your Living Space with These Awesome Temporary Door Ideas
Temporary doors are seriously amazing for creating chill vibes and privacy in any living space!
They come in all kinds of materials, styles, and sizes, making them a super versatile and practical option for any situation.
Plus, with their easy installation and removal, you can totally switch them up and experiment with different ideas without the need for a permanent renovation.
So why not give one of these dope temporary door ideas a try and level up your living space game?
For more home decor tips and cleaning tips follow me on Pinterest!