I bet ya that laundry is probably the last thing you want to think about, right?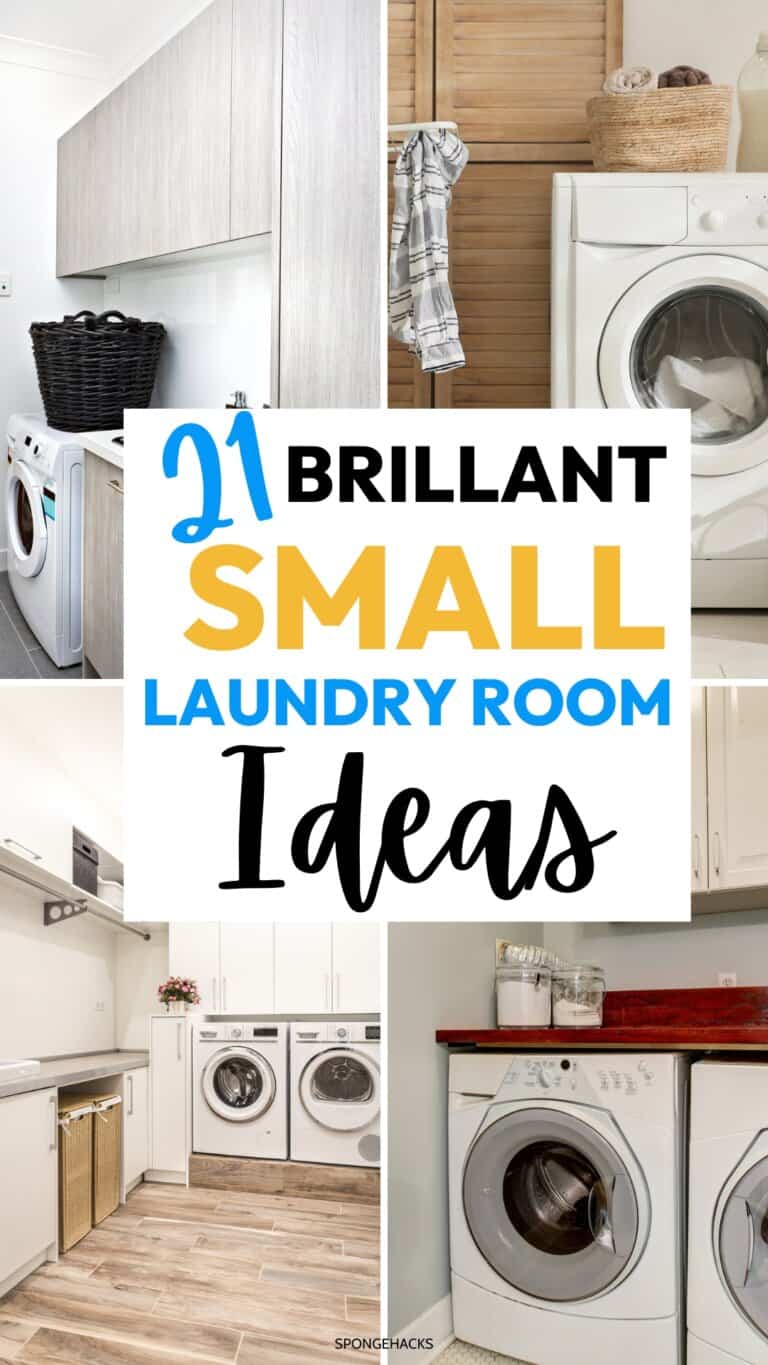 After all, you can get away with your laundry related endeavors while crashing at mom and dad's while you save up some moola.
But laundry is unavoidable so why not make it interesting and meet laundry day with a trendy laundry room idea?
And you know what's even better than that?
Well, having some trendy narrow laundry room ideas!
It's time to pump it up a notch for sure.
I practically don't have a laundry room (and my closets are small too).
It's narrow, tiny, small and cramped in my basement.
So, if you also have a compact laundry room then let's explore these trendy and cute laundry rooms that you can even DIY too!
Small Narrow Laundry Room Ideas
How narrow is a narrow laundry room in North America?
A small laundry room typically is 6ft by 6ft or 7ft long.
You can have laundry rooms that are 5ft as well. For long narrow laundry rooms, they can start at 4ft or 5ft by 8ft.
Depending on if your laundry room is a closet on the main floor, or a room in your basement, you can configure your washer, dryer and possibly a sink.
So, let's check out some amazing space saving small laundry room ideas for your place!
1. Use Peel and Stick Wallpaper For an Instant Uplift
Don't you just LOVE this black and white laundry room? TO.DIE.FOR!
I have a thing for black – black sinks, black purses and more!
To recreate this look grab some cute peel-n-stick wallpaper and some black wire baskets.
This looks like an easy DIY laundry room idea! Take the weekend to clean out your laundry room, wash the walls and start peeling away!
2. Add Some Plants to Make it Lively
Don't you just love this modern laundry room?
With the greenery it compliments the black washer and dryer and almost has a masculine feel to it!
To recreate this look grab some nice pots and artificial plants.
Take the time to organize your narrow laundry room the way you want to!
If you add too many items it'll look cluttered and small, so less is more in this case!
3. Add a Pegboard
When you have a narrow laundry room you have to use vertical space to maximize all that you have!
And what's better than having a pegboard on one wall of your small laundry room?
With a pegboard you can hang your ironing board, dry rack, and more.
To recreate this look grab a pegboard and some hooks and you're good to go!
This is a fun DIY project for your tiny laundry room. Take a day or two to find a wall for the peg board and then place them to make one giant peg board.
From there you may need to pick up some wire baskets if you need to hand smaller items!
Have fun!
4. Add a Nonstick Runner
For a top loading washer, you can't really mess with that stuff.
So, to make your small laundry room pop, put in a funky nonstick runner and a cute saying on the wall!
If the runner you like isn't nonstick you can easily make it nonslippable by getting non slip grips!
5. Use a Laundry Sorter
If you live in a small space, there might not be enough room to sort your laundry.
Instead of doing that, why not use a laundry sorter to do that task instead?
This comes in handy when you have a family or room mates. You can designate one section for one person or item of clothing (all whites, colors, jeans, delicates).
I'm going to have to use this idea for my small laundry room.
I'm forever sorting and re-sorting my laundry that this will save SOOO much time!
6. Some DIY Small Laundry Room Ideas
If you have the time and resources, you can turn your drab narrow laundry room into a posh room with a vibe.
And it looks perfect for these small laundry room ideas with top loading washer!
Try creating a butcher block counter and some rustic shelves?
Looks good to me!
7. Use a Wall Mounted Dry Rack to Save Space
If you have a very narrow laundry room, then maybe having a wall mounted dry rack is better than storing one on a peg board or beside your washer and dryer.
This will ultimately save you room and give you much needed space for other laundry items.
8. Lint Bin and Catcher
I don't know about you, but I'm always running around to throw away the lint that collects when I dry my clothes!
Well not anymore!
Check out this cute lint bin and spool? I'M OBSESSED!
This one is magnetic so all you do is snap it on one side of your dryer and now you can throw your lint into this bin!
Space saver for sure!
9. Add Vintage Looking Floor Tile (Peel-n-Stick)
I s'more adore this compact laundry room idea!
With the natural looking cabinets and hangers and the neutral paint color it's giving me a calming vibe!
And, you wanna be calm when you do laundry, right?
But check out the floor tile! Vintage and it's a perfect match.
To recreate this look grab some wicker baskets and some peel and stick floor tile.
Take the weekend to lay your floor tile and get help to put back your washer and dryer so you don't ruin the tile you laid!
10. Add Stylish Shelving
What a fun look to have for a small laundry room decor item!
These industrial and stylish shelves are shorter than traditional wall to wall shelves.
I think this makes the room less small too!
11. Use a Narrow Cart
I LOVE this idea!
I use these slim three tiered carts for my kitchen, bathroom and now laundry room!
Store your dryer sheets, laundry detergent and your dryer spool too!
12. Use a Coat Rack
Who says a coat rack is ONLY for coats?
Sheesh, use it in your laundry room to store your ironing board and mop!
And you know you probably have a few of these hidden in storage!
So, go ahead and mount them in your small laundry room!
Narrow Laundry Room Ideas with Sink
Now let's check out some small laundry room ideas with a sink.
And while we are at it I'll also explore some washer ideas for a narrow laundry room.
Let's get to it!
13. Small Laundry Room with Stackable Washer Dryer and Sink!
If your have a long narrow laundry room, try stacking your washer and dryer so you can fit in a laundry sink or traditional sink with a cabinet.
14. Use a Space Saver Laundry Sink
If you can't add a sink to your narrow laundry room, why not get a laundry tub instead?
These come in handy when you have a stain on your clothes and need to soak it overnight.
Just plop it into the laundry sink and let it sit!
I have a laundry tub and it comes in handy almost every day!
I use it for soaking, cleaning and washing!
15. Add a Rod to Hang/Dry Clothes Above the Sink
To really maximize what small space you have for your laundry room closet, why not add a tension rod to hang clothes to drying or that need ironing?
It's the perfect idea when you don't have much room to organize your small laundry room.
Narrow Mudroom Laundry Room Ideas
Is your laundry room ALSO your mudroom?
If it is, here are some narrow mudroom laundry room ideas for you!
16. Maximize Space
If you have to use your laundry room as a mudroom also, then every inch counts.
To maximize your space you need to designate one wall for laundry and the other side as the mudroom.
17. Try a Closet Organizer
Don't you just LOVE this chic look for a narrow laundry room?
I sure do!
Using a metal closet organizer just makes sense in a small laundry room.
Some Cute Small Laundry Ideas for Eye Candy!
I just had to go all on Pinterest and pick the cute laundry room ideas for eye candy!
I hope you love these as much as I do!
18. Rustic Laundry Room
If you live small and think small, then a rustic small laundry room is the vibe for you.
With an array of small laundry room ideas, you can make your small space both stylish and functional.
From paneled walls to statement lighting, there are plenty of ways to give your small washer & dryer setup the much-needed TLC it deserves.
Come on, liven up your crafty cottage with some farmhouse flair!
19. Subway Tile Galore!
If you're stuck on narrow laundry room ideas, let me share with you my pick for the best way to make a statement — use subway tile!
Subway tile can be a great choice for small spaces because of its small design, neutral color palette and chic vibes.
Not only is it super trendy and fashion-forward, but it's also low maintenance and easy to clean.
So go ahead and glam up your small laundry room with some snazzy subway tile — you know you want to!
20. All About the Gold
Who knew doing laundry could be so luxe?
From the bright white walls to the gold accents, this tiny laundry room is sure to turn chores into a whole other kind of activity.
What better way to forget about your daily stressors then by doing a load of washing with royalty-level style?
Welcome to luxury laundering in your own place!
21. The Best Small Laundry Room in a Closet
Having a laundry room that can fit inside a closet doesn't have to be a bummer – it can actually be pretty convenient.
If you're short on space and need to get your laundry done while keeping your main living areas clutter-free, an all-in-one washer/dryer conveniently installed in the closet might just be the way to go.
Not only will you have easy access to all that wet stuff, but you'll also be able to finally retire that old wheelie hamper. It's time to move up into the tiny laundry room game!
No more lugging around mounds of clothes or struggling with hulking machines in tight quarters; it's all within arm's reach when you've got it tucked away behind closed doors.
Small Laundry Ideas for You!
Whether you have a closet for a laundry room or a tiny narrow laundry room, I hope these laundry ideas were helpful!
Please follow me on Pinterest for more home organization, storage and cleaning ideas!