I don't know about you but whenever I do a load of laundry guess what happens?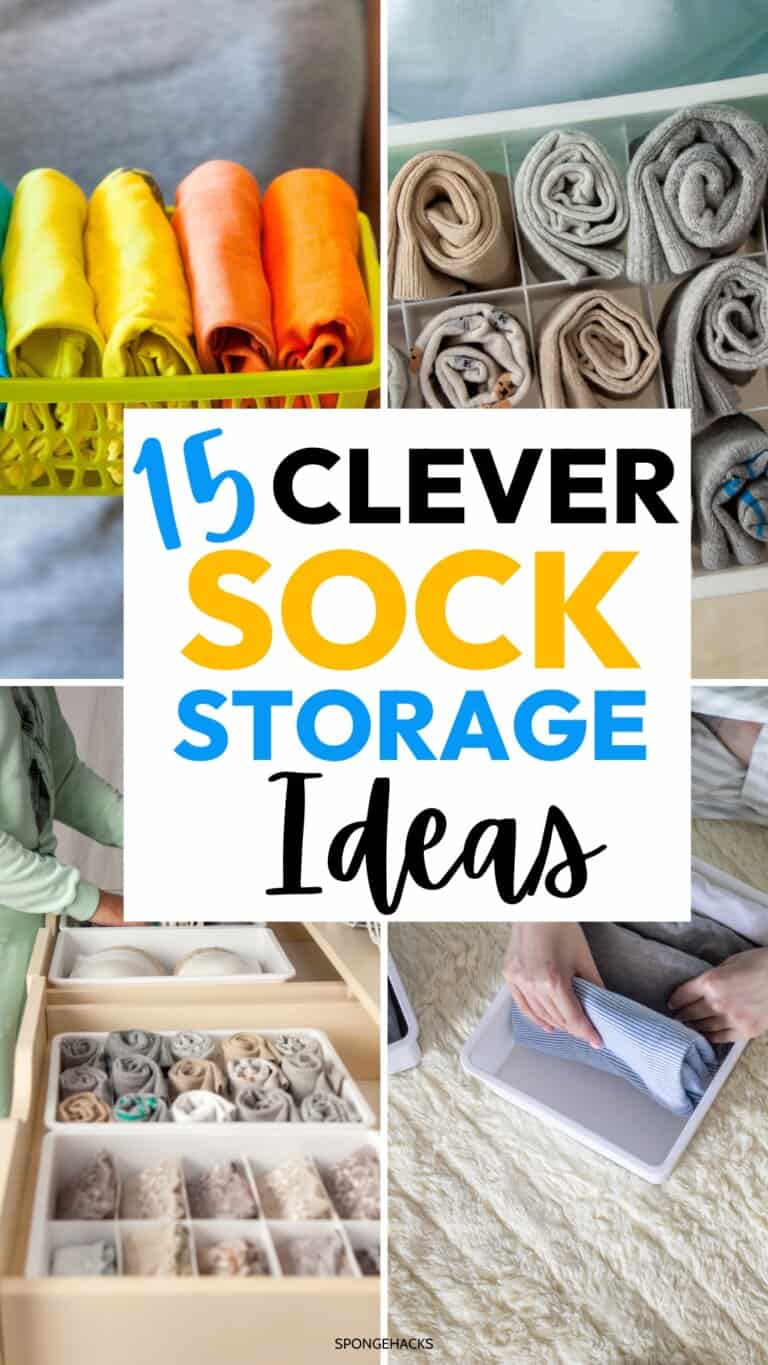 I end up washing a big pile of clothes and when I go and put everything away, I seem to never have enough room for my socks.
Between my small bedroom and small closet, I just don't have a lot room for a full bed set with side tables and dresser!
But, I need a sock organizer that doesn't take much room but can hold all my socks and underwear too.
So, to get some ideas, Pinterest is the one place to get DIY storage ideas, organizers and more!
Let's get some inspo and finally have the best ideas for sock storage!
What is the One and Only Sock Drawer Organizer for a Small Bedroom?
Is there a one and only magical sock storage idea that fits any an all dressers?
Yes, there is!
Get ready to bid adieu to mis-matched pairs and endless search missions, because this nifty organizer will have you revealing in sock mogul status a la Marie Kondo.
Now that's what we call smokin' hot drawer real estate!
1. A Sock Storage Box
Look –
I don't have a dresser in my bedroom and that means I have to be a little clever on where I can store my socks, bras and underwear.
One easy idea is to use this sock organizer box.
There's a spot for each pair and you can store this under your bed, in your closet or in your dresser (if you have one!).
The fabric is durable and top notch and will last a long time.
Make sure to measure your drawers before getting these storage boxes. They may not fit and you don't want that to happen!
Okay –
But is there other sock and underwear storage ideas that are great for small and tight places?
Let's look at some other amazing and clever ideas.
2. Hanging Sock Organizer
Don't only use your hanging sock storage for socks!
Use it for your bras and underwear too! Win-win.
This is a creative way to organize your bras and underwear for sure!
It's an easy (and cost effective) way to store both essential lingerie items and of course, your socks!
No need for a clunky dresser taking up precious room in your closet – just hang up a storage shelf or unit with compartments for socks, bras, and underwear.
It's great for keeping everything sorted and organized, plus it looks much neater than having piles of mismatched items tossed around in drawers!
Not only does it help organize quirkly shaped socks which tend to take up valuable drawer space, but the easy-to-access design of this kind of storage makes it super convenient for you to browse and select all your favorite pairs without hassle.
Phew!
Plus, who wouldn't love a little bit of style brought into their sock storage?
Hanging sock bins just provides a vibe ya know?
It's a decorative touch to any bedroom since they come in many fun prints and colors.
So, why not give this brilliant idea a chance and free yourself from lost socks forever?
3. Sock Organizer Insert
OMG! Such a simple idea for storing your socks!
Love it!
Sock insert organizers – how did we ever live without them?
This genius invention is like a blessing for all the sock hoarders out there.
Think about it – never again will you be digging around in your drawer, searching in vain for misplaced mismatched socks. The organization possibilities are endless!
From a neat & tidy drawer full of perfectly-paired socks, to preventing a tangled mess of clean laundry from taking over your entire room, this little device just might be the best thing since sliced bread.
Let's face it – life doesn't get much better than knowing where you can locate all your socks anytime, any day!
4. Fabric Storage Bins
What can I say?
It's not exactly the most glamorous set-up, but hey, with no dresser in sight it's either this or nothing!
Living with limited space and all sorts of crazy furniture restrictions certainly requires some creative solutions, and using soft storage bins to store all my unmentionables is definitely one of them.
I have to give myself some credit for thinking outside the box on this one; might as well make use of what I got!
If you're constantly lost in a jumbled mess of socks, then a fabric sock storage basket is the answer.
This sleek solution for all your sock woes is not only stylish, but it also keeps your whole drawer tidy and free of tangles.
Not to mention it cuts down on that tedious task of sorting!
Who knew keeping your socks so organized could be so fun?
5. Pull-Out Drawer for Closet
Do you have shelves in your small closet?
If so, why not add these pull-out soft drawers?
It's a simple way to store all of your socks, scarves, bras and more small clothing items.
Not only will it create an organized system, but you'll never have that feeling of frustration when trying to find a matching pair.
There's nothing better than being able to compare colours and prints without having to rummage through piles of mismatched pairs.
With all your socks on display, you can pick and choose like you're a stylist – no more despairing over finding two matching ones.
So, why limit your style when it comes to sock storage?
Try a pull-out drawer instead and turn a mundane task into something fun!
6. Wall Mounted Sock Storage Idea
Aren't these wall mount drawers the cutest thing?
I LOVE them!
Got socks everywhere?
Don't let your home become a disorganized mess!
Cut the clutter and beat the chaos with this wall-mounted sock storage idea.
Forget about digging through drawers, having mismatched pairs, or sorting out all those tangled-up socks in the laundry room – with this sock storage solution you'll always have coordinated cuteness a glance away!
All it takes is a few supplies to assemble this functional and quirky way to give your bedroom an upgrade, so get on it and make your household marvel dream come true.
7. Sock Storage Ideas for Men
My husband always turns to his trusty three-drawer system for organizing his socks and underwear.
He's got it nestled next to the bed and acts like it's an all-in-one night stand too.
While I'm not quite sure why he needs a drawer dedicated entirely to mostly socks, I can't deny how nice it is that he's finally gotten his sock game in order!
It saves me from digging through a pile of unfolded garments every now and again, so this system is probably the best investment we've made in bedding accessories!
8. Under the Bed Sock and Shoe Storage
Look –
If you have a very tiny bedroom and can't fit a dresser or a three-drawer system then you might as well get an under the bed storage box.
For many years while I lived in my apartment this is exactly what I did and it was PERFECT!
It's an inventive way to get a bit of hidden storage space where you'd least expect it – plus, it brings back some nostalgia, doesn't it?
After all, who hasn't moved their bed as a kid just to find out what wonders were hiding beneath it?
So don't think twice about going for the time-tested brilliance of under bed sock and shoe storage!
9. Hanging Closet Organizer
This is such a budget-friendly sock storage idea for you!
Plus, it doesn't take much room. With this closet organizer you'll get 6 drawers and there ones for your socks too!
Score!
It's super easy to install, and way more efficient for organizing your socks than that old school "shove them in a drawer" method.
Plus, you can make it as fancy or minimalistic as you like with fun matching bins and compartments!
It's has be more satisfying than having mismatched socks all over the place.
Depending on your personal style, you can even customize the look of this ultimate organization tool.
Get ready to kiss farewell those days of losing socks – the hanging closet organizer has arrived!
10. Shoe Box Container
Sometimes the best way to organize all your socks is to stick them int a clear storage container.
You can get these ar Walmart, the Dollar Store or even Amazon!
DIY Sock Storage Ideas
Let's look at some fabulous Pins on how to DIY this sock organizing idea!
11. Underwear and Sock Storage – With PVC Pipes!
How GENIUS is this storage idea?
Believe it or not, these durable pipes can be used as the ultimate storage holders for your undies and socks.
Not only are they easy to install, but they keep your items separated so you never have to search again.
Plus, it adds a unique flair of style that looks super industrial-chic.
Seriously, what's a better way to store your goodies while also adding a level of coolness to your room?
Don't waste another minute – try this PVC piping storage idea and start mastering the art of simplicity now!
12. Baby Sock and Shoe Storage ideas
Looking for the perfect storage idea for those tiny baby socks and shoes?
Stop looking, because you've just stumbled upon the best and cheapest DIY ever – toilet paper rolls!
Yep, that's right; it turns out those spare TP rolls you have lying around aren't just for 'business.'
With a bit of glue, scissors, some yarn and whatever other materials you want to jazz up your design, you can make yourself a cute sock storage idea that not only looks stylish but serves its purpose too.
So what are you waiting for?
Go get creative with all that extra paper in the house…the mommy points are worth it!
13. DIY Sock Organizer
With a few pieces of material you can whip up this DIY sock organizer for your drawer!
Love it!
14. Homemade Drawer Organizer for Socks
What a great idea and doesn't look good?
Very professional looking for sure!
Try it out if you want.
15. Re-Use Old Shoe or Boot Box
A fantastic way to recycle or repurpose you boxes is to see if you can use them to store clothes!
Old boot boxes are big and usualy made from thicker cardboard so you know this will last!
Time to Declutter Your Socks (If You Have Too Many Missing)
Let's face it, socks go missing all the time.
In my place, I have to organize four people's socks and well, that's a lot.
It's a lot like the Bermuda Triangle for your socks, but knowing how to declutter your sock drawer so you can find those missing socks is the best answer for sure.
So, here are my best tips for you so you can declutter and then organize your socks with the amazing organizers I shared in this post!
1. Empty Your Sock Drawer
The first step is figuring out what socks you already own.
This will give you an opportunity to look at everything that's in there—including any random items that may have found their way into the mix—and decide what should stay and what should go.
Plus, it also gives you a chance to get organized by sorting them into categories such as dress socks, athletic socks, etc.
Quickly discard socks that have holes or are tattered and loose fitting.
2. Sort Socks Into Piles
Once you've got everything out of the drawer and sorted into categories, it's time to start sorting each category into piles.
Put all of your mismatched socks together in one pile, all of your solid-colored socks together in another pile, and so on.
This will make it much easier for you to see which pairs are missing a mate and which ones need discarding.
3. Reorganize & Replace
Once you've discarded those old or unwearable pairs of socks, it's time to reorganize everything back into the drawer neatly.
And, to also try one of these organization methods too!
This is also a great opportunity to replace any lost or damaged pieces with some new ones if necessary!
Just make sure that when buying new pairs of socks that they are all coordinated so that no more mismatches occur down the line.
Should I Roll or Fold Socks?
It's really up to you!
Some people swear by folding, while others can't get enough of the sockroll.
The truth is, neither technique is right or wrong – it all comes down to personal choice and lifestyle habits.
If you're always on the go, a quick-and-easy sockroll might be best.
But if you like to take your time and keep things organized, an expertly folded stack of socks will do just fine!
Whichever route you take, one thing is certain: having a dedicated space in your drawer for clean pairs will help make sure you never have to scramble at the last minute for a lost sock ever again.
Storage Ideas for Your Socks!
I hope you enjoyed this post and found at least one sock storage idea to try!
Please follow me on Pinterest for more cleaning & organizing tips!