One easy and simple way to update your home or apartment is in the bathroom – specifically, with the best design: rustic bathroom decor!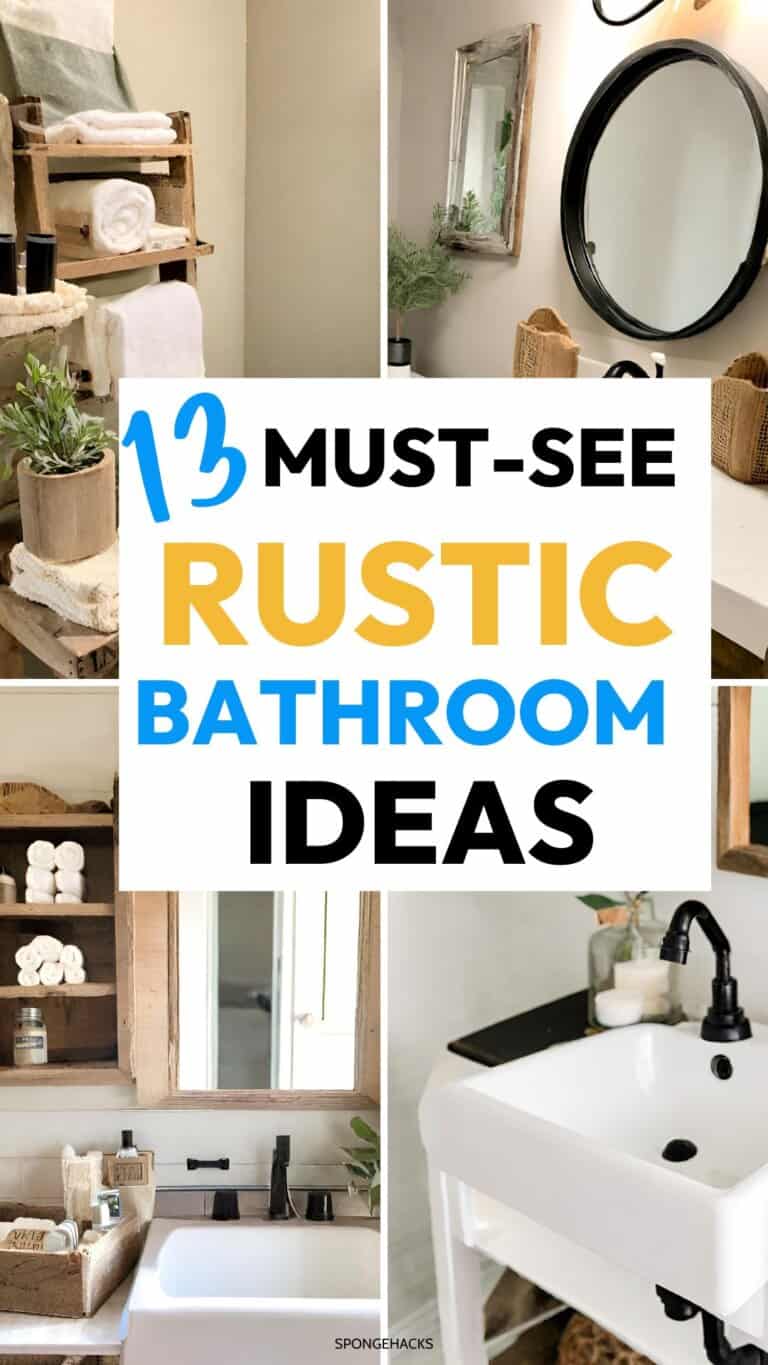 After all, it's the space where you begin and end each day – why not make it feel special?
Rustic decor. It's the trend right now.
Yes, rustic living room, rustic kitchen, rustic bathroom, rustic EVERYWHERE!
Whether your aesthetic leans towards modern farmhouse or shabby-chic, there are plenty of fun and easy ways to infuse some rustastic charm into your bathroom decor.
And just think – rustic bathroom decor is all about bringing the charm of a quaint cabin or farmhouse into your place.
So let's be real, who doesn't want to feel like they're lounging in a fancy log cabin while soaking in the tub?
So put on your best flannel and get ready to transform your bathroom into a chic refuge,
Rustic Bathroom Wall Decor
When it comes to bathroom decor, we all know the importance of a good-looking wall.
And what's better than a rustic-inspired wall that oozes farm chic vibes?
Rustic bathroom wall decor is all about creating a warm and cozy environment that still looks minimalistic and fresh.
It's all about reclaimed wood, vintage frames, and a few carefully placed plants.
The key is to make it look effortless, like you just threw it all together while looking flawless in your bathrobe.
With the right pieces, your bathroom wall will become the ultimate Instagram selfie backdrop and make your followers green with envy.
So, let's check them out!
1. Rustic Vintage Bathroom Decor
Are you screaming now?
This looks AMAZING!
It's perfect for any type of decor or aesthetic and all you need is an old wooden window that you can destress and a plush green wreath to tie it together.
It's so simple yet so stylish and it's budget-friendly too! Trust me, your friends will be begging for the name of your interior designer.
With all the rustic wood decor ideas out there, this one is magazine worthy for sure!
2. Rustic Wood EVERYTHING
Who says rustic can't be chic?
With some simple additions, you can take your bathroom from basic to fabulous in no time.
From wooden vanities to distressed mirrors, this rustic design look has everything you need to create the perfect space.
Imagine soaking in a clawfoot tub with a beautiful wooden bath board holding your wine glass and book – now that's the kind of bathroom that screams relaxation and elegance.
With distressed wood, your bathroom will not only look amazing but also transport you to a cozy cabin in the woods.
It's time to upgrade your bathroom game!
3. Rustic Shelf Decor Ideas
Here's an easy way to elevate your bathroom from basic to boujee.
It's using rustic wooden shelves.
Not only do they provide ample storage for all your lotions and potions, but they also add a touch of rustic chicness to any bathroom.
Plus, they're perfect for displaying those cute succulents or stylishly rolled towels.
Trust me, if Mila Kunis can make rustic wooden shelves look fly in her bathroom, then so can you.
Don't let your lack of storage space and style hold you back.
Get your hands on some rustic wooden shelves and embrace the bathroom of your dreams.
4. Get Towels Off the Counter With this Rustic Bathroom Item
Ugh, isn't it the worst when you walk into your bathroom and the counter is cluttered with towels?
Like, where are you supposed to put your makeup bag or your favorite perfume?
Well why not just get a bathroom wall shelf holder?
Not only will this chic addition elevate the style of your bathroom, but it will also keep those pesky towels off the counter and out of harm's way.
No more scrambling for counter space or trying to balance your hairdryer on top of a stack of towels.
5. Use a Rustic Door
How cool is this?
Who knew using a rustic door and wire baskets behind the toilet could transform your bland bathroom into a chic, urban oasis?
With just a few small changes, your bathroom can go from drab to fab in no time.
The combination of the rustic wood door and wire baskets not only adds a touch of charm and character to the space but also provides some much-needed storage.
Plus, it's a fun and unique way to inject some personality into an otherwise overlooked area of your home.
Trust me, your guests will be snapping bathroom selfies in no time.
6. Wood Paneling Baby!
I LOVE LOVE this rustic bathroom!
I mean, who said rustic can't be chic?
Bring the outdoors indoors with wood paneling in your bathroom.
Not only will it give your bathroom a cozy cabin vibe, but it'll also be Instagram-worthy for days.
Jazz up your bathroom with some black iron fixtures or keep it simple with naturalistic accents for a more minimalist look.
Either way, your guests will be impressed with your stylish choice.
Plus, there's no better excuse to stock up on those cute, rustic mason jar accessories for your new and improved bathroom.
Embrace the natural beauty of wood paneling and your bathroom will be a true oasis.
7. Old Wooden Sign
Transform your bathroom into a rustic chic sanctuary with just the right accessory: an old wooden sign!
No need to break the bank on expensive decor when you can repurpose a weathered sign to add charm and personality to your space.
Whether you opt for a humorous quote or a sentimental phrase, the worn texture of the wood will bring a touch of vintage elegance to your bathroom.
Plus, you can proudly boast to your guests that your bathroom decor is eco-friendly and sustainable.
win-win situation!
8. Pendant Light
Light up your life, or at least your bathroom, with pendant lighting.
Just because it's the smallest room in the house doesn't mean it can't be the sassiest.
Add a touch of rustic charm with some carefully chosen pendant lighting.
Think weathered wood and copper tones that scream chic, not shabby.
With the right lighting, you can capture that coveted rustic bathroom room vibe even in the tiniest of rooms.
9. Unique and Rustic Metal Trough
I mean when you go rustic farmhouse bathroom decor, just go ALL the WAY baby!
If you're feeling adventurous with your bathroom décor, why not try incorporating a unique and rustic metal trough?
Not only will it add an unexpected touch of edgy charm, but it also serves as a practical and stylish storage solution for your towels and toiletries.
Trust me, your guests will be impressed by your rustic design skills.
Don't be afraid to mix modern accents with rustic elements – it's all about balance, baby!
10. More Rustic Metal!
Gone are the days of boring bathrooms!
Spice up your morning routine with a rustic metal bin on your wall to create a chic and trendy atmosphere.
This bin adds a touch of industrial glamour to your bathroom while also being practical.
Use it to store towels, toilet paper, or even your favorite bath products.
Who needs a basic plastic bag when you can have a rustic metal bin?
So, turn your boring bathroom into a relaxing and stylish oasis with this must-have accessory.
11. Simple Rustic Look
If you're looking to add some spunk and personality to your bathroom, then why not try a big letter sign!
Yes, the same letter decor that has been taking over every Instagram influencer's home can help you bring that rustic vibe to your bathroom.
Hang up a vintage metal letter or letters spelling out "WASH" or "RELAX" to bring some playful charm to your space.
Your guests won't be able to stop themselves from complimenting your chic and classy bathroom decor, and you'll feel pampered every time you take a relaxing bubble bath amongst your stylish surroundings.
12. Rustic Beach Bathroom Decor
When adding some beachy vibes to the bathroom, it's those little accents that does it all.
From starfishes, to seaweed to beach glass scattered all over, you can create a fun rustic beach bathroom that you're guests will gush over!
13. Modern Rustic Bathroom Decor
When you think of a rustic bathroom, you may envision trough sinks with reclaimed wood towel rack and farm baskets for accents.
But don't let that image scare you off from incorporating a touch of countryside charm into your bathroom decor.
Thanks to modern rustic decor, you can enjoy an idyllic bathroom retreat without smelling like a barn.
Think sleek wood paneling, rusted metal accents, and plenty of greenery to give your bathroom that natural touch.
Go ahead and add fluffy towels and chic accessories, like a woven basket or a statement mirror.
Who says rustic has to be rough around the edges?
Rustic Bathroom Decor Ideas
Did you find your bathroom in these Pins?
I love the fresh, clean modern look paired with a rustic charm like wire baskets, natural wood and vintage signs.
So, whether you're decking out a new home or giving an old space a facelift, a rustic bathroom will have you feeling like you're soaking in the heart of nature, even if you're just in your own four walls.
Make sure to follow me on Pinterest for more home decor, organizing and cleaning advice!