Raise your hand if your apartment is over stuffed with blankets, shoes, purses and makeup?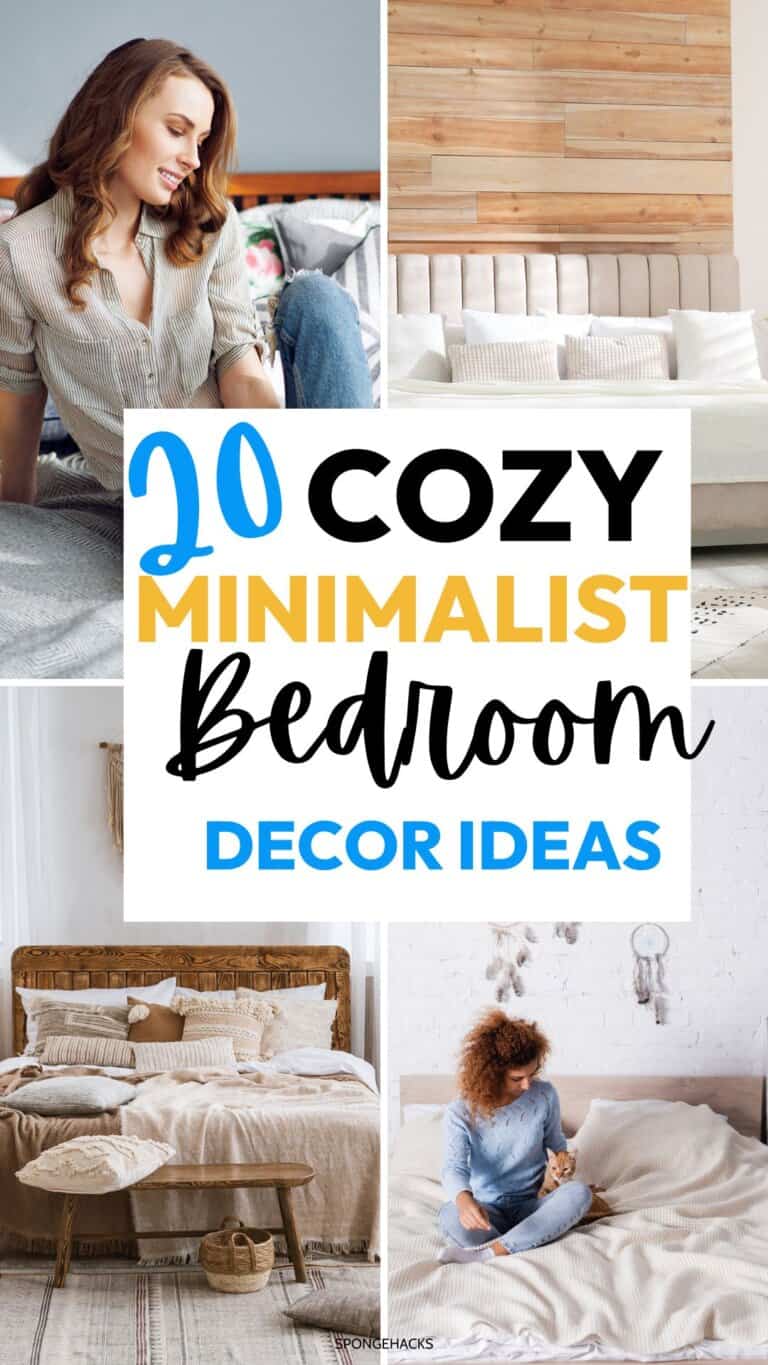 When you move into your first apartment it seems like a dream, doesn't it?
Finally an adult! Yes!
But, then reality hits and you suddenly find all those shopping sprees are piling up in your bedroom.
You hate ending your day going into your horribly cluttered bedroom, but what do you do?
Well, after decluttering and organizing your bedroom, why not try some minimalism?
Ya know – it's time to get all Zen and all.
This will totally ease your stress and make coming to your bedroom at the end of a busy day, oh so wonderful and cozy!
So, to get started, let's check out fifteen ways to create a cozy minimalist bedroom.
Minimalist Decorating on a Budget
Imagine your bedroom is where less is not just more, but everything!
And the best part?
You don't have to break the bank to achieve this designer-worthy and minimalistic look.
Get ready to unleash your inner interior designer and create a show-stopping minimalist place that's easy on the wallet.
1. Use a Platform Bed
Get ready for the best minimalism bedroom ideas right here!
The easiest way to create that minimalist Zen bedroom in your bedroom is to ditch the boxspring and opt for a platform bed!
This will save you a ton of space if you have a small bedroom.
Now there is no more clutter, no more tripping over furniture, and no more mess.
Instead, you have a clean and uncluttered space to relax and Netflix and chill.
2. Use Furniture with Multiple Purposes
Try using a foldable desk or a storage ottoman as a way to clear the clutter or at least hide the clutter!
Amiright?
I am totally OBSESSED about tufted ottomans! I can't get enough of them.
With a little pizzazz and the right pieces for that minimalist bedroom look, you can make the most of every square inch of your place.
3. Add a Large Mirror
Mirror, mirror on the wall, who's the fairest of them all?
I ALWAYS think of this when I see a large mirror, don't you?
But, in all honesty, adding a large mirror will make the room appear a thousand times larger and brighter.
A large mirror is a classic design element that can be used as a focal point in any room – including your bedroom.
4. Incorporate Natural Elements
A fun and great way to do Zen decorating on a budge is to use wood and plants as a way to to add warmth and texture.
Wooden accents can instantly give your bedroom an inviting, cozy feel without having to spend a ton of money – that's why it's perfect if you don't have much money for this minimalist makeover.
Try to find interesting pieces of driftwood that have been taken from nature — these are often free or very inexpensive, and can be dried out and used in all kinds of ways in your decor.
You can hang them on the wall as art, place them around the room as sculptures, or even cut them into smaller pieces and use them as bookends or table centerpieces.
Don't you just love pieces that do triple duty for you?
And don't forget to also add plants as this will take your vibe up a notch – plus it adds life!
If you don't have an outdoor space for planting or gardening, indoor plants are an easy way to bring color and texture into any room.
Succulents are perfect for anyone who doesn't have green thumbs because they require minimal maintenance.
Or if you want something more big, go with a fiddle leaf tree – this can be you statement piece too!
5. Add Texture
It's all about the texture when it comes to creating a minimalist have.
Get cozy with a furry rug and some chunky blankets you can throw on your bed.
6. Use Over the Door Storage
Of course, with any bedroom you need to be practical when it comes to decluttering your space!
Using something like over the door storage is perfect since you can hide it or showcase it! It's up to you!
Definitely minimalist bedroom inspiration!
7. Use Bins and Baskets
Add some more texture to your bedroom with these wire baskets you can use to store your things.
These are amazing because they are durable, chic looking and can hold a lot of things.
You can even get them for hanging on your wall too!
8. Create Your Own Mini Headboard
Isn't this just the BEST idea for cozy minimal bedroom decor ideas?
LOVE IT!
Hang fabric, like a tapestry or curtain, along one wall to create your own mini-headboard.
It's cheaper then getting a headboard and it looks a thousand times more bo-ho and chic!
9. Use Paper Lanterns
Create an interesting lighting arrangement with string lights, paper lanterns and other decorative light fixtures that combine form and function in one.
I love this round paper lantern set up for a minimalistic aesthetic.
They come in a variety of colors. My favorite are: turquoise, robins egg, pink, and ivory.
10. Have Open Shelving
To get the full effect of a bo-ho inspired bedroom with a cozy look, create some interest with open shelving.
Something like this modern bookshelf is a total vibe!
Place your succulents, books, magazines, or accessories for an interesting texture to your space.
11. Have a Statement Wall
A simple minimalist simple bedroom design on a budget is to use wallpaper or soft color to make a statement wall.
This soft twig wallpaper would be perfect for a minimalist bedroom.
This ads visual impact and personality to any room.
Statement wallpaper comes in a variety of colors, textures and prints, so you can easily find something that suits your style.
It's also an easy way to bring life into any space – whether you choose a bold pattern or subtle motif, statement wallpaper can instantly transform a room and make it feel cozy yet modern.
Plus, if you ever decide to redecorate, it's easy to switch up your statement wall – just peel away the old paper and replace it with something new!
12. Use Sconces or Pendent Lights for Effect
Don't these globe scones to DIE FOR?
They would be PERFECT with your round paper lanterns and black wire baskets!
*Chef's kiss*
Aside from the additional lighting these provide, they can also be used as stylish accents that bring an air of sophistication to your space.
Ooolala!
One thing to consider when choosing your scones is their wattage rating.
Many come with higher wattage bulbs that can create bright light output which can be overpowering in bedrooms – this isn't ideal if you're going for a minimalist look.
Instead, opt for lower wattage bulbs such as fluorescent ones which produce softer light without being too harsh or bright on eyes at night time.
It's also worth noting that dimmable bulbs are ideal if you want to control how much light your sconce emits – great if you need more light during certain times of day but don't want it to be too bright overall!
13. Add Some Macrame
If you want the ultimate cozy feminine minimalist bedroom then you gotta have some macrame hanging in your bedroom!
Oh yea! I absolutely LOVE this boho style look and can instantly change the vibe in a minimalist bedroom.
14. Use a Bedroom Bench
I don't know about you, but adding something as simple as a bedroom bench at the end of your bed just adds a layer of sophistication and grown-upness.
This one has storage which is great if you are a little unorganized and have some clutter going on. Outta sight, outta mind, right?
If you don't like this look, you can opt for a tufted little seat for your minimalistic bedroom.
15. Use Neutral Colors for that Vibe
I'm sure you can tell but for that minimalist bedroom decor look, having a neutral color palette is it!
Beige, white, soft pinks or earthy colors make your bedroom a calm place to sleep in.
But don't make your entire room one color. It's okay to have a statement wall or accent color to give your room some points of reference.
Here are some minimalistic bedrooms with neutral colors.
Minimalist Ideas for a Small Bedroom
When it comes to creating a cozy, stylish and comfortable small bedroom, minimalist ideas are the way to go.
Minimalism is all about making the best of what you have by using less and living with only necessities. Here are some simple yet effective minimalistic ideas for a small bedroom.
16. Get Rid of Clutter
The first step towards creating a minimalistic space is to get rid of any unnecessary items in your room.
This means anything from clothes that you don't wear, old textbooks, and knick-knacks that don't serve any purpose but taking up valuable space.
17. Make Use Out of Vertical Spaces
Maximize storage by utilizing wall shelves and hanging cabinets instead of bulky dressers or nightstands that take up precious floor space.
You can also install floating shelves above your bed for extra storage or display plants, photos, and other decorations without overwhelming the room aesthetically.
18. Declutter
This means getting rid of items that don't serve any purpose or add any value.
Start by going through your wardrobe and drawers, removing anything you no longer need or use.
To create even more space, opt for furniture with minimal designs such as low-profile beds, floating nightstands and wall-mounted shelving.
All these pieces will help free up floor space allowing your room to feel more spacious.
19. Keep Patterns Simple
Neutral tones like white, grey and beige will give your room a calming feel while bright colours can be used as accents in things like pillows or throws.
Another great way to bring in colour is through wall stickers – they're easy to apply and remove if needed!
20. Make Use of Lighting
Lighting is another important factor when designing a minimalist bedroom for a small space – natural light is always ideal but artificial lighting can work too!
Using directional lamps allows you to cast light in specific areas of your room while still keeping everything feeling spacious and open. Plus, it adds an interesting touch of style!
Keep it Cozy and Minimal
There ya go!
By incorporating these minimalist ideas for small bedrooms, you'll be able to create a comfortable yet stylish haven that reflects your personality!
Don't forget to follow me on Pinterest!