I'm in the process of renovating our home and I need something on my walls besides my blankets!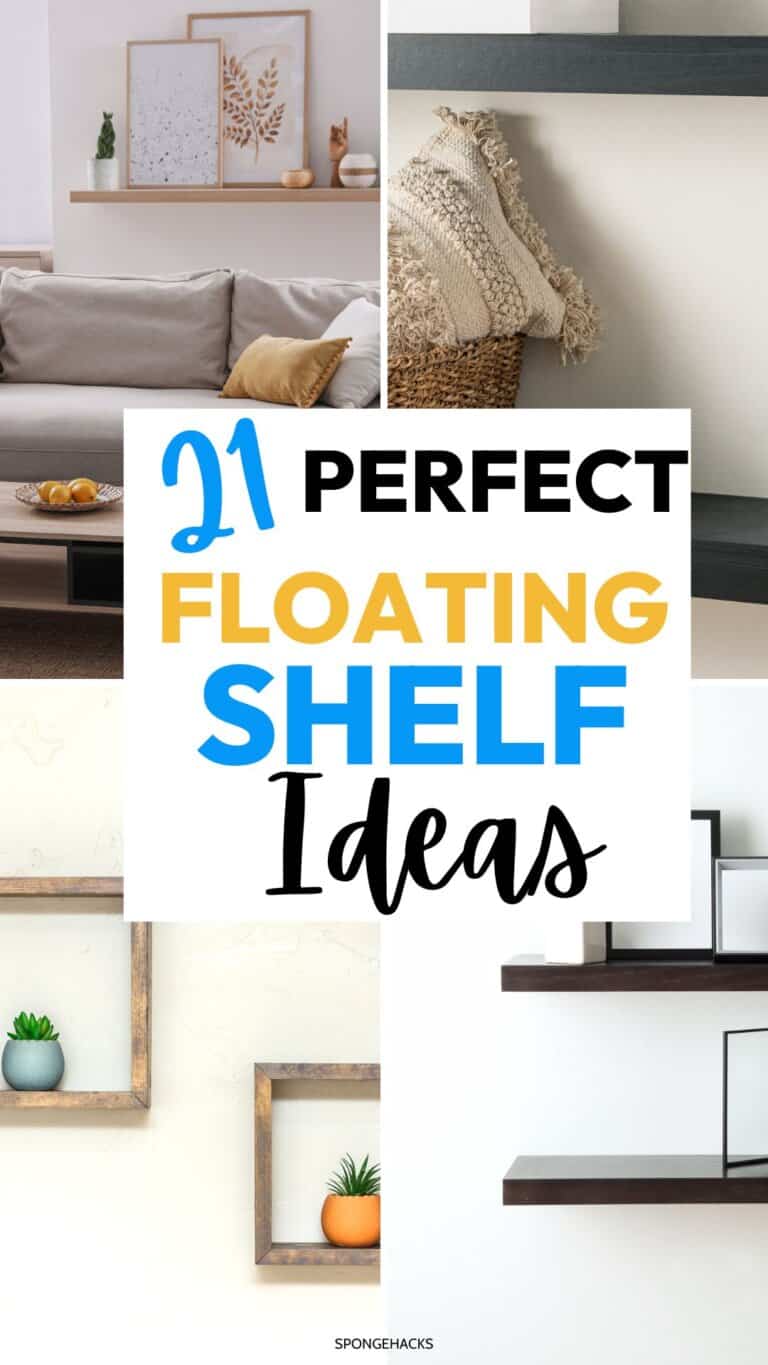 That's when I found out about floating shelves as the way to go.
Whether you're into a sleek, modern look or a rustic, cozy vibe, these shelves can seamlessly complement any decor style.
Don't be fooled, these floating shelves aren't just for holding up picture frames from your 5th grade dance recital.
Nope, these shelves are the ultimate way to showcase your most chic decor pieces.
Plus, they come in all kinds of styles, from sleek and minimal to shabby chic and boho.
So if you're looking for the perfect floating shelf to suit your space, I have you covered!
Let's discover the best floating shelves to elevate any room you have right now.
Best Wood for Floating Shelves
Before we get into these amazing floating shelves, let's go over the material you need for this project.
The type of wood you choose for your floating shelves can significantly up level (or down level) the overall look and feel of your room.
Here are the wood options I suggest for floating shelves:
Oak: Known for its durability and classic appearance, oak is a timeless choice that works well in various interior styles.
Mahogany: This rich, dark wood adds a touch of elegance and sophistication to your space, making it an excellent option for a more traditional or formal setting.
Pine: If you're looking for an affordable and versatile wood, pine offers a light, neutral base that can be painted or stained to match your decor.
Walnut: Walnut's deep, rich color and fine grain pattern make it a favorite for those seeking a blend of modern and classic aesthetics.
Maple: A hardwood with a smooth, even texture, maple is prized for its versatility and the ability to take on various stains and finishes.
Cherry: Cherry wood exudes warmth and a reddish hue, making it an attractive choice for adding a cozy touch to your space.
Birch: Birch is an economical yet visually appealing option with a light color and straight grain, allowing it to adapt to a range of design styles.
Overall, you can't go wrong with choosing oak.
It has exceptional strength and durability, ensuring the shelf can bear significant weight without sagging or warping over time.
Its resistance to environmental changes further bolsters its suitability for various settings.
Plus, this gorgeous wood won't warp because of the weather – it's as reliable as they come!
And the style? Just divine.
Whether our space is cozy chic or modern minimalist, oak's natural beauty and fabulous grain texture have a chameleon-like quality to fit right in.
Sure, it might be a bit pricier, but it's a classic – an investment piece!
Selecting the right wood for your floating shelves is the first step in creating a personalized, inviting space that reflects your style and personality!
The Best Floating Shelves for Kitchens
Your kitchen is a hub of activity, and efficient storage is essential.
Floating kitchen shelves provide not only storage but also a chance to display your culinary creativity.
Here are some kitchen shelf ideas that combine practicality and style, helping you make the most of your culinary haven!
1. Corner-Wrap Wooden Shelves
These light wood shelves wrap around the corner above the counter, offering a stylish solution to store dry goods and dishes in your kitchen.
2. Industrial Chic Dark Wood Shelves
Dark wood shelves with industrial-looking brackets on either side of the stove vent provide an elegant touch for displaying dishes and decor while adding a hint of rustic charm.
3. Mug-Ready Rich Wood Shelves
These floating shelves above the counter come equipped with hooks for hanging mugs and can be perfectly matched to your wooden countertop and trim, making your kitchen not only functional but also absolutely gorgeous!
4. Compact Light Wood Shelves
Floating shelves nestled in a tight space between a window and cupboards are perfect for holding cookbooks and dishes while adding a touch of elegance to your kitchen.
The Best Floating Shelves for Living Rooms
If your kitchen is your hub, then your living room is the heart of your home.
It's where you relax, entertain, and express your unique style.
The right floating shelves can transform your living space, and you can enhance your room with these modern and chic shelving options:
5. Natural Elegance Shelf
A floating wood shelf above the couch can complement your living room's decor and provide the perfect spot for plants and pictures.
6. Staggered Display Shelves
Staggered shelves with metal brackets provide an artistic display for books, pictures, plants, and various decor items, adding a unique flair to your living space.
7. Entertainment Hub Shelf
Long floating shelves under a wall-mounted TV can serve as a stylish and practical storage solution for decor items, gaming consoles, or other pieces of tech you have in your living room.
8. Cozy White Shelf Ladder
White floating shelves with a ladder designed to hold blankets not only serve as storage for books and decor items but also add a cozy touch to your living room.
The Best Floating Shelves for Bathrooms
Bathrooms can be challenging spaces to organize, but the right floating shelves can make all the difference.
From storing toiletries to adding a touch of elegance, here are some ideas to elevate your bathroom's functionality and aesthetics:
9. Makeup and More Corner Shelf
Small floating shelves placed next to the mirror offer a convenient and stylish solution for storing makeup, skincare products, and more in your bathroom – especially if you are super tight on space!
10. Nook Necessity Shelf
Floating shelves tucked into a nook are great for holding towels, facecloths, and toiletries while making the most out of the space in your bathroom.
11. Above-the-Toilet Floating Shelf
Floating shelves above the toilet provide a decorative spot for plants, art, and spare toilet paper rolls, turning a mundane space into a stylish focal point.
12. Multi-Functional Shelf Towel Holder
A floating shelf with towel-holding capabilities doubles as storage for facecloths, plants, and decor items, adding both practicality and style to your bathroom.
The Best Floating Shelves for Heavy Items
If you have heavier items to display or store, you'll need sturdy and reliable floating shelves.
The last thing you want is for your shelf to crash to the floor!
Here are some shelves that can support heavier objects without compromising on style:
13. Robust J-Bracket Shelf
When it comes to heavy items, go for robust J-bracket shelves with thicker pieces of wood for sturdy and reliable storage solutions.
14. Wooden Framed Heavy-Duty Shelf
Build a heavy-duty floating shelf with a wooden frame attached to the wall, allowing your shelf to securely slide onto the frame for added strength and durability.
15. Industrial Strength Bracket Shelf
For heavy-duty storage needs, consider using industrial brackets with iron pipes for a resilient and industrial-chic shelving solution.
The Best Corner Floating Shelves
Often overlooked, corners are fantastic spaces for creating visual interest and adding extra storage.
And, yes, you can get floating shelves that fit snuggly into tight corners!
Here are some corner floating shelves that maximize space and style at the same time:
16. Stylish Staggered Corner Shelf
Staggered corner shelves, though not actually corner-shaped, offer a visually intriguing design when placed on opposite walls to create a cornered look. I love this look!
17. Triangle Perfection Shelf
Triangle-shaped corner shelves are ideal for tight corners, making the most of your space while adding an element of geometric style. These are perfect for displaying your decor items, or for putting your shoes there too!
18. L-Shaped Corner Shelf
If you need more space in your corners, go for L-shaped corner shelves to maximize corner space efficiently. They provide plenty of room for your decorative items in style.
The Best Floating Shelves for Books
For all you bookworms out there, floating shelves can be a dream come true.
Here are some awesome floating shelves that not only keep your books organized but also turn them into a decorative element in your space:
19. Shadowbox Shelf for Bookworms
Shadowbox floating shelves allow you to store your beloved books inside the shelf while displaying your favorite decor items on top for a dynamic and sophisticated look. These shelves pull double duty!
20. Ledge-Style Bookshelf
Ledge-type shelves with the option to face books outward provide a unique and artistic way to showcase your book collection. What an amazing conversation piece for your living room!
21. Invisible Book Lover's Dream
Invisible floating shelves for books cleverly use a book itself to cover the bracket, giving the illusion of your cherished books magically floating on the wall.
Best Place to Buy Floating Shelves
When it comes to sourcing the ideal floating shelves for your space, you have several options to consider.
Finding quality floating shelves involves more than just wandering into any home decor store – it's about discovering the perfect blend of style, quality, and price!
One avenue to explore is your local home improvement stores, such as Home Depot, Lowe's, or your nearest hardware store.
These places often carry a wide range of floating shelves, allowing you to see them in person and discuss your needs with knowledgeable staff.
Online retailers, including stores like Amazon, Wayfair, and Etsy, offer a huge selection of floating shelves in a bunch of styles and materials.
You can find very basic black floating shelves or unique clear floating shelves!
Plus, you can read reviews and compare prices conveniently, making it a popular choice for many shoppers.
For those who seek custom-made floating shelves or unique designs, local carpentry or woodworking shops can craft pieces tailored to your specifications.
This option is ideal for individuals who have a specific vision in mind and want their shelves to be truly one-of-a-kind.
Best Way to Hang Floating Shelves
So when it comes to hanging floating shelves, you need to make sure they are secured securely to the wall!
Here are some things you should keep in mind:
Choose the Right Brackets: Select brackets that are not only visually appealing but also designed for the weight and size of your shelves. I know you want it to look good, but please make sure they are made of durable materials, such as steel, so your shelf doesn't come crashing down to the floor!
Invest in Quality Anchors: The success of your floating shelves totally depends on the anchors you use. Opt for high-quality anchors suitable for your wall type, whether it's drywall, concrete, or plaster.
Locate Wall Studs: Whenever possible, anchor your shelves to wall studs for the strongest support. You can use a stud finder to locate them accurately.
Level Your Shelves: To maintain a polished look, make sure your shelves are level. A bubble level can be a handy tool for this task.
Follow Manufacturer's Instructions: Different shelves may come with specific instructions for installation. Always follow these guidelines for the best results.
Now, let's take a closer look at the best brackets for floating shelves and the best anchors for floating shelves to ensure your shelves are not only secure but also aesthetically pleasing:
Best Brackets for Floating Shelves
L-Shaped Brackets: L-shaped brackets are sturdy, versatile brackets that provide excellent support for floating shelves. They are easy to install and can be concealed within the shelf for a clean look.
Concealed Floating Shelf Brackets: These brackets are designed to be hidden within the shelf, creating a "floating" appearance. They offer a sleek and modern look while providing strong support.
Cantilever Brackets: Cantilever brackets are designed to extend from the wall and are often used for longer floating shelves. They provide excellent weight-bearing capacity and stability.
Best Anchors for Floating Shelves
Toggle Bolts: Toggle bolts are ideal for heavy shelves and can securely anchor them to drywall. They provide a reliable grip by spreading the load over a larger area behind the wall.
Self-Drilling Anchors: Self-drilling anchors require no drilling – all you need is a hammer and screwdriver! These are great for drywall.
Plastic Wall Anchors: These anchors are commonly used for lighter shelves and are simple to install. They work well with drywall and provide a stable foundation for your shelves.
Now you're all set to install your awesome floating shelves!
Shelf It in Style: Your Guide to the Best Floating Shelves!
So there you have it! Finding the best floating shelves to match your style is easier than ever.
Whether you're revamping your kitchen or adding character to your book collection, there's a floating shelf out there for you.
Have fun exploring these different styles!
Don't forget to follow me on Pinterest for more home decor, organizing and cleaning advice!