You are in your first apartment and tomorrow is your birthday.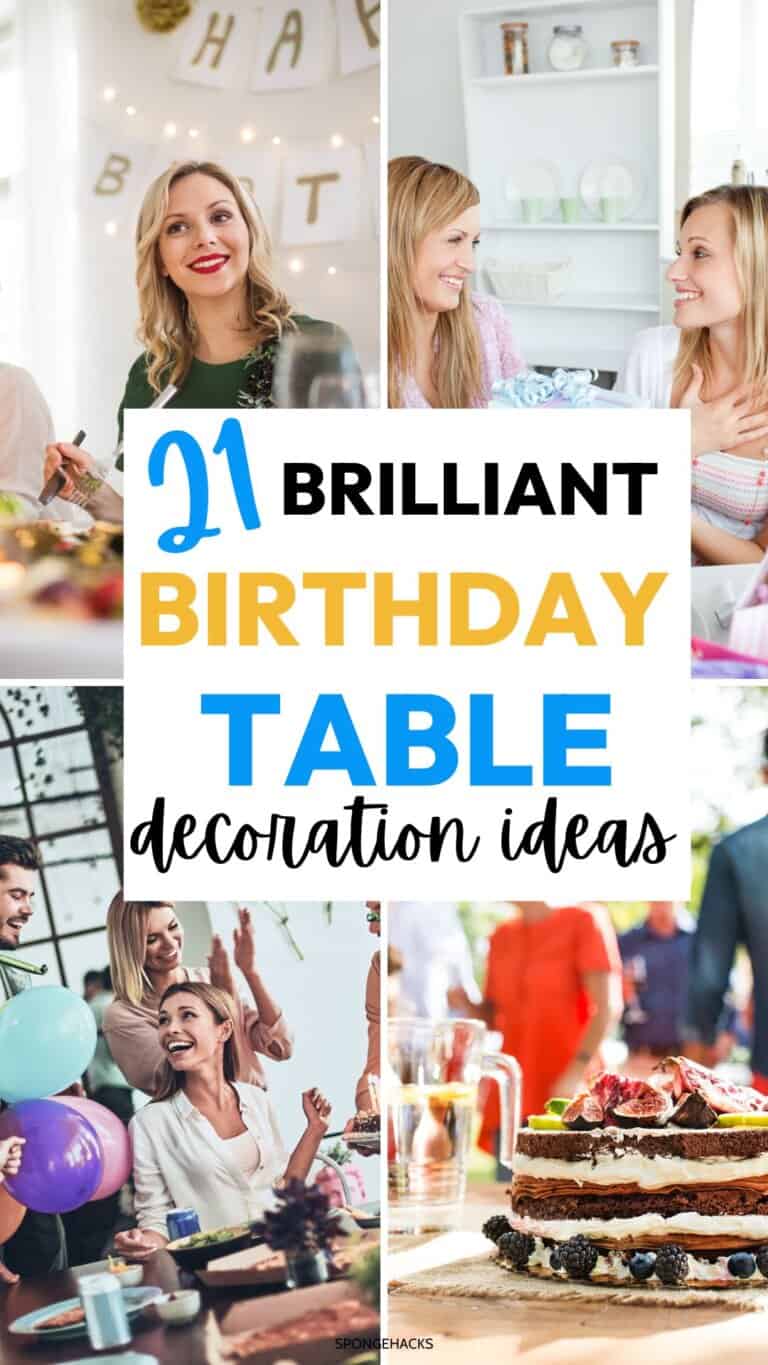 You're turning 23 and you can't wait to celebrate.
Well, the best way is with only the coolest and bo-ho-ist birthday table decoration ideas!
Oh yea!
Adults can decorate for a birthday too you know.
Don't let growing up stop you from having the best table decoration and birthday cake display anyone has seen.
Whether you want it to be simple, subtle or outright crazy, let's check out these birthday table decorations for the grownup.
Simple Birthday Table Decoration Ideas for Adults
Alright, let's face it – adults are just big kids at the core, and who doesn't love a good birthday party?
But, let's get real, decorating for birthday dinner table decoration ideas can be a stressful ordeal.
It doesn't have to be that way, though.
How about some vibrant floral centerpieces or gorgeous personalized name tags for your guests?
Don't forget the classic birthday balloons and confetti, but let's ditch the cartoon characters in favor of some chic metallic hues.
With these easy and chic simple birthday table decoration ideas for adults, your birthday table Cheers to another year of getting older, but not forgetting how to have a good time!
1. Grapefruit Galore
Ah, morning.
The time of day when the world is just starting to stir, and anything seems possible.
Why let the night owls have all the party fun?
Your next adult birthday celebration should start with a nice, juicy grapefruit theme!
Imagine waking up to a brunch spread that could make Martha Stewart green with envy.
Sparkling grapefruit cocktails, juicy slices of the tangy fruit, and enough baked treats to make your taste buds sing.
Plus, with the early start, you'll have plenty of time to kick back in a hammock or on your preferred chaise lounge and bask in those warm morning rays. And remember, if anyone asks, it's five o'clock somewhere!
2. Pastel Flowers
Looking for an adult birthday party idea that's as pretty as it is fun?
Then these pastel flower-themed celebration is perfect for you!
This classy party theme is perfect for the fun-loving, stylish individual who prefers flowers that are more soft and sweet than bold and brash.
Imagine a garden-inspired soirée where guests sip bubbly and nibble on delicate hors d'oeuvres with gold silverware amidst an array of pastel blooms. Sounds pretty dreamy, doesn't it?
So why wait?
Start finding the perfect items for your adult birthday party.
3. Luscious Garden Theme
This year, take things up a notch with a luscious garden theme.
Imagine walking into a space filled with vines and other hanging plants cascading from the ceiling.
And don't forget the bright pink flowers!
I'm not talking about mediocre petals here. We want those blossoms to pop like fireworks on the Fourth of July.
It's like you're stepping into your own personal secret garden.
4. Make an Unforgettable Birthday Party
Check out these TO.DIE.FOR birthday dinner table decoration ideas!
Donuts, insta pics, beautiful fruit trays too! Oh my!
I can't get enough of this unforgettable birthday.
Get your floral wreaths and leafy table runners out because we're throwing a goddess-inspired birthday bash!
This adult-themed party will have all the indulgences of a divine garden complete with elaborate fruit, tempting donuts, and, of course, the host with the most.
Take a sip of your ambrosia and raise your glass to celebrate another year of wisdom, compassion, and love.
No philosopher's stone needed for this goddess gathering; just your best dress and some flower petals in your hair.
This is not just a party; this is a tribute to all the goddesses in our lives!
5. Summer Floral Theme
Get ready to bloom with the summer floral theme for your next adult birthday party!
Here are some bright floral napkins paired with gorgeous, vibrant flowers that will transport you to a downright dreamy garden setting.
Take your party to the next level by sprinkling some cheeky touches like flower crown making stations or botanical cocktail recipes that are sure to impress your guests.
Don't settle for a boring celebration when you can go all out with this sunny and sassy theme.
6. Chill Garden Party
Who says you have to grow up just because you're an adult?
Celebrate another year of life with an outdoor birthday party that's fit for the child-at-heart in all of us.
Swap out stuffy chairs and tables for colorful pillows that encourage you and your guests to sit back, relax, and enjoy the fresh air.
Heck, you can even use crates to build your table.
7. Succulent Success
Looking for the perfect way to celebrate another lap around the sun?
Why not throw an adult birthday party with succulents as the main attraction?
Yes, you heard me right – succulents.
These little plants are all the rage right now and for good reason: they're cute, they're trendy, and they don't need a lot of attention (a true friend for those of us who can barely remember to water ourselves).
So forget the typical birthday bash with streamers and balloons and opt for something that's both unique and sophisticated.
Trust me, your friends will thank you for it.
And who knows, maybe you'll even discover your new green thumb.
8. Fiesta Adult Birthday Party Theme
Say "adios" to boring birthday parties and "hola" to the ultimate fiesta celebration!
Get ready to spice up your special day with an adult birthday party that's sure to be memorable.
With a fiesta theme, you can't go wrong – and we're talking cactus everywhere.
Whether it's a giant cactus or mini ones on the table, your guests will be greeted by a desert oasis.
Need some party inspiration?
Grab some margaritas, put on your sombrero, and let's get this fiesta started!
Just don't be surprised if your guests never want to leave.
9. Stylish Pop of Pink
Throwing an adult birthday party can be as stylish as it is elegant, and what better way to achieve that than adding a stunning pink theme with a touch of gold accents?
Think about it: pink is the perfect color to add playfulness to any celebration, and with gold, you're giving it a touch of luxury and glamour.
It's like having a cold glass of champagne with a pop of pink grapefruit juice on the top.
Who needs confetti when you can scatter blush pink feathers around the room?
And, let's be honest, the only thing better than cake on your birthday is an all-pink cake with golden decorations.
So, let's raise a glass to being fabulous and twenty (or whichever age you're celebrating) with a stylish pop of pink.
10. Elegant Adult Birthday Table Setting
It's time to celebrate another year of your fabulous existence in style.
Your birthday party theme?
Elegant and sophisticated, but with a rebellious twist.
Think deep reds and shimmering silver.
It's about time you made yourself feel like royalty with a night of decadence and debauchery.
After all, who says you can't indulge in a little bourgeois festivity every once in a while?
So, turn up the tunes, uncork the champagne, and let the good times roll.
Cheers to another year of living your best life, dahling!
11. Balloon Runner
Add some flair to your party with a fabulous balloon runner for your table.
Impress your guests with this fun and easy DIY project.
Choose your color scheme, blow up some balloons, and voilà!
You'll have a perfect centerpiece that's sure to catch everyone's eye.
And who says birthday parties are just for kids?
Adults can still have a blast, and what better way to celebrate another year of adulting than with a festive balloon runner.
So let's get cracking and make this a birthday to remember.
12. Glam it Up for the Big Day
Alright, party people, it's time to channel your inner diva and get ready for an adult birthday bash that's all about glamour and sparkle!
We're talking the whole nine yards here – sparkly table runner, sequined outfits, the works.
No matter what age you're turning, there's no reason why you can't celebrate in style.
So gather up your crew, break out the bubbly, and let's get this party started.
With a bit of creativity and a few glitzy decorations, you'll be feeling like a Hollywood A-lister in no time.
Who says birthdays have to be boring? Let's add some pizzazz to the occasion and make it a night to remember!
Birthday Cake Table Decoration Ideas
One of the easiest ways to add a touch of sophistication to the party is through the cake table.
Don't just plop the cake onto a plain white tablecloth.
Elevate it by creating a stunning dessert display.
Consider using tiered cake stands or vintage plates to add depth and visual interest.
Add some candles or flower arrangements to really amp up the aesthetic.
And if you want to get really fancy, try incorporating some edible decorations like fresh fruit or delicate sugar flowers. Trust me, your guests will be Instagramming this setup all night long.
13. Gorgeous Pink Dazzle Cake
Oh, you're in for a treat! We've got the perfect birthday cake table decoration for your party.
It's something that will give you a sugar high just by looking at it!
I'm talking about the gorgeous pink cake, the kind that will make your guests say, "OH MY GOD, where did you get that?!"
Decorating a cake is a talent and the creators of this masterpiece have taken it to the next level.
It's got pink frosting that's more vibrant than the shade you get when you mix red and white paint.
It's next-level pink!
And of course, it's not just pretty on the outside.
Cut it open, and you'll see a soft, fluffy sponge that will melt in your mouth.
So, if you want to impress your party guests with some eye candy, make sure to add the Gorgeous Pink Dazzle Cake to your table decoration.
14. Pretty Petal Birthday Cake
Have you ever walked into a party and been blown away by the cake table?
Maybe it had a towering cake with layers of colorful frosting or maybe it was the adorable cake toppers that caught your eye.
But what if I told you that the real showstopper was the table decoration itself?
That's right, I'm talking about a floral masterpiece that screams beauty, elegance, and just the right amount of fancy.
And what better way to accentuate such a gorgeous display than with a pretty petal decorated cake?
Not only will it satisfy your sweet tooth, but it'll also make you feel like royalty while you indulge. Trust me, you'll want to Instagram this one.
15. Black and Silver Cake With a Mini Balloon Garland
How about a black and silver masterpiece with a mini balloon garland?
You heard me right, we're taking basic birthday cake to the next level with this chic and sleek design.
It's the perfect balance of classy and fun, just like you (hopefully).
So, whether you're celebrating your own special day or surprising a loved one, this cake is sure to impress.
Plus, let's be real, who doesn't love a good balloon garland?
The answer is no one, because balloon garlands are the life of the party. Trust me, I'm a sponge with a knack for hacks.
16. It's All About the Daisies
You know what they say, "life is short, eat the cake!"
And with a daisy-themed birthday cake, you'll be sure to bloom with joy on your special day.
But let's not neglect the importance of a visually stunning cake table to match.
Cue the daisy-themed decor!
A few simple touches can transform your table into a whimsical wonderland.
Scatter daisy petals or paper cutouts around the table for an added touch of floral fun.
Incorporating bright yellow accents will make the table pop, serving as the perfect complement to the white and green color scheme.
Your guests will be so mesmerized by the stunning cake display, they might just forget to sing "Happy Birthday!"
17. Gold and Blue Perfect Cake
Looking for a birthday table decoration that screams sophistication, but also a little bit of fun?
Look no further than our blue and gold birthday cake table decoration!
Not only will your guests feel like royalty as they enter your party, they'll also feel like they're at the fanciest tailgate party ever.
Who says blue and gold can't go together?
Not us, that's for sure.
So go ahead, give your party a pop of color and class with our exclusive blue and gold birthday cake table decoration. Your guests will thank you, and so will your Instagram feed. Cheers to that!
18. Bacardi and Black Cake
With its sultry black-and-gold color scheme and just the right amount of boozy kick, this table decoration is perfect for the wild child in all of us.
Whether you're celebrating a milestone birthday or just looking for an excuse to throw a tipsy shindig, this Bacardi and black themed cake table is sure to be a hit.
So why settle for boring balloons and stale streamers when you can have a party fit for a pirate?
19. The Beard Cake
Celebrate your favorite bearded man's birthday in style with the beard cake table decoration!
This tasteful decoration features a handsome bearded man with a big smile, just like the birthday guy himself.
It's the perfect way to show him how much you appreciate his rugged good looks and charming personality.
20. Cool Blue Cake with Oreos
This is the perfect centerpiece for any cake table that is sure to make a statement.
Not only is it a feast for the eyes, but also for the taste buds.
This decadent blue cake will have your guests questioning whether it's too pretty to eat, but with Oreo accents, it's impossible to resist.
So, don't wait until your next birthday to indulge in this stunning masterpiece, let our blue cake with Oreo decorations be the star of your next celebration!
21. Donut Cake
If you're looking to sweeten up your birthday party, this donut cake table decoration is here to sprinkle some sugary fun into your festivities!
Rather than settling for a traditional birthday cake, put a playful twist on your dessert table by featuring a donut cake instead.
With this colorful and delightful decoration, you can make sure your party is one to remember.
The circular shape of this treat makes it perfect for sharing, and the donut holes add an extra layer of cuteness to the display.
So ditch the ordinary cake and go for something that's sure to make your guests smile. Because who says you can't have your cake and eat your donuts too?
Birthday Dinner Table Decoration Ideas for Adults
There ya go!
Create a stunning and popping adult birthday party for your next party! Use succulents, balloons, pillows and more to create a custom birthday table decoration.
For more decorating tips, follow me on Pinterest.