I need some bathroom counter decor inspo!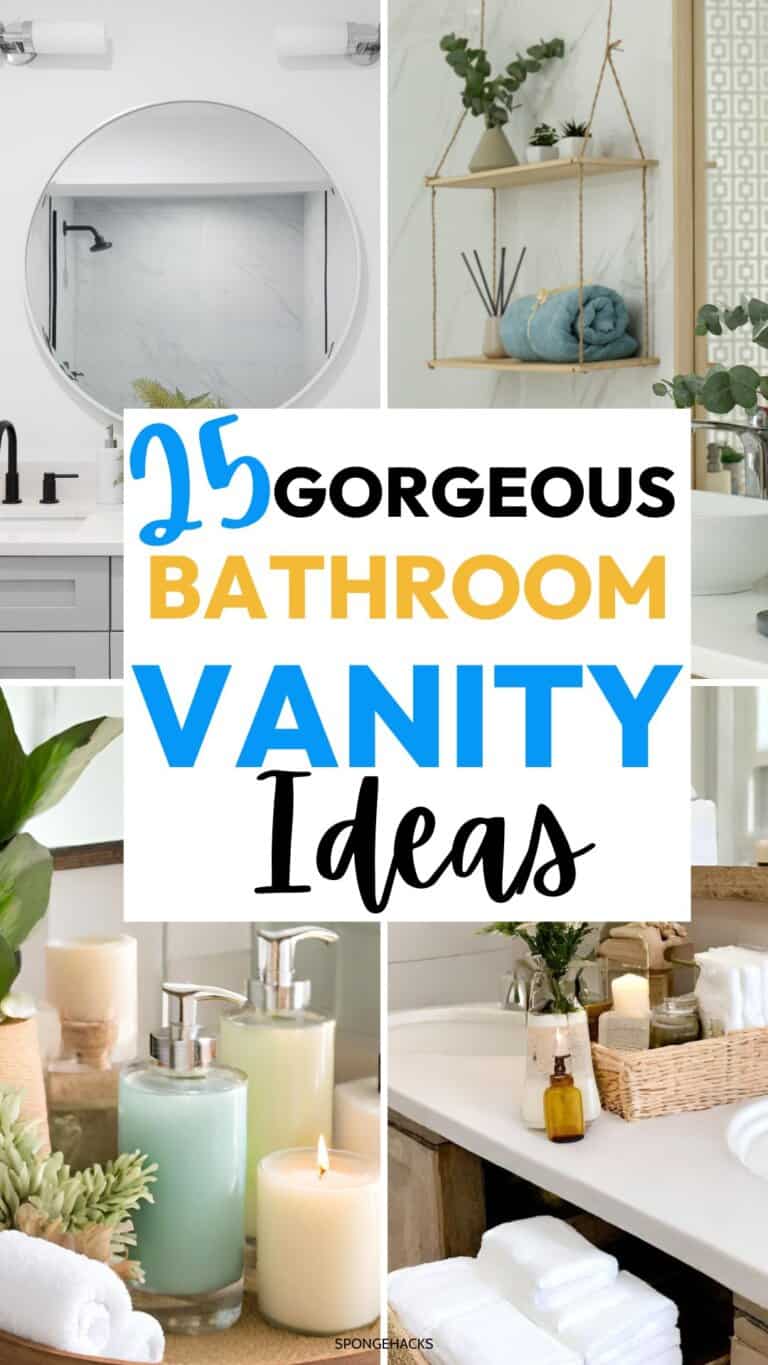 My lonely bathroom vanity is clean and under my sink is organized but my bathroom's not chic or stylish.
So, I'm on the hunt from some bathroom vanity decor ideas and guess where I'm heading to?
Well, Pinterest of course!
I love seeing what others are using to decorate their pedestal vanity or blue bathroom!
From chic baskets to whimsical wallpaper choices to beautiful succulents and more, I want it all!
So, let's check them out and hopefully I'll find what works for me and what you can try too.
Bathroom Vanity Tray Decor Ideas
Let's face it – the bathroom is one of the most important rooms in our homes.
It's where we start and end our days, and it deserves just as much attention as our living rooms or kitchens, right?
One way to add a touch of personality and organization to your bathroom is by showing off your vanity with a stylish tray.
A bathroom vanity tray can be more than just a functional item – it can be a way to express your personal style and creativity.
Let's check some out!
1. Leather Vanity Tray
I love how this faux leather tray speaks to me!
It's rustic but farmhouse esq yet, masculine all rolled up in one!
What to put in your leather tray?
How about a sandalwood or Patchouli scented candle, some fresh cut flowers, hand towels and a mirror to complete the look?
2. Simple Inviting Vanity Tray Idea
I love how this tray is set up!
And don't get me started on the cute handmade sign too!
They both create the perfect atmosphere in your bathroom – one of tranquility and calmness!
OBSESSED!
3. Hand Woven Tray for the Bathroom
This is absolutely PERFECT!
This screams sophistication and expensive!
But it's not!
4. Perfect Tray for On Top of the Toilet
Why not put your bathroom tray where it's needed the most?
On top of the toilet!
With a candle and some essential oils to make the space welcoming (and well let's be frank, not have your bathroom smell anymore)!
5. Two-Tiered Vanity Tray
Love this bathroom counter decor for MY bathroom!
This two-tiered tray is soo versatile!
You can use these all over your apartment:
Kitchen
Bedroom
Office
Bathroom
I love how the whole idea doesn't look cluttered and everything has home – from the beautiful hand towels to the soap and toothbrush holders.
6. Simple Set Up
I absolutely LOVE this extra chunky woven basket for a vanity tray.
You can tell this won't fall apart. With the perfectly laid out q-tips to the rolled up towels and the greenery plant, you know that as a guest, you are in good hands!
7. Chic and Expensive Looking
Sometimes the most easiest vanity tray ideas are the BEST ones.
Check out this simple tray for your vanity.
Just put expensive looking flowers and perfume sprays or colognes to kick it up a notch.
And voila! You have some bougie vanity decor ideas for bathroom!
8. Farmhouse Vanity Tray Idea
Oooo! The farmhouse decor is soo popular all over Pinterest!
I love how they antiqued this rustic tray.
Of course, you can get it antiqued already too!
9. Three-Tiered Bathroom Vanity Tray
If you have the room, why not try this three-tiered tray option?
It screams farmhouse with the cute creamer with cotton stems and the stylized section for hand towels and q-tips.
Chic and easy to create!
10. Be Our Guest Vanity Tray
You can recreate this look using this two-tiered wooden tray.
When thinking of a bathroom counter decor item, make sure to have something that smells nice for those not-so-nice bathroom instances.
Using something like an orchid flower diffuser adds a level of sophistication and just makes everything look purposeful.
I don't know about you, but with the sign, I just get a smile on my face thinking how cute this set up is!
Blue Bathroom Vanity Decor Ideas
Are you tired of the same old boring bathroom decor?
Why not add a pop of color with a blue vanity?
Not only is it a fun addition, but it can also create a bold statement in your bathroom (or, in your living room!).
Whether you prefer a bright and bold turquoise or a deeper navy shade, a blue vanity can elevate your bathroom's decor.
Pair it with golden accents or a quirky mirror to create a unique and playful atmosphere.
Say goodbye to monotony and hello to a refreshing change in your bathroom decor!
11. Touch of Blue
All you need in your vanity tray is a little blue pot to compliment your blue bathroom.
A little touch goes a long way here!
These beautiful Mediterranean pots would look dashing in a blue bathroom.
Display them on your vanity and above your toilet for a cohesive look.
12. Contrasting Colors
Instead of using blue to accent a – well, blue bathroom – why not use contrasting colors?
Pink and purple can act as a contrast with a lighter toned blue bathroom.
Method has a wonderful Pink Grapefruit hand wash that would compliment your blue bathroom.
Whether you opt for colorful hand wash or some pink and purple flowers, when you add a bit of contrast, it just makes the blue pop more.
13. Touch of Yellow
Another contrast color to blue is yellow. You can easily add pops of yellow with:
14. Keep It Neautral
If you think yellows and reds are just too EXTRA for you, then tone it down with neutral colors.
Blue bathroom vanity decor ideas don't have to be bright.
These compliment blue any day of the week.
Throw in a neutral geometric bath mat and a rope basket to store your toilet paper and you've instantly upgraded your bathroom decor feel!
15. Use the Sea as Inspo
I don't know about you but when I see blue, I automatically think of the ocean!
And when, you but blue in the bathroom – I mean c'mon!
You HAVE to add some sea element right?
Why not add some star fishes or a picture of sea life to add that fun element?
16. Offset Colors
Of course, you can offset your blue bathroom with more blue too!
If your blue walls are a deep blue green color, go ahead and add navy blue accents or lighter blue accents throughout.
You can add a blue rug and blue hand towels to create the look you want!
Oh, and don't forget those towel hook ideas to match this stylized bathroom!
17. Modern and Chic
If most of your apartment or home is modern, then don't forget to make your blue bathroom modern too!
Add a geometric black chandelier and fun mirror to get the look you want. Keep it simple with neutral baskets and pictures.
Small Bathroom Vanity Decor Ideas
Who says a small bathroom has to be boring?
Make use of every inch of space in your vanity area and elevate it with cute succulents, playful prints, and sleek organizers.
Don't be afraid to show off your personality with quirky soap dispensers or unique candle holders.
It's the small details that can make a big impact. Get creative and make your small bathroom vanity the envy of all your guests.
18. His and Hers
If you need some double vanity bathroom decor ideas because you share the bathroom with your significant other then check out this stylish idea!
I love the light and airy removable wallpaper and the his and her pictures! So cute
19. Keep It Separate
Keep everything separate like the:
Mirror
Sinks
Hand towels
Soap
20. Keep It Simple
With a double vanity, you just need to keep it simple. You don't want a lot of things on the counter since there is limited space.
So keep toiletries down below and if your bathroom has a closet, use that to store most of your toiletires.
21. Beautiful Pedestal Vanity Decor Set Up
If you need some bathroom pedastal vanity decor ideas then check out this set up!
It's soo clean and chic!
I absolutely am OBSESSED with this look!
Seriously!
The mirror has a floating metal shelf under it for added storage and there's a beautiful wicker basket for towels!
22. Store It Near
Since a pedestal sink has no room for storage, you HAVE to find other places in your bathroom to store everything.
Why not get a bathroom storage unit?
I have one of these but you know what?
It doesn't even fit in our small bathroom so I store it outside the bathroom!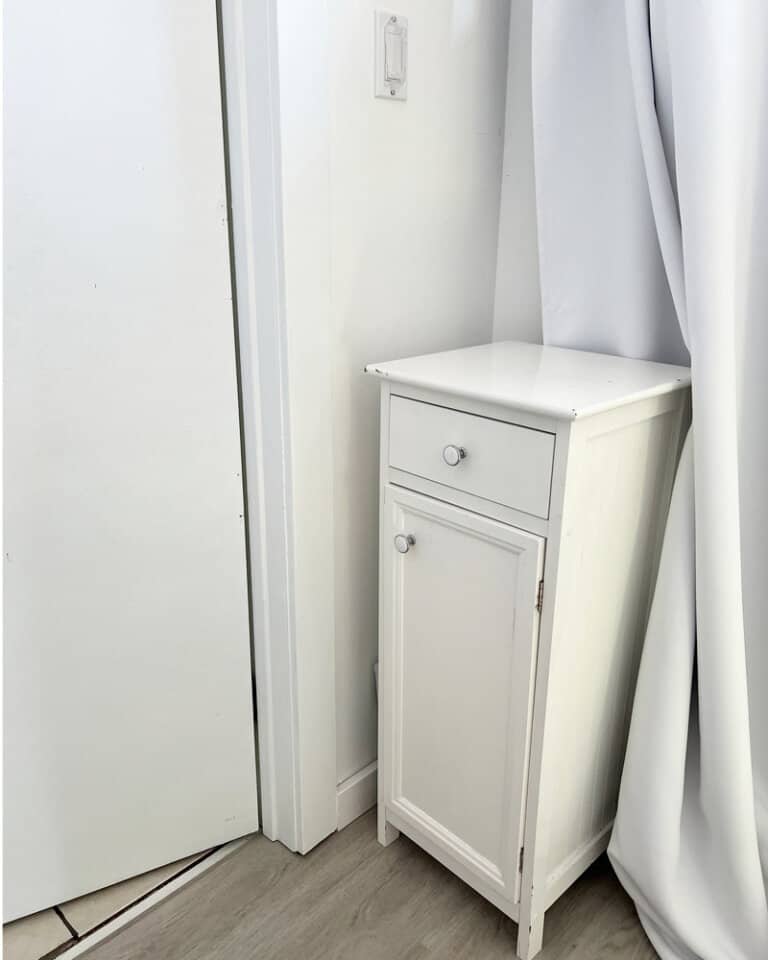 You gotta do what you gotta do when you live in a small home or apartment!
23. Only the Essentials
With this type of sink and some small bathroom vanity decor ideas, you ONLY need the essentials: soap, a cute flower and some hand towels!
That's it and nothing more!
24. Add Storage
If you have a small bathroom, the best thing you can get is a vanity with storage underneath.
You can be more modern by having open storage like the Pin above. It creates the idea of more space and makes it look more organized.
25. Wallpaper and a Big Mirror Helps
Wall paper can elevate ANY room in your home or apartmtent.
What's great nowadays is that you don't need to use gross wallpaper glue!
Nah!
Just get removable wallpaper. They work and they look chic, expensive and oo la la pretty!
Your Bathroom Vanity Ideas Got Easy!
I hope these ideas helped you decide how to decorate your bathroom.
I love looking at Pins of bathroom decor ideas or other home decor ideas. We are in the process of renovating our home and that's all I think about!
And if you're like me, then follow me on Pinterest where I share home decor tips, organizing and cleaning tips!