When I moved into my home I wanted all the walls white.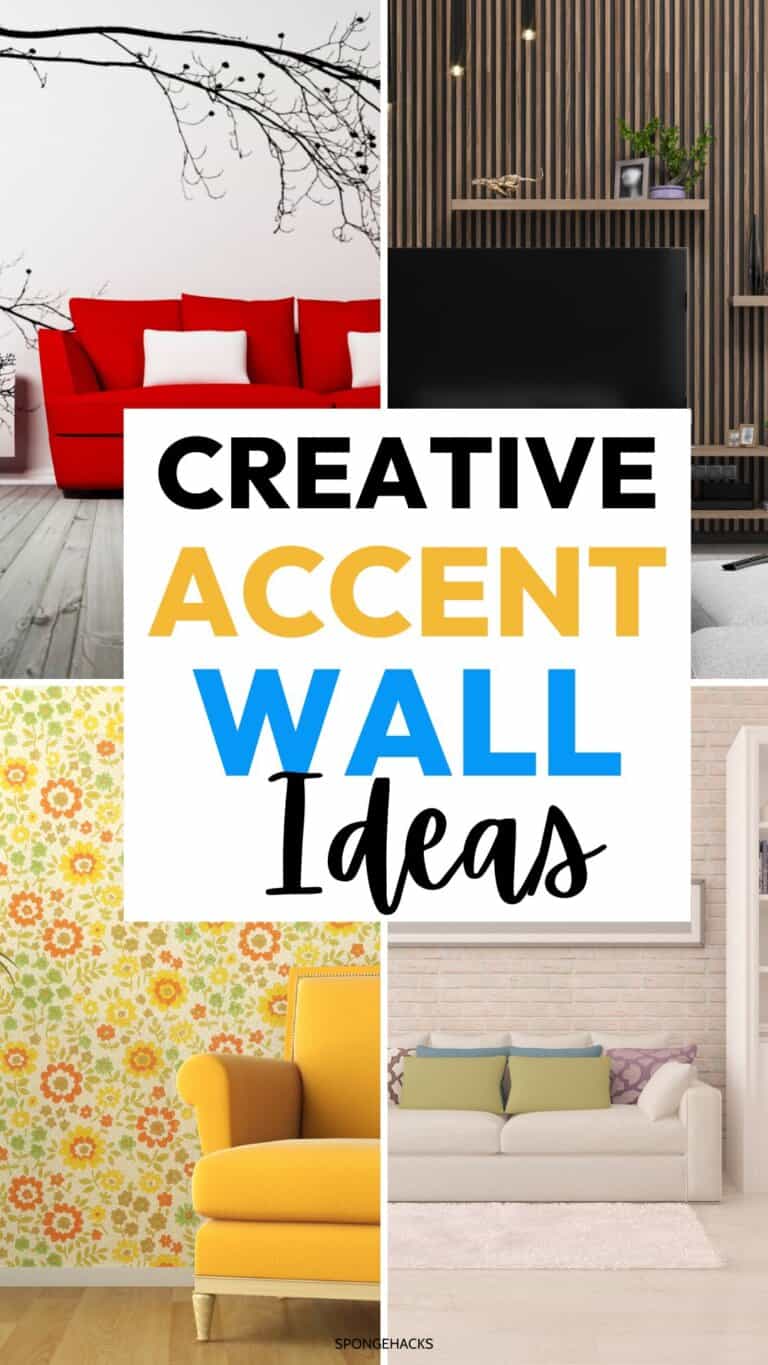 And my husband obliged.
After two years living in this home, I still love the way it looks with our new flooring and home decor.
But, then we added trim and now my walls just blend in with everything.
So, now I'm on the hunt for creative accent walls that I can replicate, be inspired by and oh so gush over!
Because well, anything HOME is eye candy for me!
So let's check out these amazing, trendy, popular and oh so creative walls for your home.
1. Rubik Square Cube Wall
Get a load of this geometric accent wall!
It's the perfect statement piece that combines nostalgia and modern quirkiness.
And the best part?
You can easily make it yourself – no fancy design skills required.
Just grab some these square panels and a little patience, and get ready to impress guests with your DIY prowess.
Who knows, maybe your trendy new wall will even earn you some serious compliments.
So, get ready to channel your inner designer and transform your house or apartment with this playful twist on a classic wall.
2. Turquoise Wood Wall
I'm totally gushing over this wall decor idea!
It's a work of art!
But the best part: it's a DIY accent wall project you can do over the weekend!
First things first, gather your materials – wooden boards, turquoise paint, sandpaper, and a good playlist to get you in the mood.
Next, get to sanding those boards until they're as smooth as butter. Then, let your creative juices flow and start painting away!
Once your boards have dried, it's time to nail them onto your wall and voila – you've got yourself a one-of-a-kind wall that'll make all your friends green with envy.
3. Beautiful Herringbone Wall
TO.DIE.FOR!
It's like a work of art hanging in my living room.
The interlocking pattern adds depth and dimension to the space, making it feel more dynamic and interesting.
Let's just say, your guests will be green with envy.
So, if you're looking to elevate your space and impress your friends, it's time to invest in a herringbone wall. Trust me, it's worth every penny.
4. Farmhouse Plank Wall
Rustic is the NEW monochromatic!
I swear, from rustic bathrooms to rustic living rooms and more!
Not only will this plank wall give you all the cozy country feels, but it's also the perfect backdrop for your next influencer-level Instagram post.
And don't worry about getting your hands dirty – you can easily DIY this project with a little bit of elbow grease (and maybe some help from your trusty sidekick, because let's face it, taking selfies can be tiring).
So go ahead, embrace your inner Joanna Gaines, and give your home the farmhouse upgrade it deserves.
5. Classic Board and Batten Wall
This wall style isn't just for grandma's house anymore – it's a chic and trendy way to add some texture and dimension to any space.
Whether you're a fan of farmhouse vibes or modern minimalism, a board and batten wall can fit perfectly into your aesthetic.
Plus, you'll feel like a DIY queen (or king) when you're done with this project.
So grab your power tools and get ready to transform your walls into a work of art!
6. Peel and Stick Accent Wall
This is such as simple and easy way to create a new look in your apartment or home!
Using a peel and stick wallpaper is an easy, fun, and it's perfect for those of us who can't commit to a permanent paint color or wallpaper pattern.
Want to add a pop of color to your living room? Boom, peel and stick. Feeling like a little glam in your bedroom? Easy peasy, peel and stick.
You can mix and match patterns, go for bold prints or opt for subtle textures.
7. Faux Brick Wall
Get ready to inject some serious pizzazz into your space with a faux brick wall.
It's like a facelift for your room, except way less painful and expensive.
Plus, you'll feel like a savvy interior design guru when all your guests start fawning over your trendy new feature.
8. Wood Molding Wall
Ooo! This sure sets a statement in your apartment or home!
You can DIY this wall idea for your home office too or for a backdrop to your TikTok videos.
9. The Shiplap Look
This bad boy will take your room from basic to boujee in no time.
Not only will it add a charming rustic touch, but it'll also make your Instagram feed jealous.
I mean, who needs a fancy vacation when your wall looks like it belongs in a beachside cottage?
It's the perfect backdrop for selfies, mirror pics, and all your influencer dreams. Trust me, once you go shiplap, you'll never go back.
10. Painted Dots
Here's a simple DIY project for you! It's dots, dots and more dots!
Create a unique accent wall by painting on thousands of dots! Sure it's repetitive and can be a bit boring to do, but it's a project and once it's completed you'll have an amazing new design on your wall.
11. Wood Shelves Everywhere
Add some rustic thin wood slats and intersperse them with some shelves for plants!
This is such a chic and rustic wall and I love it!
12. Mural Painted Wall
If you are good with a paint brush, why not paint something big like a mural or sunset?
Heck, you can even paint some colored blobs all over your wall!
13. Mud Cloth Wall Idea
Another way to create an accent wall is to paint a design like this mud cloth look!
It's African and cultured for sure and I'm here for it.
14. Boho Basket Wall
If you don't want to commit to painting your wall or using lots of wood slats, why not create a boho basket design?
15. Midcentury Anyone?
Create a midcentury look in your home with this unusual wall decor item!
It's the perfect way to add some vintage vibes to your space without feeling like you're stuck in a time warp.
And we can't forget about the midcentury sconces.
They're like the cherry on top of a super chic sundae.
Just imagine lounging on your retro couch, soaking up all the 60s goodness, with the glow of those sconces.
It's practically Instagram-worthy.
Trust me, if you've been looking for a way to nail that vintage aesthetic, this wall and sconce combo is it.
16. Boxwood Wall
It's a living wall!
This lush and vibrant wall is the perfect statement piece for any room.
Trust me, your guests won't be able to resist snapping a selfie in front of it.
Plus, who needs regular wallpaper when you can have living, breathing greenery to freshen up your space?
Whether you're a seasoned green thumb or a plant novice, this wall will give your home an instant upgrade.
How To Style an Accent Wall in a Room
So now that I got you all hyped up for a cool wall in your living room, how exactly do you style it?
Besides using geometric shapes, painting it or using wallpaper are there other ways?
Use Mirrors to Accentuate Your Wall
You can magnify your wall by strategically placing mirrors to reflect the design. A mirrored wall will make the room appear larger, brighter, and create an illusion of added depth.
Mirrors can also add a touch of glamour to the room and enhance the design elements of your wall decor idea.
Create a Gallery Wall
Display a collection of art or photographs to create a gallery wall. This not only adds visual interest but also allows you to showcase your personality.
Try Built-in Bookcases or Shelves
If you're looking for a functional accent wall, try built-in bookcases or shelves.
You will probably need help with this or even get them custom made (this is what we are planning on doing with one of our walls) but the finished look will be amazing!
You can display books, collectibles, or other decor items.
Use Wall Decals
For a more temporary option, try wall decals. These are easier than peel and stick wallpaper and you can change it up if you don't feel the look at the moment.
They come in a variety of designs and are easy to apply and remove without damaging the wall.
Don't Forget the 60-30-10 Wall Color Rule
When it comes to creating a cool wall idea, don't forget about this wall color rule!
The 60-30-10 wall color is like the secret recipe for a perfect interior.
Basically, you pick three different colors – one dominant, one complementary, and one accent – and use them in percentages of 60, 30, and 10 respectively.
So, if you're feeling adventurous, you can pick a bright, bold shade for the accent and make a statement.
Or if you're feeling cozy, you can stick with earthy tones and create a warm atmosphere.
The possibilities are endless, and that's what makes decorating so fun!
There Ya Go!
I hope you found the perfect accent wall for your home! I know I did!
I love all of these wall designs and can't wait to make one of those ideas happen.
Don't forget to follow me on Pinterest for more home decor, organizing and cleaning advice!