My living room looks drab!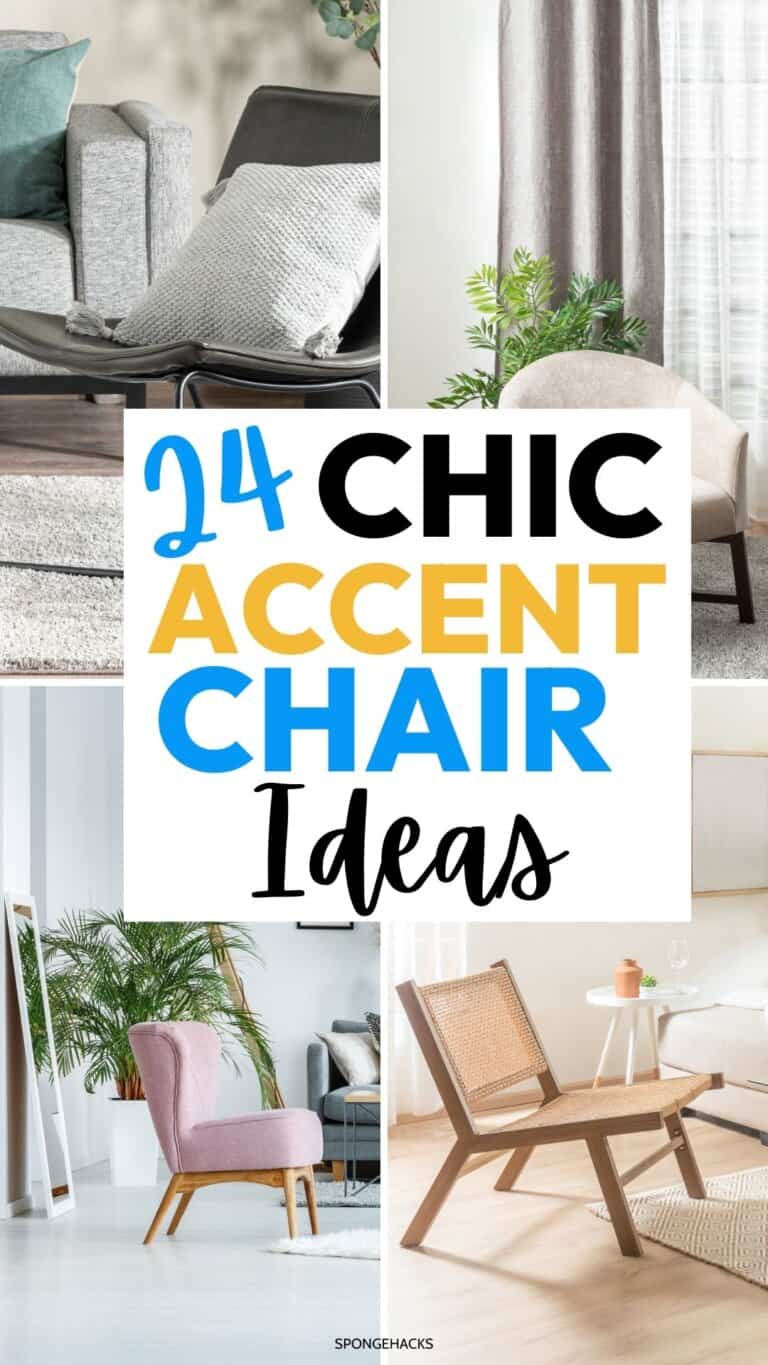 I have two couches, an ottoman and then a desk for my son.
It looks more like a college dorm room than anything else.
But, I know how to ADULT it up!
It's with an accent chair!
An accent chair is a fun addition to any living room.
It can immediately enhance your living room's aesthetics by standing out and drawing attention….and making it more ADULT.
Hence the word "accent!"
Unlike standard chairs, accent chairs pop and serve as a focal point in your room by adding character, style, and a touch of personality.
So, I'm on the hunt for the perfect accent chair to get my living room from college dorm to sophisticated living quarters.
Sound good? Great! Let's take a look at these amazing accent chair living room ideas.
Accent Chair Ideas for Small Living Rooms
Small living rooms can be a challenge when it comes to finding the perfect accent chair.
But there are plenty of accent chair ideas out there to elevate your small space game.
From sleek and modern to plush and cozy, the right accent chair can add that extra pop of personality you've been searching for.
Don't be afraid to make a statement with a bold color or pattern, or keep it classy with a neutral hue and elegant silhouette.
The options are endless. So embrace your inner chic and get ready to transform your small living room into a comfortable and stylish sanctuary.
1. Small Accent Chair
Take me back tot he 70's girl!
Don't you just love the look of this small accent chair? I do!
If you have limited space, you don't want to overcrowd the room with a huge chair.
Petite chairs may be small, but they can be mighty and provide a comfortable seating option.
If you want to keep your small space from feeling claustrophobic, go for a small chair in a neutral color and streamline your designs to keep your living room feeling nice and open.
2. Swivel Accent Chair
A swivel accent chair can be a real game changer in a compact living room.
Its spinningness means that it can serve multiple seating areas without taking up too much space!
And you don't have to crane your neck to watch Stranger Things or Euphoria!
So if you have, like, a small living room that opens into your kitchen, the chair can be turned to face that way.
Cool, right?
3. Accent Chair with Ottoman
I love a good ottoman!
I use mine all the time when I'm Neflixing and chilling!
They're great for storage and resting your feet when you're relaxing in your accent chair.
So because you can get ottomans with storage, they're the perfect choice for a small living room.
What they take up in floor space helps to eliminate clutter around the room, creating a more open and inviting atmosphere.
4. Armless Accent Chair
Who says chairs need arms?
Armless accent chairs are perfect for small living rooms because they are sleek and can easily tuck into tight corners.
The accent chairs come in tons of designs and colors, making it easy to find one that matches your decor and personality!
Plus you can pair it with some decorative pillows or a throw blanket!
5. Corner Accent Chair
Speaking of shoving your accent chair into the corner, you can always get a chair designed to fit snugly into that space.
You can go for a vibrant color or a unique pattern to create a striking focal point.
I love these styles of chairs because no space is unused!
6. Acrylic or Transparent Accent Chair
Want to be like the cool kids?
Then get this chic and sleek accent chair.
These super modern chairs can create an open and airy atmosphere in your living room.
Visually, they take up very little space and work well with minimalist and contemporary designs.
Modern Living Room Ideas with Accent Chairs
If you're the kind of person who won't settle for anything less than the boldest and most daring pieces, then these accent chairs are right up your alley.
Don't be shy, flaunt these solid-colored beauties in your living room and behold as all your guests turn green with envy.
With their sleek and modern aesthetic, these chairs are more than just furniture; they're statement pieces.
They might just overshadow your TV in terms of sheer screen presence.
And let's be honest, your living room has been begging for a makeover.
Say goodbye to that ratty old recliner and give your space a proper facelift with these chic and stylish accent chairs.
7. White Accent Chair
A white accent chair can add a sense of crispness and brightness to your modern living room.
And I mean, isn't just a beauty? I LOVE this style of accent chair. I can just sit and share my thoughts this way!
Its clean lines create a timeless look and will work perfectly with tons of decor styles.
8. Blue Accent Chair
Christopher Knight has done it again!
A lot of these accent chairs are from this designer and this blue accent chair is IT.
Introduce a pop of color to your room with this chair or even a blue accent chair and ottoman!
There are so many ways you can decorate around a blue chair. In fact, I have some great ideas here!
9. Black Accent Chair
I'm OBSESSED with this accent chair design!
The lush black velvet (tufted too) and the gold metal feet! Yass!!!
A black accent chair just exudes elegance and sophistication and can definitely add a touch of drama to your living room.
This classy choice is a statement piece and contrasts amazingly with lighter color schemes.
You can definitely adapt a black chair to different design styles.
10. Green Accent Chair
If you want to add some freshness and boldness to your living room, then get this green accent chair.
I LOVE the boxy feel of it and how contemporary it is too. This accent chair can instantly make your living room posh and elegant.
The vibrant color also pops and can add an element of relaxation to your space.
Textured Living Room Accent Chair Ideas
Okay, so accent chair living room ideas don't have to be limited to solid colors – you can easily add some depth and character to your living with a textured chair!
From soft and fuzzy to bold and jazzy, the options are endless.
And let's be real, who wouldn't want to cozy up in a fuzzy chair while sipping on a hot cup of cocoa?
Here are some beautiful textured accent chair ideas I absolutely love.
11. Leather Accent Chair
Who cares if these accent chairs are faux leather!
They're beautiful, right?
Leather accent chairs offer a rich and luxurious texture that complements so many decor styles.
The natural patina (the worn texture) of leather adds warmth and character to your living room.
For something really bold and dramatic, look for shades like cognac or deep brown.
12. Velvet Accent Chair
I truly believe that nothing really ever goes out of style, so let's talk about how awesome a velvet accent chair would look in your living room!
Velvet is soft and plush and can definitely add a touch of glam to your space.
Plus, you can get velvet in a range of colors, so you'll have no problem matching your room's overall vibe.
13. Wicker Accent Chair
If you're looking for a relaxed and coastal and 70's vibe, grab a wicker accent chair for your living room.
The natural texture of wicker will bring the outdoors inside and create a beachy and breezy atmosphere!
Eclectic Accent Chair Ideas
Listen, we can't all have a perfectly curated, Instagram-worthy home decor style.
But who needs that anyway?
Embrace the eclectic side of life with these amazing accent chair ideas.
Mix and match patterns, colors, and textures to really make your space pop.
Who says you have to be limited to just one style?
Own your unique flair and let these chairs be the pop of personality your home needs.
So go ahead, embrace your inner design rebel and let your creativity run wild.
14. Boho Accent Chair
Bohemian decor is all about embracing colors, patterns, and textures – and they don't necessarily have to match!
A boho-inspired accent chair, with its vibrant colors and intricate patterns, can add to your free-spirited vibe.
15. Vintage or Retro Accent Chair
Oldies are still goodies!
Scour your local thrift shops and antique stores for vintage and retro chairs that have distinctive designs and unique upholstery.
These are perfect for transporting your living room back in time and adding a nostalgic touch to your decor.
16. Global-Inspired Accent Chair
Do you love to travel or adore the travel aesthetic?
Global-inspired accent chairs draw inspiration from various cultures around the world.
Whether it's a Moroccan pouf, an Asian-inspired design, or an African print, these chairs can create a worldly ambiance in your living room!
Functional Accent Chairs
If you're going to put an amazing-looking accent chair in your living room, why not put one that does double duty?
Sometimes an accent chair can serve a dual purpose, so you can combine aesthetics with functionality!
17. Reclining Accent Chair
Your accent chair is more than a decor piece.
It can be the perfect area to sit back and relax – especially if it reclines!
If you love to lounge in style and need a little extra relaxation in your living room, then you need a reclining accent chair.
18. Hanging Accent Chair
Ready to get really creative?
A hanging chair is a unique and functional addition to your living.
It suspends from the ceiling and provides a cozy spot for reading or lounging – but it's also a captivating design statement!
Imagine sitting in one and enjoying the gentle swaying motion. Yes, please!
19. Office Accent Chair
For those who need a comfortable spot to work or use a laptop in the living room, an office accent chair is perfect!
They are still stylish for your living room decor but can be your work office chair in a cinch too!
Nature-Inspired Accent Chair Ideas
Are you looking for a way to create a serene and natural atmosphere in your living room, but wicker just won't cut it?
Don't worry! There are other fantastic nature-inspired accent chair ideas you can use to create the perfect space:
20. Wood-Frame Accent Chair
A wood-frame accent chair can bring a touch of nature into your space with its warm earthy tones. It can also complement so many decor styles, from rustic to contemporary.
21. Botanical or Floral Print Accent Chair
You can add a breath of fresh air to your living with a floral or botanical print accent chair.
Look for patterns that fit your style, and use the colors of the fabric to decorate the rest of your space!
22. Tree Stump Accent Chair
Before you roll your eyes, hear me out!
If you're looking for a super rustic touch, a tree stump accent chair has a beautifully rugged and organic texture that will transport you into the wilderness.
You can use a genuine tree stump or grab one that is designed to look like a tree stump.
Unique Accent Chair Ideas
If you're adventurous, you can always experiment with different materials. An accent chair made of a unique material can give your living a striking and original look!
23. Metal Frame Accent Chair
Metal frame accent chairs have this really cool industrial and sleek look. Combining metal and other materials, like fabric or leather, can create a stunning and unique piece for your living room.
24. Egg-Pod Accent Chair
The cocoon-like design of an egg-shaped accent chair can create a cozy space while adding an ultra-modern (and almost futuristic) look to your living room!
Plus, how cool would it be to have a little relaxation escape inside an egg?
Where Should I Put My Accent Chair?
Great question!
It's one thing to choose the perfect accent chair and another to figure out where it should go.
Strategically placing your accent chair is important when it comes to creating visual interest in your living room.
You can use it to highlight a certain area or to create balance in your space.
Here are some places where you can put your accent chair:
Near a Window: Create a cozy reading nook with natural light and scenic views.
Opposite the Sofa: Balance the room and encourage conversation for an inviting seating arrangement.
Beside the Fireplace: Foster a warm and inviting ambiance, perfect for cold evenings.
In a Corner: Maximize space utilization and add style to underutilized areas.
As Part of a Grouping: Create distinct seating zones within larger, open-concept living spaces.
Near a Bookshelf: Access your favorite books while enjoying a comfortable seat.
Alongside an Accent Table: Combine style and function, making it convenient for drinks and snacks.
Just remember that where you put your accent chair should flow with your decor but also work with the way you use your living room.
So whether you're aiming to make a cozy reading nook, a social seating setting, or a stylish corner accent, where you put your accent chair should make your living room comfortable and inviting!
Sitting Pretty – The Art of Accent Chairs in Your Living Room!
There you have it – some chic accent chair living room ideas to make your living room look amazing!
No matter the size of your living room or your design tastes, there's an accent chair out there with your name on it.
Have fun choosing the perfect accent chair and letting your living shine with personality and awesomeness!
And remember to follow me on Pinterest for more home decor, organizing and cleaning advice!