My current obsession is having a calming and relaxing space…even though I have a cat and twins.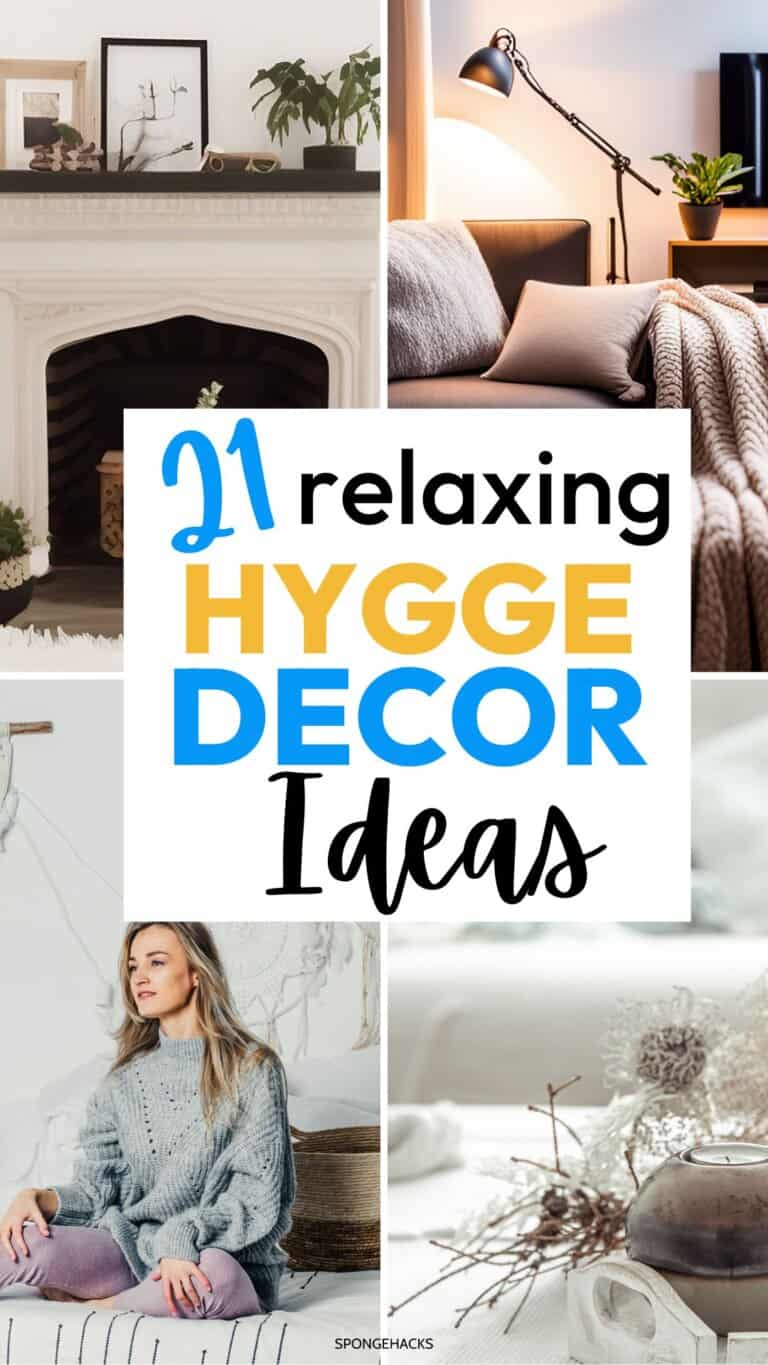 But I know it's possible to make my home warm and cozy all year long.
And I can do it with Hygge decor.
But, what is this new Danish trend and how do you decorate Hygge style?
Well guess what?
All you have to do to see it and get ideas and inspiration is do some Pinterest home decor Hygge searches!
But to really sink your teeth into this design trend, check out The Little Book of Hygge.
Oh yea!
In this post, I'll go over exactly what is Hygee decor, give you the basics around this design trend and give you some styles for your living room for all seasons.
What is Hygge Decor?
So, want to know what is Hygee design and how do you even pronounce it too?
I mean, how can you have a Hygee home?
Hygge home decor is all about creating a cozy and comfortable atmosphere in your home.
Picture fuzzy blankets, warm lighting, and soft music playing in the background.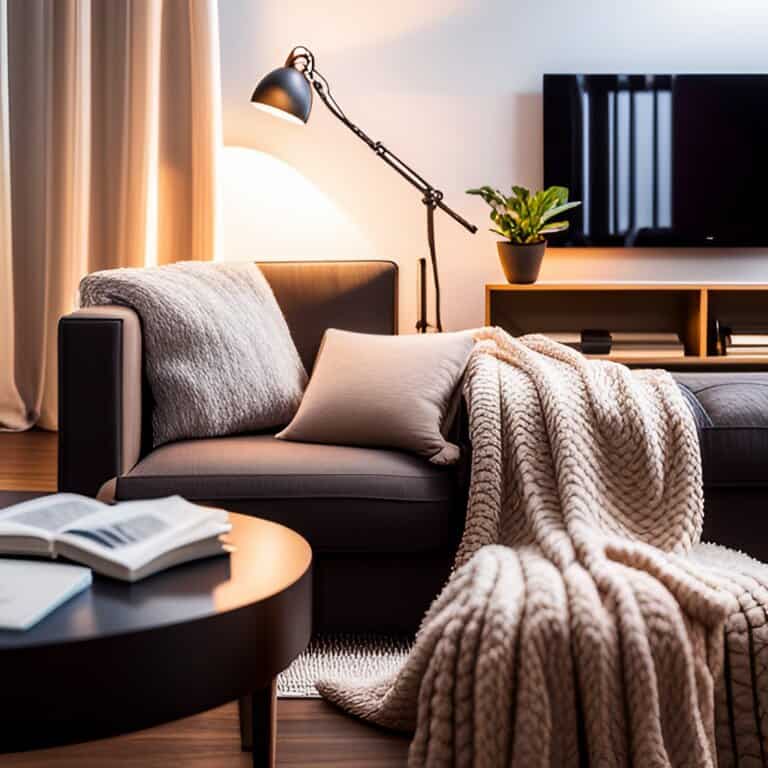 It's like creating a little nest where you can hibernate like a bear when winter comes.
I'm totally obsessed with this idea!
And let's be honest, after the year we've had, we could all use some extra cozy vibes in our lives.
For those Hygee design principles, think about bringing warmth and comfort to your space.
You can do this is by incorporating natural materials like wood and throwing in some cozy textiles like a faux fur accent chair.
I love this wooden tray for my ottoman as a way to create a Hygge feel.
Picture a lovely fluffy rug or a bunch of throw pillows that make you want to take a nap (in a cute way, not a boring way).
It's all about making your home a space that feels like a hug.
Oh, and how do you pronounce this design trend?
Hygee is pronounced, "hoo-guh." It's a Danish word meaning joy and comfort.
So, go ahead, light some candles, snuggle up, and let the Hygge vibes take over your life.
Hygge Decor Living Room
It's time to embrace the world of Scandinavian Hygge decor in your living room.
And let's be real, who doesn't want soft, comfy and naturalistic decor in their own home?
It's all about the perfect balance of comfort and style, mixing and matching textures, and throwing in a few cheeky accent pieces.
Let's look at how you can add Hygge to your living room.
Hygge Wall Decor
Creating a Hygge wall decor doesn't have to be complicated – it's all about combining elements that make you feel cozy and content.
Don't be afraid to mix and match textures like a wooden wall planter, a macrame wall hanging, and some faux fur squares to add some warmth and rugged charm.
Hang up some twinkly string lights to create a soft, subtle glow to get a laid back feel.
Remember, the key to Hygee interior decorating is all in the details, so don't forget to add a few personal touches like framed photos or artwork that makes you happy.
With a little wit and creativity, you can transform any wall into an inviting, Hygge space that you'll never want to leave.
Window Curtain Decor
How can you add lush Hygee decor to a window curtain?
Opt for a striped window curtain that screams Hygee design!
Remember, with Hygge, you want minimalism too, not just comfy and textured!
Hygge Mantel Decor
And if you got a mantel?
Why not dress it up all Hygge?
I don't know about you, but I truly believe that the key to a cozy and charming home is all in the details.
And nothing screams "cozy" more than a Hygge-inspired mantel décor!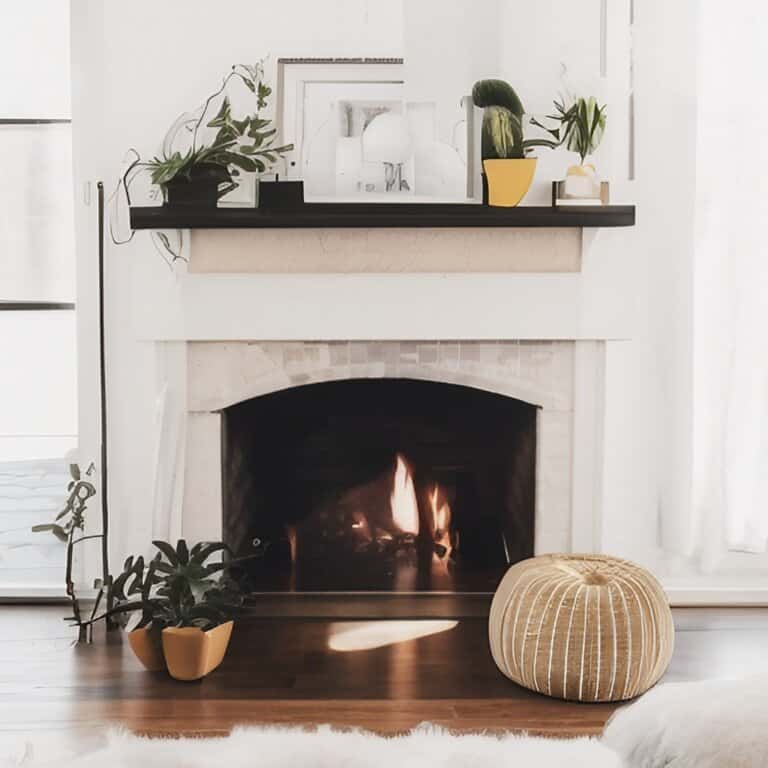 Add some natural elements like a tree branch or potted plant for a Hygge look.
Add some soft pouf seating and you can complete the look!
Hygge Decor for the Bedroom
Another feature of Hygee design are geometric shapes.
To decorate your bedroom with Hygge, you can have a Lush Decor Hygge geo quilt set.
To get that Hygge feel, you need to have layered bedding and a quilt is perfect.
This soft cotton reversible quilt is the ultimate snuggle friend for those chilly nights, and comes complete with two matching pillow shams.
The muted and subtle color scheme is truly Hygee decor, and will seamlessly blend into any bedroom decor.
Did I mention that it's lightweight too? Perfect for those of us who tend to overheat at night and still want to add a touch of warmth to our bedding.
Add throw pillows to your bed to give it more depth, textures and layers.
I'm obsessed with these soft neutral throw pillows.
And, of course, don't forget to add some natural wood elements like a blanket ladder.
Hygee Summer Decor
The big different with Hygee all over and Hygee summer decor is color.
Summer is all about a pop of color, so ditch the neutral come June and go for blues, pinks and peaches!
Along with a pop of color, think light and airy for the summer.
Hygee summer decor can still look cozy and comfortable with light and airy decor!
Trade your hand towels for linen hand towels.
Also have fresh flowers to not only brighten up your home but also add more natural elements to compliment Hygge.
Finally, add some candles to your home decor to add some coziness to your space.
Hygge Decor Ideas
To recap, here are some Hygge decor ideas to help you create a calming and inviting environment in your home.
Soft Textures and Layers
If you want to give your home a Hygge touch, then soft textures are your go-to option.
Decorate your couch with fluffy pillows, throw blankets, and a cozy rug in front of it.
You can also layer blankets and cushions to create a cozy, inviting space.
Soft textures are an excellent way to increase warmth to your home, making it perfect for a hygge atmosphere.
Candles and Lighting
Candles and lighting create a perfect ambiance for relaxation and unwinding after a long day.
Light some candles with your favorite fragrance and dim the lights, and enjoy the peaceful and calm environment.
If you have a fireplace, use it to create a soothing and warm atmosphere in the room. You can also add fairy lights to your space to give it an ethereal ambiance.
Natural Elements
Bringing natural elements into your home is another way to create a warm and inviting space.
Use potted plants and flowers to bring the outdoors indoors and add life to your space.
Incorporate rustic materials like wood or natural stone to bring a natural and calming element to your decor style.
Neutral Colors
Neutral colors such as beige, light gray, and soft browns create a calming atmosphere, which is perfect for a Hygge environment.
These colors harmonize well together and can also be used to highlight the soft textures and natural elements in your home.
Personal Touches
Finally, adding personal touches to your home is a great way to bring warmth and a personal connection to your space.
Display photographs, artwork, and other meaningful items that remind you of friends, family, or a special moment in life.
Using these elements to personalize your home can help you create a warm and inviting space that feels comfortable and welcoming.
Now, let's look at Pinterest Hygge decor ideas.
Fire
Fairy Lights
Cozy
Soft Pillows and Rug
Plants and More Plants
Candles
What is a Word for Cozy Living?
Give up?
It's Hygge decor ideas of course!
I'm totally obsessed with decluttering my house and putting in the cozy living for sure!