So, the other day I was on Pinterest (yes, I needed a break from TikTok!) and guess what kept poppin' in my feed?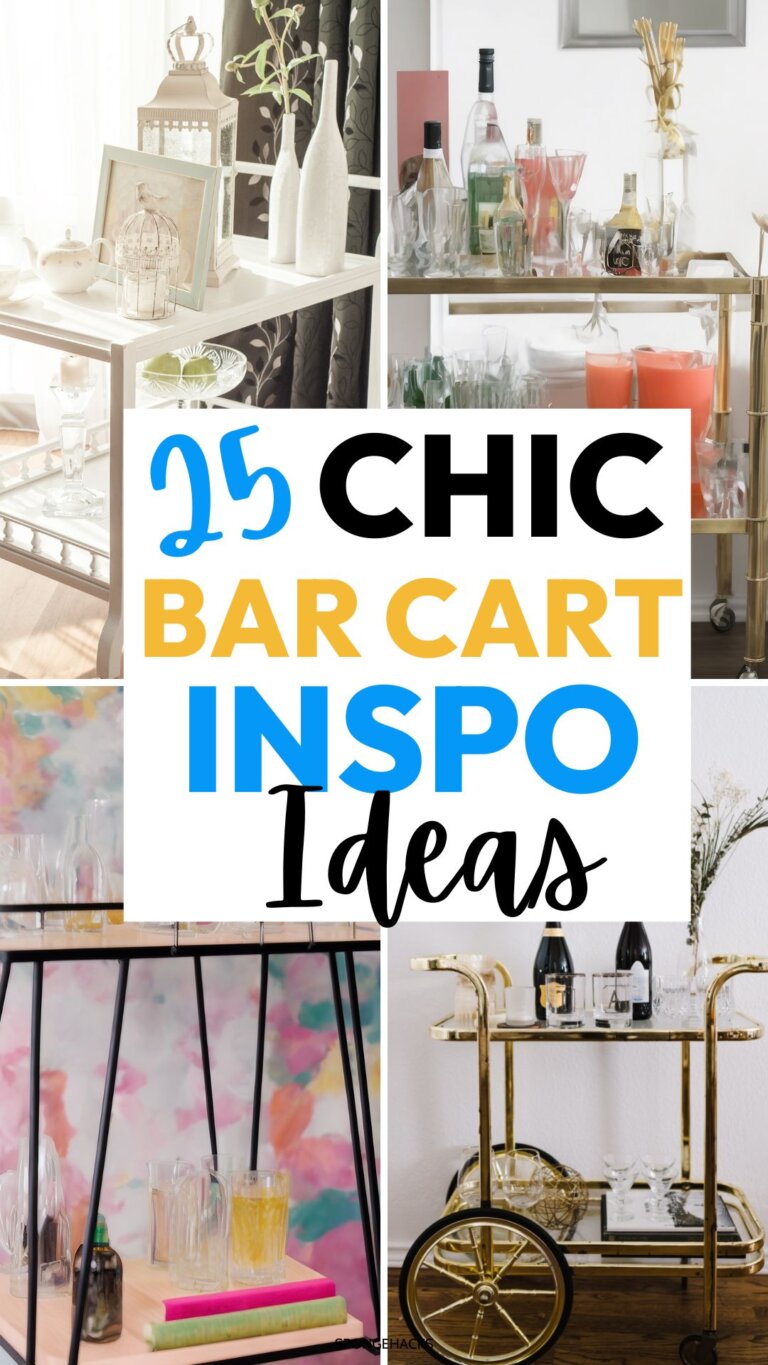 Ultra cute bar carts!
OMG!
I can't get enough of these bar cart ideas!
I'm always looking for fun and creative ways to spruce up my living room without breaking the bank, amiright?
And, a bar cart really is an adulting thing.
When someone comes to your place, it won't look like a college pad, but more of a professional worker!
Now I know my last obsession was the ottoman but you know what? You can totally rock your tufted ottoman right next to your modern bar cart!
Yas!!! A bit of pizzazz and personality to any home or apartment, for sure!
So, if you are looking for a way to organize and serve your favorite alcoholic drinks and spirits, check out these inspiring bar cart ideas!
Modern Bar Cart Ideas
From modern metallic styles to rustic wooden designs, there is something for everyone's individual taste.
For those who like a touch of sophistication, try out some classic French-style carts with glass shelves and sleek finishes. If you have more of an adventurous spirit, opt for a more whimsical design with vibrant colors and fun prints. You can even customize these carts with decals or trays according to your liking!
With so many options available, it's easy to find something that perfectly fits in with the rest of your décor.
Check out these modern and sophisticated bar carts for your place!
Many of them are small so they can fit in the corner or entranceway of your apartment!
1. Use a Ladder Shelf
Get an instant industrial feel with this amazing and chic bar cart inspo idea!
Who would've thought a simple ladder shelf could turn into a unique, stylized bar cart station?
Sign me up to this DIY bar cart idea!
Get the look with the right ladder shelf!
2. Choose a smaller rolling cart
For convenience and mobility in a small apartment, use a smaller rolling cart so that you can move it from the kitchen to the living room to the balcony and more!
I fell in LOVE with this feminine bar cart! It would look cute in an office too.
What's popping now are gold bar carts that are small, cute and convenient!
3. Place Fairy Lights
Give your bar cart a subtle glow in the evening hours with this inspo idea!
Don't these fairy lights instantly change the look of a bar cart? From simple and elegant to poppin' and bangin'
4. Decorate the wall behind based on holiday or theme
One of the easiest and simplest bar cart decorating ideas I found on Pinterest was to add foil curtain on the wall!
You can swap them out for Christmas, Valentines day, New Years and more just be changing the color up!
5. Repurpose a rolling cart
Here's a three-tiered storage cart that's turned into a fun and festive rolling bar cart!
Don't you just love this decorative bar cart? I do!
I can't get enough of this and what's great is if you already have a three-tiered storage cart, you can just spray paint it a funky color and BOOM! You got a bar cart!
Of course you can CREATE this look easily!
And even though these ideas are for your liquids, I can't help but think you can create some amazing fruit tray ideas here!
6. Go all in with a bar cabinet
Don't you just LOVE this look?
It's to die for! When I saw this on Pinterest, all I kept thinking about: Mad Men!
Doesn't it give off that vibe, right?
You can definitely use a DIY bar cart tutorial, OR you can just grab it from Amazon!
What I love about this version of a Mad Men bar cart is the spot to hold your wine.
And that mesh cupboards are such a vibe!
7. Mix materials for a high-end bar cart
A very popular small bar cart style is one that mixes materials.
A classic is wood and metal and as you can see from my list, it's something that I'm also OBSESSED with!
This look fits any type of decor – rustic, industrial, even farmhouse in a way!
8. Customize a bar cart with wine glass holders
If all you can get is a small bar cart, you have to make every INCH functional!
So, when I found this Pin of a bar cart with an underneath wine glass holder I HAD to share about it!
9. Decorate the bar cart for the holidays
One of the great things about having a bar cart is that you can decorate it for the holidays!
Don't you just love this New Year look?
This goes perfect with your foil curtain too!
And it's perfect and you can do this for all the holidays!
10. Use a bar cart for plants!
This is sure a unique way to use a bar cart and I'm OBSESSED!
I mean you don't have to hold your alcoholic drinks in a bar cart if you don't want to!
Why not use it to house your plants!
Bar carts are the perfect height and have enough room for all your house plants!
11. Convert a bar cart into a popcorn station
Or, you can turn your bar cart into a popcorn station!
How fun is that!
If you have a family room, place this bar cart there and decorate it with a popcorn machine, kernels, bowls, shakers and drinks!
BOOM! A fun night for movie watching and popcorn eating!
12. Add shelving on the wall to make a bigger bar cart spot
Don't you get a vibe from this bar cart idea?
With the BAR sign on the wall and shelves full of liquor, it looks like that bar cart is suppose to be there!
And it's super easy to create this look in an apartment also!
While you can get other styles of a BAR sign (like a white version, neon one or black version), I like this wooden look to the sign.
It makes it more authentic, rustic and cool even!
13. Feature artwork
Decorate your living room space not only with your perfect ottoman and bar cart, but also add some attractive artwork to the walls to complete the look.
I just love this beachy vibe this pin gives off. The glass bar cart, ottoman and art is chef kiss!
14. Or use a mirror
Look –
If beachy vibes aren't your thing, then go classic and chic with a minimalistic look.
A mirror above your chic bar cart adds the perfect item to complete this look.
15. Boho style bar cart
This LITERALLY is what I want!
I love how the rattan bar cart creates an instant boho feel.
And, don't get me started on the hats!
You can get the almost same look for this bar cart idea on Etsy.
16. Use a microwave cart
If you want to DIY it up, you can always purchase a microwave cart and use it as a bar cart.
Or, use it for something else like a coffee bar, makeup bar, icecream bar or slushie bar!
The ideas are endless!
How to Stock a Bangin' Bar Cart
Okay –
Now that you found some bar cart inspo ideas, what the heck do use put in a bar cart to make it bangin'?
Check out my recommendation list below!
The Classic Look
Go classic and neutral with these items for your bar cart!
17. Bar utensils
Get the classic bar utensil set with everything you need. This professional blender kit has:
3-part drink shaker
Slim jigger
Alcohol mixer spoon
Fine sieve
Metal muddler
This is the perfect way to make your mojitos!
18. Ice bucket
It's always a good idea to have an ice bucket on hand to add ice to all your drinks.
I mean, you don't want to run into the kitchen all night do you?
19. Bar drink book
Don't just rely on the regular drinks for your first bar cart guests!
Wow them with some fun bar drinks from this book!
20. Wine glasses
If you don't already have a set, go ahead and grab a wine glass set so you have enough glasses for your party!
21. Metal Straws
Don't forget to grab some chic metal straws for your bar cart accessories!
I like the gold ones as they match the bar utensil set and ice bucket!
The Colorful Look
For this look, you will also need an ice bucket and bar utensil set but you also add these other things to make your serving cart poppin'.
22. Colorful Shot Glasses
Start this theme off right with these cute and colorful shot glasses!
Don't you LOVE them?
23. Retro and Colorful Artwork
OMG!
These colorful prints would be perfect for a retro party you might throw!
Hang it above your Mad Men bar cart or cabinet and you have the look!
24. Fun Coloful Drink Book
I LOVE the name of this drink recipe book!
So cute! Have fun making these bubbly drinks for your friends.
25. Martini Pitcher
You can't go wrong with this martini pitcher for your amazing drink cocktails!
Have fun using this pitcher to pour drink after drink when you host a little get together!
Fun and Creative Bar Cart Inspo Ideas!
I hope you found some fun items and ideas for your bar cart that's waiting to be use!
Make sure to follow me on Pinterest for more organizing, decor and cleaning tips!