Last week I was waiting for an appointment and decided to fill my time watching some Tik Tok videos when my purse fell and absolutely EVERYTHING dumped.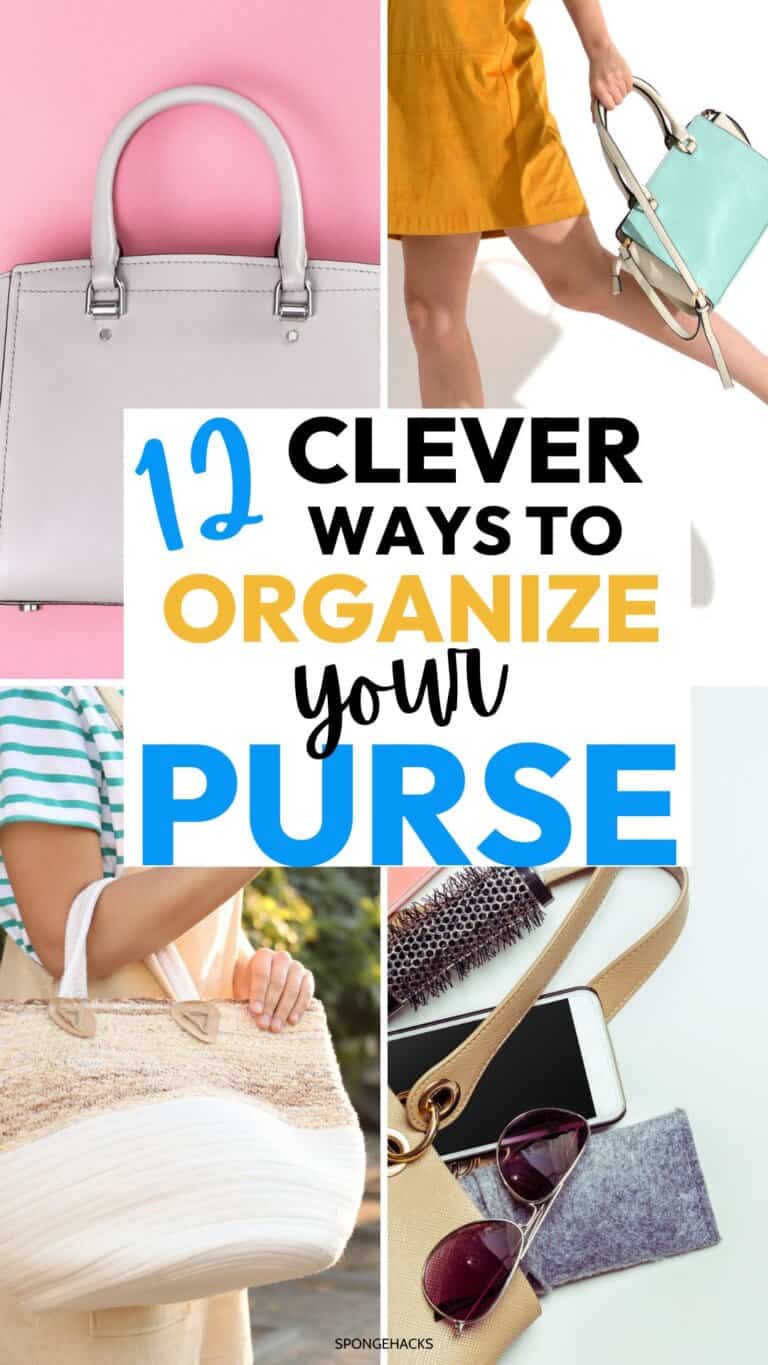 I mean, lipstick, compact, gum, sunglasses and more.
Ouch! What I really needed was a purse insert organizer.
But, at that time I had NO CLUE what those were or where to buy a purse organizer insert!
It was only after that horrible day that I came home and researched the best way on how to organize purses and found this solution.
Even Oprah has a best pick for a purse organizer insert! Nice!
So, let's check out hers and some other contenders and see how they will revolutionize and change my life! Because I don't want to have another fail!
1. Oprah's Favorite Purse Organizer Insert
Picture this –
It's been a long day and you're heading home after dark.
But wait, you need to find your parking meter ticket.
You rummage through your purse and toss everything aside completely blind since it's pitch black outside.
Well NO MORE!
This LED lighted organizer will change it all.
You can even use it as a stand alone purse too! So chic!
This purse insert makes it easy to transfer items from one purse to another, to organize every little item you have and can zipper it up for good security!
Plus, it's a good zippered purse organizer insert too!
This is great when your purse is a magnet close type. You can be assured your makeup and purse items are safely in place and won't move an inch!
See – life saving for sure!
2. Tote Bag Organizer
Check out this cute slim handbag organizer! LOVE LOVE LOVE.
If you have a Michael Kors Saffiano leather tote purse then is the PERFECT fit for sure.
But really, this purse insert works for medium to large beach bags, your medium Telfar bag, a Consuela tote bag and more!
Is it a leather purse organizer insert? It doesn't say but it's the closest looking to leather!
But, it's by far the BEST purse organizer insert that works and is durable.
Go head and try it out!
3. Vercord Purse Organizer Insert
If you want something lightweight and sturdy then this Vercord purse insert is the ONE for you!
It's fitted with 11 pockets and zippers to hold your sunglasses, wallet, face masks, water bottle, makeup and more.
What's great about this handbag organizer is that it's very spacious and has more then enough compartments for your items.
Fits in small, medium and large purses. The only thing you might not enjoy is that it isn't that tall so for large totes or handbags, it will fit but it won't take up much space.
But other than that, the material is washable and can fit many things for your purse.
4. OMYSTYLE Purse Insert
I can't get enough of this OMYSTYLE purse insert organizer!
It comes in soo many chic colors too!
You can choose from 5 different sizes and each insert has 13 compartments to hold all of your purse items! Sweet!
Medium
Slender Medium
Large
Slender Large
X-Large
This is a highly sturdy insert that will hold the shape of your purse or tote bag.
The sides of the organizer attaches to your purse with velcro and makes a good seal so it won't move around at all while using your purse out in the day!
5. Vercord Canvas Small Purse Organizer Insert
I just HAD to mention Vercord again!
I LOVE this brand soo much! If you have a small purse and need an insert, then check this one out!
Make sure that after you measure your purse you account for more room once you put in this insert and the items in the insert!
It can be a tight squeeze otherwise.
6. DailyPlus Purse Insert
Ooo!
What a nice looking purse insert, right?
It's a work of art!
13 pockets – inner and outer – and durable.
This insert can last you years and that's saying something!
7. Pattern Purse Insert Organizer
Don't you just love this pattern for this purse organizer?
It totally slaps!
You basically can never go wrong with all that extra storage for all the stuff you need.
It's like an amusement park for your purse things.
And with the zipper closure, your possessions are safe and sound in there – like a little fortress of secrets.
I love that it has the two side rings too, so you can easily attach it onto other purses or bags when you're looking to switch it up a bit.
Bottom line: Get yourself one – and don't sweat having a messy purse again!
8. Dahlia Patented Purse Insert
I used to be one of those scattershot kinds of girls who would just toss all the things that find their way into my purse into it and then sort through it when I needed something desperately.
Love, letters, receipts, bills – if I'm honest, sometimes even half-empty fast food cups would make an appearance!
The crisis with all this stuff?
You'd never find anything.
But not anymore!
This Dahlia insert has cool creative features like easy access cardholder and zippered pocket for safekeeping keeps me from the annoyance of a scattered bag bottom.
Even better, the pleated mesh pockets keep bulky items neatly secure so nothing is ever slipping out too easily.
All this plus sturdy construction and efficient size – smaller than expected but honestly perfect for all my gadgets and doo-dads makes this insert really incomparable to other bag organizers out there!
9. LEXSION Purse Organizer
Now, isn't this just the prettiest purse insert you've seen?
It is for me!
The LEXSION Purse Organizer is like my new best friend!
With 13 pockets total, I'm spending less time rummaging around in my bag and more time enjoying life.
Three exterior pockets? Check!
Ten interior pockets? Yep, that's there too.
And the best part? A detachable pocket for all my really important stuff or for when I want to take just a wallet out with me.
On top of this, everything stays neatly organized – exactly how I like it.
All in all, this purse organizer has been heavenly for my deep tote-turned-diaper-bag!
10. Coffee and Beige Purse Insert
Sleek and modern!
This purse organizer from ZTUJO is the Tik Tok purse insert you've been seeing!
Who knew organizing could feel so good?
Like, literally – this purse organizer is one of those products you pull out and just take an extra moment to appreciate.
Not only does it look sick AF with its durable metal zipper, but this lightweight felt fabric feels super soft and cozy against your cuddle-worthy cards and cash stash.
Best of all, your bag finally stands up straight.
No more dragging down your otherwise cute vibe with a slouchy situation.
Now everything's got a place, yo!
Perfect for when you can't even dealing with the annoyance of fishing through all that stuff in your handbag looking for the exact thing you need in the heat of the moment.
11. iN. Purse Organizer Insert
Check out this durable organizer for your purse!
It's going to put all of your personal stuff in check and make more room like nobody's business.
Plus, it won't make your purse feel any lighter so you don't have to worry about it weighing you down – which is just what the doctor ordered if you ask me!
It even has zipper compartments to protect all your stuff from falling out of your bag like whack.
Get yourself this insert today and get ready for a whole new level of organization in your life!
12. Felt Purse Insert
Look out for that handbag sag no more!
With this felt purse insert, you can keep your bag's shape and have everything looking nicely shipshape.
No more lost phone, pulverized cosmetics, and glasses scattered like confetti.
Not to mention the 3 slots in the middle – now that's boss!
And small as it is, it can even accommodate your Kindle too!
The quality is fire; You can cop another one of these bad boys because they make keeping stuff organized so darn easy.
5 Purse Organization Tips for More Life-Changing Moments
There's nothing more chaotic than an unorganized purse!
I sure learned my lesson.
But I hope these purse inserts will be a start to organize your purse.
But if you still have those days when your purse feel like a bottomless pit, filled with an endless array of items that can't seem to stay in their place then check out how to organize purses the right way.
1. Ditch Unnecessary Items
It's easy to carry around things that we don't really need in our purses every day, such as receipts and gum wrappers (you know who you are).
The best purse organizer ideas all have to do with minimizing what you have.
Take a few minutes each week and go through your bag, removing any unnecessary items that aren't adding value to your life.
This may include old coupons or grocery lists that are no longer relevant.
Once you start removing these items from your life on a regular basis, you'll be amazed at how much lighter (and less cluttered) your purse feels!
2. Invest in Travel Containers
Let's face it – sometimes carrying around full-sized containers just isn't practical (or chic)
That's why investing in travel containers for everyday items like lotion and makeup is essential for reducing clutter in your purse.
They come in all shapes and sizes so you can always find one that fits perfectly inside of even the smallest handbag!
Plus, they help prevent spills and leaks from ruining the rest of your belongings too!
3. Use Zippered Pouches
Zippered pouches are one of the best ways to organize cluttered purses.
They come in different sizes, colors, and shapes so you can easily find the right ones to fit your needs.
These pouches are perfect for separating items like lip balms, face masks, and more.
You can also use them to store things like coins or jewelry or hand sanitizers if needed.
Just make sure you label each pouch correctly so that it is easy to find what you need when you need it.
4. Get a Wristlet Key Strap
If you often find yourself searching endlessly for your keys at the bottom of your bag, then getting a wristlet key strap could be just what you need.
A key strap helps keep your keys from getting lost in the depths of your purse. It also makes them more accessible since they will always be attached to the strap on your wrist.
Plus, most wristlets come with clever designs featuring bright colors or fun patterns so they will look great when paired with any outfit.
5. Stay Consistent
Once everything has been organized into its proper place in your purse, stay consistent!
Make sure all items go back into their designated spot after each use so that everything stays organized over time—no more digging through an endless pile of stuff just trying to find what you need!
The Purse Insert for You!
I hope you found the one perfect insert you can use for your tote bags and purses!
Don't waste time trying to find your keys or lipstick again!
Enjoy this list and take time time out of your day to organize your purse.
Please follow me on Pinterest for more organization and cleaning tips!