I first learned about Kpop during the pandemic.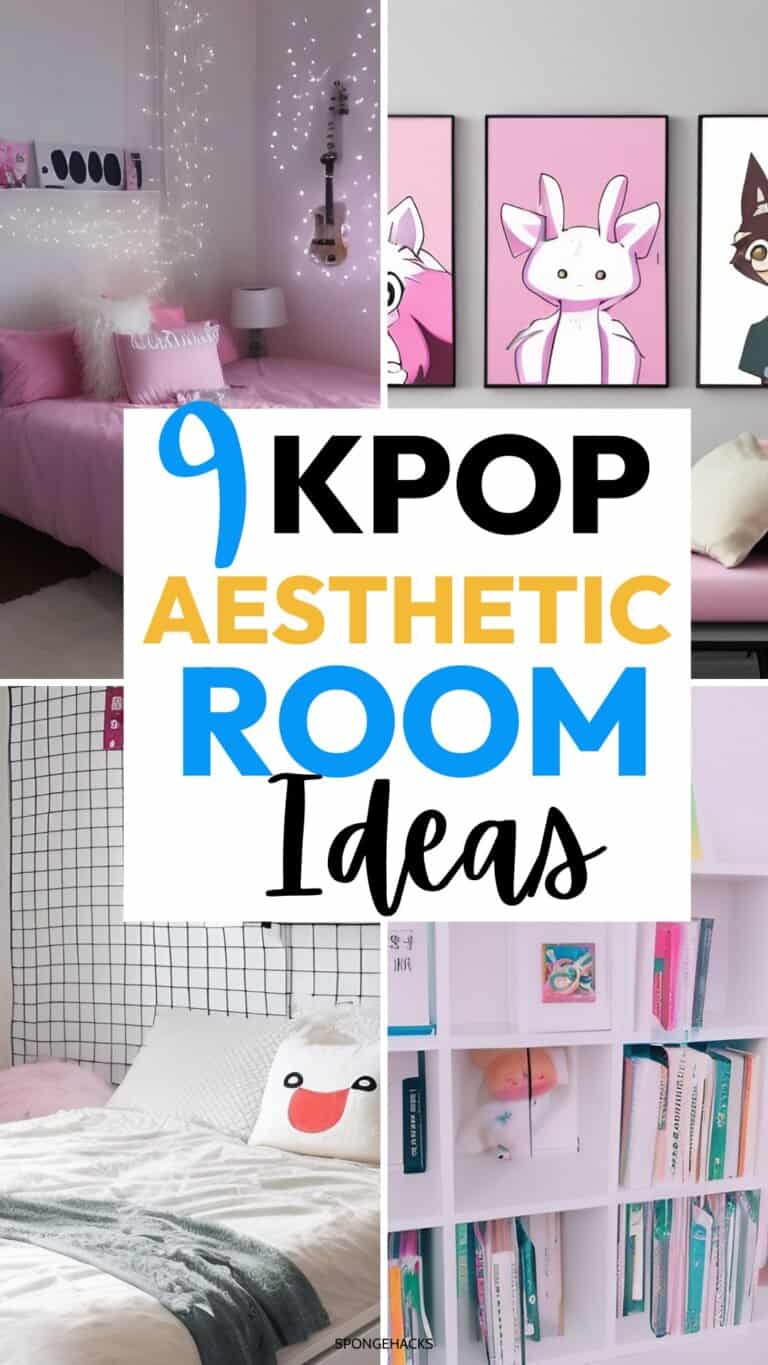 I was on Youtube, and all of a sudden I was getting videos on my homepage on BTS music videos and reactions.
I was like, "huh? What is this?" and I spent the next 42 days going down the Kpop rabbit hole!
And I'm on the other side now and guess what? My daughter is also obsessed with Kpop!
She's been looking at Kpop aesthetic rooms on Pinterest and let me tell you – I'm amazed by all the aesthetic room decor!
So, if you or your tween or teen is looking for a room makeover, why not try the most popular room idea out there – Kpop aesthetic ideas!
1. Decorative Pillows
If you're looking for a fresh new way to add some Kpop vibes to your room, anime decorative pillows are the perfect way to do it.
It's a Kpop aesthetic trend that every Kpop room should have because they are just so cute in a bedroom!
Not only are they cute and colorful, but they can also set the tone for an entire aesthetic room.
Whether you're a fan of BTS, Blackpink, or any other group, these pillows will make sure your room looks as lit as your favs' music videos.
Check out these cute Anime pillows. These are my favoriate ones:
Let's dive into some ideas on how to use anime decorative pillows in your k-pop aesthetic room.
Matching Pillow Sets
Nothing screams "k-pop" like matching pillow sets in bright and bold colors.
Get two or more sets that match in pattern or color so that you can create a cohesive look.
This is great for those who love creating themed rooms where everything ties together perfectly and makes for an aesthetically pleasing experience.
Plus, having multiple sets of pillows gives you lots of options when it comes time to rearrange them and switch up the vibe of your space.
Soft Plushies
Who doesn't love snuggling up with a soft plushie?
Or, how about those smooshie pillows that everyone loves to smoosh?
Choose from characters from your favorite anime shows or choose from some of the cutest designs out there like cats and bunnies.
These cuddly pillows will make sure your bed looks inviting and oh-so cozy no matter who enters the room!
You can even get creative by arranging them in different shapes like stars or hearts.
Just be sure not to go overboard – less is often more when it comes to bedroom decor!
Kawaii Throw Pillows
If you want something a little more subtle than matching pillow sets or plushies, why not opt for something with a bit more personality?
Kawaii throw pillows come in all kinds of cute designs like cherry blossoms, bunnies, stars, other cute animals like penguins – whatever suits your fancy!
They can be used as accents on couches and chairs or scattered around the floor for a whimsical touch. The possibilities are truly endless when it comes to these adorable little cushions!
2. Kpop Artwork
You can't have a Kpop aesthetic room without the artwork! These aesthetic bedroom ideas are just soo darn cute!
It's all about the Anime of course, but don't forget your favorite Kpop singers!
Get creative with wall art; hang up posters featuring your favorite Kpop artists or anime characters, add framed prints of iconic album covers or scenes from popular shows/movies.
If you're feeling extra crafty, try making some DIY artwork.
For example, create a bulletin board full of photos of your favorite idols or shows; print out various images and words onto special paper and arrange them in any pattern you like—the possibilities are endless!
3. Kpop Books
Along with all the artwork and dozens of pictures of your favoriate Kpop bands and singers, you can't forget to style your Kpop bedroom with none other than Kpop books!
Here are my favorite ones that look good on display:
Using k-pop books on your desk is one of the easiest ways to add a k-pop vibe to your room.
Not only do they provide an interesting conversation piece but they also show off your love for your favorite idols and groups.
Plus, these books are really helpful for your Kpop introduction!
4. Have a Wire Grid for All Things Kpop
Yess!
The great thing about using a wire grid as part of room aesthetic ideas so you can be creative with what items you hang up on it.
Get creative with all kinds of merch, from lightsticks, albums, posters, and more — there are so many possibilities!
You can also add an extra personal touch by adding polaroids or other fun items to the mix.
Hang up some colorful posters or photos and arrange them in an interesting pattern or layout.
Play around with different shapes or sizes to create an eye-catching display that will be sure to wow anyone who comes over.
5. Keep Colors Neutral and Soft
A soft pink here and there and classic white makes for very pretty aesthetic Kpop room ideas.
This is an easy and foolproof way to instantly give you that pink-hued look inspired by your favorite Kpop stars.
Paint an accent wall pink, add some white pillows for contrast, or keep it subtle with some rose-colored accents like a rug or lampshade.
The possibilities are endless!
Another key element for creating the perfect Kpop aesthetic is texture.
Add texture to your walls with wallpaper – geometric shapes, nature elements, and bold patterns work especially well – or use velvet curtains or cushions to add dimension and interest.
If you want to up the luxe factor even more, try adding faux fur accents wherever you can – they look great on bedspreads and chairs!
Kpop style isn't just about what's inside; it also has to do with what's outside!
6. Can't Forget The Posters and Merch
The perfect way to kick off your Kpop aesthetic room is by decorating your walls with posters.
There are tons of amazing K-pop and anime posters available online for purchase.
Pick out some of your favorites and hang them up on the wall.
You can also create a collage or mix it up by combining different styles, like modern art with traditional Japanese anime.
If you want something truly unique, why not try creating some artworks yourself?
Grab some paper, markers or paints and get creative!
You can draw fanart of your favorite characters or design your own original pieces inspired by Kpop and anime culture.
This is a great way to personalize the aesthetic of your room while expressing yourself at the same time!
Whatever you choose will make a great statement piece in your room!
7. Add Some Greenery
Adding plants to your room is a fun way to bring some life into your space while also adding a touch of nature-inspired beauty.
There are plenty of options out there, from low-maintenance succulents and air plants that require minimal care, to artificial plants!
And don't they just look good for those Insta pics or when you want to do a Tik Tok of your favorite Kpop dance moves?
8. Add a Soft Girl Twinkle
Fairy lights are a stylish and chic way to add a bit of sparkle to your room and get that Kpop concert vibe happening!
Whether you hang them up on your wall or have them drape around the edge of your bed, fairy lights will create a magical atmosphere for any Kpop aesthetic room.
To get that authentic look, opt for warm white fairy lights rather than ones with multiple colors. This will ensure that it still looks subtle and not too cluttered.
Soft neon lights are another way to add an artsy vibe to any Kpop room.
You can use them as lamps on either side of your bed or above your desk.
They also work really well as wall art!
Neon signs come in all kinds of shapes and sizes, so it won't be hard to find something that suits your taste. Keep in mind that the brighter the lighting, the more it will stand out in contrast with the rest of your room décor.
9. Instant Kpop Vibe With a Blanket
To tie in the Kpop aesthetic room inspo, you need a blanket.
There are so many options available when it comes to anime and Kpop themed blankets!
From classic manga characters like Naruto and Sailor Moon to cute BT21 characters from BTS's merchandise line, there's something for everyone.
Not only do these blankets look great on your bed, but they also provide a cozy spot for sleeping or just lounging around after a long day of studying or work.
Kpop Vibes Happening
Don't you just love this Kpop aesthetic room ideas?
From Anime pillows to BTS posters to Kawaii plushies and more, with these simple elements you can turn any bedroom into a Kpop room!
Whether it's for you or your tween, have fun decorating Kpop style!
Don't forget to follow me on Pinterest for more decorating, organizing and cleaning advice!