My house has a fireplace and the last thing I want after a day of working is having to go outside to a pile of wood in the backyard with my jacket and boots on to get when I want for a cozy fire in my fireplace.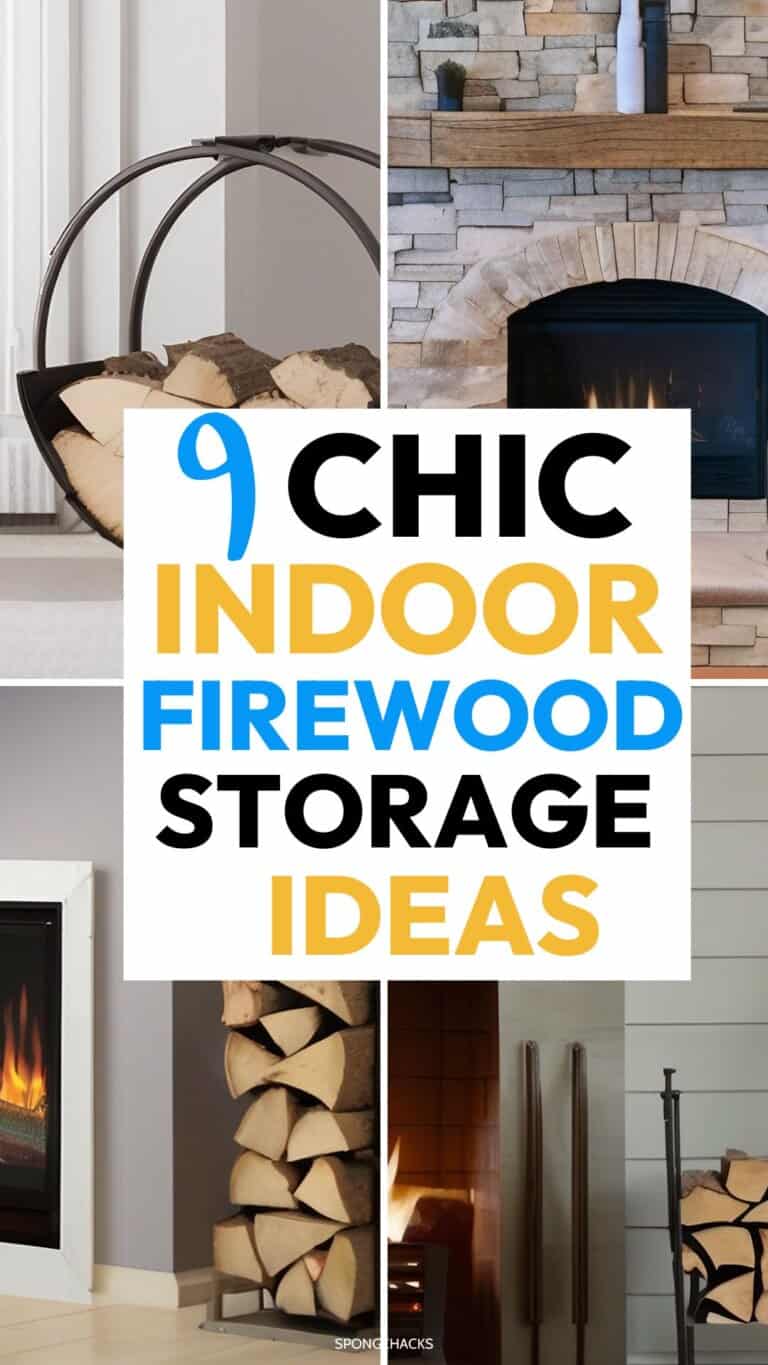 I mean, who has time to put on all those layers, go outside and haul in some wood just for a cozy fire? Not me, no way.
I need something that's efficient and stylish – enter indoor firewood storage ideas.
I'm wanting some indoor wood storage ideas that are chic and minimalistic. I want something that looks good and gets the job done.
Because let's be real, the most important thing here is that I can sit back, relax and enjoy my fire without any hassle.
So let's check out these firewood storage ideas that not only look chic but also are functional in a tiny house or apartment.
1. Decorative & Heavy Duty Fire Holder
I just am in LOVE with this look! Modern and chic and it doesn't even take up much room in your living room or den.
On top of that it's also sturdy and durable.
With thick steel tubes and a solid bottom tray, this fire wood holder can hold up to 160 pounds of wood – that's like carrying around a whole Kardashian clan of firewood!
And not only does it do the job, it looks good doing it.
It doesn't take up a ton of space, but it can hold enough wood to keep your fire roaring for days.
Plus, it keeps your precious logs off the ground so they can dry faster and stay in tip-top shape for burning.
So, if you're looking for a firewood holder that's functional, fashionable, and can handle some serious weight, this is the one for you.
2. Yengoth Firewood Rack
This is another beautiful fire rack for indoors!
It can hold several logs, so you can keep that fire burning all night long.
And when the warmer months arrive, fear not, for this rack folds up for easy storage.
It's so easy to install, too.
The perfect size for a day's worth of firewood, this rack also looks pretty darn cute sitting on your hearth.
Yes, there are some downsides – it's not exactly heavy duty despite its claims, so don't go trying to load it up with the entire forest.
But for a moderate load of wood, it does the trick just fine. So go ahead, get your wood stacked and ready to burn with this nifty little rack.
3. Liantral Firewood Rack On Wheels
This firewood storage rack is easy to assemble (even for those of us who struggle with IKEA instructions), and it comes with the added bonus of an extra screw for every size.
Plus, it's equipped with three locking wheels and one regular, making it easy to haul around your precious wood collection.
And don't even get me started on the storage capacity – this thing can hold at least two days (or more!) worth of wood.
Sadly, the wheels leave something to be desired – they're a bit too delicate to handle the weight of all that wood and they broke off.
But a simple upgrade to some larger, more sturdy wheels will have you rolling in no time.
All in all, my only complaint is that the holder itself is a bit flimsy. Come on, manufacturers – let's beef this storage rack up!
4. Tall Firewood Rack
Who has time to waste on a complicated assembly?
I don't have time for that!
Lucky for you, this firewood holder took five minutes to put together.
And guess what? All the parts fit like a glove.
No struggling, no frustration, just pure assembly bliss.
This shelf is the perfect size for those small wood stove logs and the hangers attached make it a swanky spot for your tools.
Plus, if you're working with a compact fireplace area, this shelf is your new best friend.
It's strong, holds a ton of wood, and all without taking up too much space.
Only con? Those pesky silver screws.
I mean, come on, do they really have to stand out like that?
There's a solution though: grab some black paint and cover those up.
Oh, and one more thing. It's not quite perfectly square, but hey, who among us is perfect?
A quick shim and you're good to go. Just be aware that it may be smaller than you expected, but hey, good things really do come in small packages!
5. Deluxe Fireplace Wood Storage
Now this one is one step above the last fireplace rack I shared!
It's definitely a vibe next to the flames and gives off cozy cabin vibes.
You can burn enough wood to last a daytime Netflix marathon with no issues.
The tools that come with it? Chef's kiss.
You'll mostly stick to using the shovel and poker, but the quality is great.
And as a busy adult, I appreciate that takes about 10 minutes to put together.
This setup is seriously perfect for the daily wood-burning needs.
Now, if you do end up with missing parts, don't worry, just call up the manufacturer and they'll help you up.
6. Fire Log Hoop
Now isn't this a chic looking firewood storage idea!
You need to get your hands on this fire wood holder ASAP.
Not only is it a total cutie pie, but it can hold a lot of wood too – perfect for those cozy winter nights.
And, this fireplace rack comes with a cover, so your wood will stay nice and dry.
But, here's the tea. If you're thinking about using the tools provided, please do yourself a favor and don't.
Instead, grab a proper screwdriver and a ratchet and you'll be all set.
It's also a bit too wide at the bottom, but let's be real, that just gives it a little extra personality.
7. Sunnydaze Indoor Firewood Holder
Can we just take a moment to appreciate how nice it looks?
I mean, it's almost too pretty to just hold a bunch of wood, am I right?
But that's not all – the solid bottom is a game changer.
Like, no one wants to deal with a messy floor covered in sap.
Ew, no thanks.
Plus, this firewood rack can hold enough wood to last you a good 1-2 days if you're all about that roaring fire life.
And don't even get me started on how sturdy and just the right size it is.
But hey, let's keep it real here – the base can be a bit scratched and putting it together isn't exactly a walk in the park.
8. Kcysta Firewood Storage Holder
This wood stand is just so cute, and it completes that rustic home look.
It can hold its own too – a decent amount of wood, that is.
Plus, the assembly is a breeze.
They even will throw in some extra screws, which is totally cool.
But let's be real for a second, it's not exactly the biggest fire log storage holder out there.
It's more like the runt of the litter.
Regardless, it's a total babe and perfect for a cozy corner next to the fireplace.
9. Qiang Ni Curved Firewood Rack
This is a simplified and streamline firewood rack that I absolutely am OBSESSED with!
Finding a wood rack that holds a lot of logs and looks good next to your wood stove can be a struggle.
But not for this indoor wood storage.
This curvy rack holds up to 4ft of stacked wood and has a base so strong you could probably do some squats on it (though I wouldn't recommend it).
And it's pretty long-lasting too.
For a whole season the paint will still looks brand spanking new.
There is a con for this rack for sure. The metal work on this rack looks a bit rushed.
I mean, we all have our off days, right?
But you can always call the manufacture or take your time to make it right so that there are aren't any problems when putting it all together.
Don't Ruin Your Firewood! Storage Tips to Preserve the Quality!
Before we can enjoy the warmth of a crackling fire from using are awesome and new firewood holder, you need to know how to is properly store firewood.
Improperly stored firewood can lead to
We don't want that!
So, what do you do?
Where to Place Firewood
One of the biggest mistakes people make when storing firewood is stacking it directly on the ground.
This can lead to moisture buildup, which in turn can attract pests and accelerate rot.
To avoid these issues, store firewood on a raised surface, such as these wonderful racks and holders I shared int his article!
This allows air to circulate underneath the wood, preventing moisture buildup.
Outdoor Pests
Another thing to consider is when you bring in firewood from outdoors and store it indoors, you are giving a warm and cozy new home to pests like termites, ants, and other insects.
And, once they find their way into your home, they can cause all sorts of problems and may even damage your property.
To avoid this, buy kiln-dry firewood. You'll also be supporting veterans when you do this!
Mold
When you store firewood in a warm, humid environment, mold can develop on the wood's surface.
Mold can cause allergies, irritations, and respiratory issues, so it's essential to avoid it.
The best way to prevent mold growth is to stack the firewood in a dry spot in the open, allowing proper ventilation, and away from soil.
Properly Store Firewood Indoors
When ready to bring wood inside, store it in small amounts and properly cover them. Avoid stacking wood near any heat source.
There ya go! These indoor wood storage ideas are not only perfect for storage but also look well designed and chic!
For more home decor, organizing and cleaning advice, follow me on Pinterest!