OMG!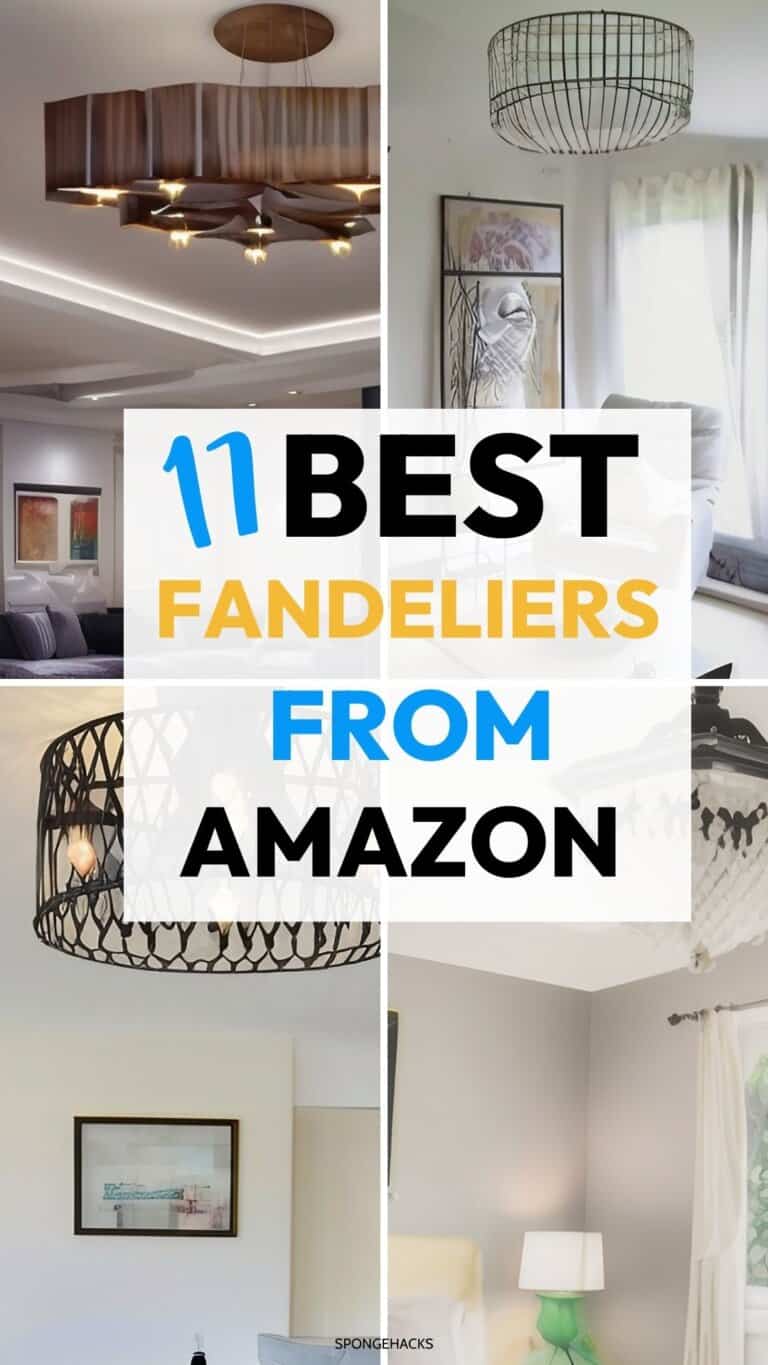 I was on Pinterest and Instagram (and let's be honest, Tik Tok too) and guess what has been flooding my feeds?
The fandelier!
Oh yes, I'm going there.
This is a MUST-HAVE home decor item.
Don't know what a fanelier is?
Is it a ceiling fan or a chandelier?
It's both!
And no matter if you want this for your living room, bedroom, work office, for those hot summer nights or enjoying a drink your fandelier will be your fan to cool off and a glowing chandelier to set the mood.
So, let's check out these popular & best fandeliers from Amazon as I'm sure you'll find the exact one you absolutely NEED (because I know I will!).
So, What Exactly Is a Fandelier?
Okay, okay, I know we've all heard of chandeliers.
They're those fancy lighting fixtures that add a touch of elegance to any room.
But have you ever heard of a fandelier?
No, I didn't just make that up, it's a real thing.
And let me tell you, it takes chandeliers to a whole new level of chicness.
A fandelier is a combination of a ceiling fan and a chandelier.
It's like a fan had a baby with a chandelier – a mashup of sorts.
Yes, you read that right.
Imagine a crystal chandelier, but instead of just hanging there looking pretty, it's got fan blades attached to it.
Talk about a two-for-one deal. It's like the Kylie Jenner of lighting fixtures – it's high-end, glamorous, and multifunctional. So, if you want to add some sophistication to your space, why not give a fandelier a whirl?
So let's check out these fandeliers from Amazon!
Fandelier for the Bedroom
Want some pizzazz to your sleepy boudoir?
Well, the Fandelier is here and it's making a splash!
Not only will it provide a refreshing breeze on those hot summer nights, but it also offers a stylish lighting feature that will have you feeling like you're living in a luxurious penthouse suite.
Trust me, this is an easy way to level up your bland and boring bedroom.
1. Flush Mount Fandelier
Say goodbye to the clunky old ceiling fans of the past and hello to the sleek and stylish flush mount fandelier!
Not only does this Zheshirui rattan boho fandelier provide excellent lighting with its brightness, but it's also whisper quiet so you can relax and unwind without any distracting humming noises.
With its high-end appearance and user-friendly remote control, you'll feel like a Hollywood starlet each time you turn it on.
Even better, it won't break the bank!
However, if you're looking for a powerful fan that will create gusts of wind, this may not be the one for you.
Nonetheless, the flush mount fandelier is the perfect option for those who want a combination of light, style, and convenience.
And, I mean look at the STYLE???? Unbelievably chic.
2. Gold Fandelier
Are you ready to take your ceiling game to the next level?
This gold fandelier 18″ in diameter, comes in metal finished. It's a gold caged ceiling fan light that is not just aesthetically pleasing, but equipped with 4″ & 8″ hanging rods to meet different ceiling heights.
And let's talk about that fan – it's so quiet and clear you won't even notice it's there.
With four lights, this fan is more than sufficient light for a moderate size room.
And, if you're like me, you'll appreciate the ability to adjust the fan's direction – lifting the air up or pushing it down.
But, let me be real with you, there are some challenges you should know about.
Unfortunately, this fandelier doesn't come with any detailed instructions or an explanation of what to do with extra parts.
And, there's a pesky delay when turning on the light switch.
But, the good news is that turning on the fan is just one extra step.
So, if you're looking for a chic and stylish addition to your home that will keep you cool and in-style, the gold fandelier is the way to go.
3. Crystal Fandelier
If you're looking for a statement piece to elevate your home décor game, then the crystal fandelier IS IT.
It's a showstopper that sparkles so much, you might need sunglasses to admire it.
Not only does it add a touch of glam to any room, but the best part is that it won't break the bank.
Trust me, it looks way more expensive than it actually is.
And let's talk about the different light settings – from dim to bright, you can set the mood for any occasion.
Plus, the fan is super quiet, so you don't have to worry about any annoying buzzing sounds while trying to relax.
The fandelier ceiling fans are the new must-have décor item for any chic and trendy home.
4. Black Fandelier
This chic and oh-so-stylish black fandelier not only lights up your room, but it also adds elegance and sophistication to any room of your house or apartment.
With its quiet yet powerful fan, it's the perfect addition to any room in your home.
And with the ability to control light color, brightness, and fan speed from an app provided, you'll feel like you have a dose of technology at your fingertips.
Of course, you'll need a little help installing it – this fandelier is a heavy hitter that requires a two-person team.
But it's worth it.
The only downfall?
When you turn off the lights, it resets to its factory brightness and color settings.
But hey, you can't have it all, right? Overall, this black fandelier is a chic addition to any abode.
5. Farmhouse Fandelier
This industrial style farmhouse fandelier is not just easy on the eyes, it's a total necessity.
The fan blades may be small, but they sure know how to create a breeze that'll give you all the feels.
And don't even get me started on the remote control – say goodbye to all your light and fan-related problems with just one click.
It's quiet, quick, and the option to switch between light and fan is as smooth as butter.
Plus, it automatically switches back to its original state when you turn it back on!
It's high quality, but it's worth your coin!
So if you're looking for an experience that's both darling and daring, look no further than the farmhouse fandelier.
6. Rattan Fandelier
Oh, this rattan fandelier screams boho chic!
Not only is it super trendy and chic, but it also comes with some seriously cool features.
I'm talking about that remote control that you can mount to the wall – genius!
No more fumbling around in the dark trying to find the switch.
And if you're anything like me who can't be bothered to reverse the fan blades manually, you'll love the fact that this one has a button for that too.
Plus, the six speeds on the fan make it easy to find the perfect breeze.
Sure, it's not without its flaws – I mean, who wouldn't want to dim those bulbs when you're trying to set the mood?
And the fan can be a little on the noisy side, but hey, if you're looking for a statement piece for your living room, this is definitely one to consider.
7. Boho Fandelier
I'm totally GUSHING for this boho fandelier!
This beauty is a powerful force of nature with a hidden oscillator that just oozes mystery, which is always in trend.
Not only is it strong and effective, it's also incredibly stunning, adding the perfect blend of bohemian and chic vibes to your room.
While the light is a definite plus, you may want to look elsewhere if you're expecting a hurricane-like breeze from the fan.
Regardless, you'll be left with a room that's perfectly pulled together with the boho fandelier as the pièce de résistance.
Fandelier for the Living Room
Having this statement piece right smack in your living room will get your guest talking around the water cooler.
EVERYONE will take notice and doll out those compliments if you put a fandelier in the living room.
Plus, if you have on in the bedroom and kitchen and in other rooms, you just have to include one in the living room, right?
8. Modern Fandelier
Modern fandelier is the perfect marriage of super sleek design and impressive lighting, providing ample brightness and enhancing the ambiance of any space.
Don't let its sleek appearance fool you – this fan packs a powerful punch.
With six different speed settings, you can choose the perfect level of airflow for your needs.
Pluse it's a low profile fandelier too!
And with dimming capabilities and a range of color options, you can customize the lighting to your heart's content.
Just be aware – if you're looking for a fan that disperses air more broadly, the fandelier's direct airflow might not be the best fit.
But if you're looking to make a statement and keep things comfortable in a smaller space, this is the perfect solution.
9. White Fandelier
This white fandelier is soo beautiful!
Not only does it look chic AF, but the remote control is a game changer.
No more getting out of bed to turn off the fan or light, because you can do it all from the comfort of your couch.
And let me tell you, this bad boy really moves the air even at low speed.
Plus, you don't have to go on some crazy search for specialized bulbs because it takes standard ones. Installation could have been a little easier, but hey, anything worth having takes a little effort, right?
Trust me, this multiuse fan-light combo will change your life.
10. Rustic Fandelier
If you're looking for a rustic chandelier that's got some serious personality, then this fan is going to blow your mind (and your hair).
Literally.
It runs so quietly you could almost forget it's on, until it starts pushing out an impressive amount of airflow that will make you feel like a Kardashian on a photoshoot.
And let's talk about those lights.
Bright?
Girl, they're brighter than your future.
Plus, with a fan more powerful than your ex's ego, you know you're in for something special.
So if you're ready to switch things up and turn your home into a statement piece, then this chandelier fan is the answer to your "what's it gonna take for me to feel like Kylie Jenner" prayers.
11. Large Fandelier
If you have a big living room well, then you need a large fandelier.
This one is a 42 inch extra large fandelier and is definitely a statement piece for your living room.
I love the look of this fandelier! With a quiet fan and a Bluetooth music player, you can have a dance party every night of the week!
12. Brass Fandelier
A brass fandelier just looks…soo posh and perfect!
I love the look of this one too!
All of these Amazon fandeliers are soo chic, modern and posh!
I mean, having an oil rubbed bronze fandelier? Sign me up!
13. Small Fandelier
Now, if your apartment or home is small, then of course you'll need a small fandelier so it doesn't over power your decor.
How cute is this boho styled fandelier though?
I love that it comes with a remote to control the lights and settings and it really packs a punch with moving the air!
Fandelier for the Kitchen
Now it's time to glam up your kitchen!
This is not your grandma's kitchen fan.
We're talking about a statement piece that will have all of your guests talking and all of your haters green with envy.
Just picture yourself whipping up a three-course meal with a glass of chardonnay in hand while basking in the warm glow of your fandelier.
It's like having a private chef and a glam squad all in one.
So kiss those boring basic fans goodbye and upgrade to a fandelier. Trust us, your kitchen (and your Instagram) will thank you.
14. Fandelier with Bluetooth Speaker
Get a load of this fandelier!
It comes with a Bluethooth speaker and soo much more.
This fandelier with remote hits all the right notes! Oh yea, it can play music too.
So have fun cooking spaghetti and listening to the latest Taylor Swift song!
15. Fandelier With Light
The kitchen's always need light so why not just get a fandelier with some lights and add a little sparkle too.
I love fandelier with lighting because it can set the mood. And yes, kitchens need moods too!
While you're cleaning up, why not switch that bad boy to a calming and low light mood? Relax you while you wash the dishes!
16. Vintage Style Fandelier
If you have a vintage style then you'll absolutely LOVE this fandelier!
It's soo farmhouse and rustic too! You can definitely create a statement with this fandelier.
17. Sleek Caged Fandelier
I don't know about you, but this sleek fandelier will be the perfect fit for my black and white kitchen!
It will contrast nicely with my white cupboards and match all my matte black hardware!
It's Time to Treat Yourself
Who would have thought that the holy union of a fan and a chandelier would create such a buzz?
Well, now I know.
The fandelier phenomenon has taken over, and honestly, I'm not mad about it.
It's the perfect combination of classic elegance and modern edginess.
But after seeing these jaw-dropping pieces illuminate some of the most stylish homes, I've reached a conclusion – every room deserves a fandelier.
It's not just a light fixture, it's a statement piece that will upgrade any space to the next level of glam.
The fandelier craze may have started as a trend, but it's definitely here to stay.
Make sure to follow me on Pinterest for more home decor, organizing and cleaning advice!