When I was growing up, my Danish dad incorporated his Scandinavian traditions in Hygge, opening presents on Christmas Eve, and making wonderful Julehjerter (hearts from paper) for the Christmas tree.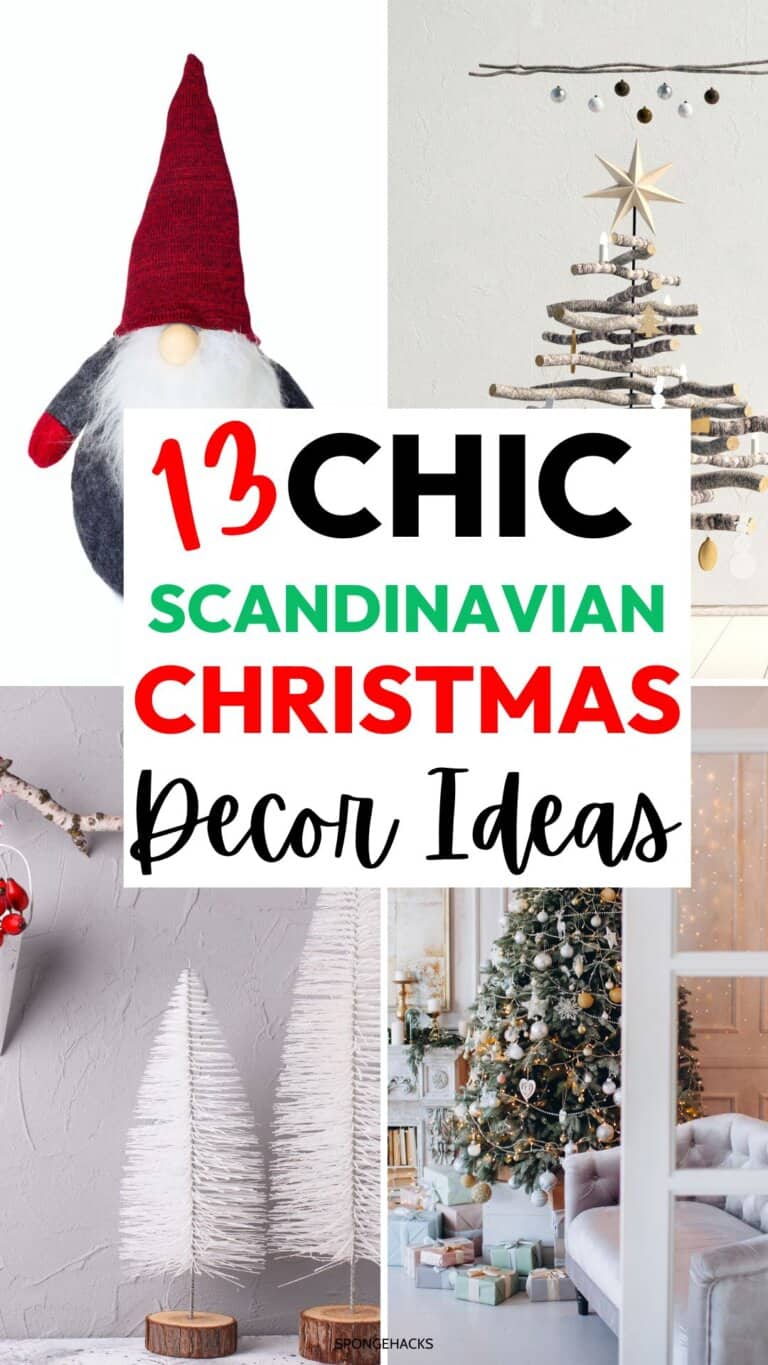 I loved it so much that I'm all about the Scandinavian decor ideas.
And this is more than going to IKEA and picking up some Christmas decorations thinking that's all you have to do.
It's more than that.
It's things like baking traditional treats, such as gingerbread cookies, and lighting candles to create a soft and welcoming glow.
It's also using natural elements, such as pine branches and red berries, into the decor.
And don't forget to gather around the tree on Christmas Eve to sing carols and exchange gifts, just like they do in Sweden and Norway.
So, with the help of Pinterest, let's check out these Christmas decor ideas you can use for your home to make it chic, calming and oh so trendy.
Minimalist Scandinavian Christmas Decor
This style emphasizes a cozy, minimalist aesthetic with neutral colors, natural materials, and lots of texture.
Think warm knit blankets, woven baskets of evergreen branches, and simple white candles.
By using only a few carefully chosen pieces, you can create a serene and inviting atmosphere that's perfect for celebrating the season.
Plus, since the emphasis is on quality over quantity, you can invest in pieces that will last for years to come – making this style both practical and budget-friendly.
So, let's unlock the secrets to having the perfect Scandinavian decor for Christmas.
1. Keep It Simple (Less is More)
With a few key elements you can create a cozy and warm-feeling Scandinavian Christmas.
Think small cute Charlie Brown Christmas trees, lit advent candles flickering in the background, and natural accents like paper banners and sprigs of greenery.
As the snow falls outside, you can curl up with your loved ones and bask in the hygge vibes of a truly Nordic Christmas. With this vibe, I have to grab a cup of glögg and just get all cozy looking at this!
2. Use Nature Everywhere
Isn't this getup PERFECT?
Instead of reaching for the tinsel and baubles, opt for natural materials like tree branches, pine boughs, and woolen blankets to create the ultimate cozy winter wonderland.
And why not make your own advent calendar while you're at it?
Grab a branch, some mini envelopes or bags, and some string, and get ready to count down to Christmas in style.
Who needs store-bought trinkets when you can appreciate the beauty of the great outdoors?
3. Use Candles to Create a Calming Vibe
With the dark and cold winter months, there's something special about the warmth and flickering light of candles.
And what better way to embrace the holiday spirit than with a Scandinavian Christmas filled with cozy candles?
From traditional red and white striped candles to delicate taper candles, there's a style to fit every home.
I mean this is classic Scandinavian minimalist Christmas decor right here!
And, let's not forget the oh-so-popular hygge concept, where candles play a major role in creating a cozy and intimate atmosphere. So whether you're curled up with a book or hosting a festive gathering, add some candle magic to your decor and celebrate the Nordic way.
4. Gnomes Give It an Authentic Nordic Feel
If you're looking to add a touch of whimsy to your Scandinavian Christmas decorations this year, consider incorporating some Nordic gnomes!
These adorable little creatures, also known as tomten or nisser, have long been a beloved part of Scandinavian folklore, and they make for charming additions to any holiday decor scheme.
Whether you opt for a traditional red and white gnome, or go for something a little more offbeat (like a gnome dressed in a cozy sweater or scarf), these little guys are sure to bring a smile to your face and add some festive charm to your home this holiday season.
5. Incorporate the Scandinavian Christmas Pattern
Ho ho ho! It's that time of year again and I couldn't be more excited to incorporate the Scandinavian Christmas pattern into my holiday decor.
There's something about those cute little houses that just puts a smile on my face.
I love how the playful designs add a touch of whimsy to my home and the festive red color really add to the holiday cheer.
6. Use Warm Wools Throughout Your Home
The soft textures of woolen throws and blankets draped over couches or accent chairs create a snug and inviting atmosphere.
Don't forget about the little touches – woolen stockings hanging over the fireplace mantle or a woolen table runner on the dining table adds a touch of charm to your holiday festivities.
Not only do these warm wools add comfort to your home, but they also capture the charming and whimsical style of the Scandinavian Christmas. So snuggle up with some hot cocoa, light some candles, and let the woolen coziness transport you to a holiday haven!
I know I will!
Scandinavian Christmas Tree Decor
Bring some minimalistic Scandinavian flair into your Christmas decor this year!
Say goodbye to the overwhelming amount of decorations and hello to a more simplistic style.
By incorporating natural elements such as wood, greenery and neutral colors, you can create a cozy yet modern space perfect for the season. The best part about this minimalistic approach? It's incredibly cost-effective, and still packs a festive punch.
So, let's check out some modern Scandinavian Christmas decor for your cozy little home or apartment space.
7. Use Simple Scandinavian Christmas Decorations
If you're anything like me, you don't want to spend a fortune on seasonal decorations.
So, why not just get some minimal Scandinavian Christmas decorations for your tree like paper and plastic stars and trees?
With their complimentary color schemes, natural elements, and minimalist designs, they're the perfect way to get into the holiday spirit without breaking the bank.
8. Fill Your Christmas Tree With Danish Paper Hearts
As a little girl, I learned how to make these Danish paper hearts and used to put them all over our Christmas tree.
It was a fun activity and I learned over time it was a Scandinavian tradition my father used to do with his family.
Plus they aren't difficult to make either! Just get two colors and fold to make half a heard and then slit them each and then interweave them together to create the Danish hearts!
9. Incorporate More Natural Elements
I LOVE this look!
This understated yet cozy accessory pairs perfectly with minimalist decor and adds a touch of rustic charm to any space.
Whether draped over your tree, hung on your fireplace mantle, or strung across your windowsill, this garland is sure to bring a smile to your face and warmth to your heart.
So grab a mug of hot cocoa, snuggle up under a fuzzy blanket, and let the natural beauty of these wooden garlands transport you to a winter wonderland straight out of a fairy tale. Merry hygge-ing!
10. Always Use a Star On Top
What's a Scandinavian Christmas decor without a star topper?
And what's a star topper without the beauty of nature?
That's why I say, let's go all-natural with our star toppers this year!
Not only will it give our trees a unique and earthy vibe, but sure adds a rustic look to your home vibe.
Scandinavian Christmas Table Decor
There's something about Scandinavian Christmas table decor that just makes you feel warm and fuzzy inside.
Maybe it's the cozy red and white color scheme, or the abundance of evergreen branches and pinecones.
Whatever it is, it makes you want to curl up with a blanket and a cup of hot cocoa, surrounded by twinkling lights and good company. The best part is, you don't have to be a professional decorator to create your own Scandinavian-inspired tablescape.
So, let's get some amazing inspo from these Pins for our nordic Christmas.
11. Stick to White and Silver
This color combination evokes a wintery vibe, perfect for the holiday season.
Not only will it add a touch of elegance to your dining table, but it will also give off a playful and relaxed look.
Plus, the white and silver will match perfectly with any holiday-themed centerpieces you may have.
12. Neutral Is Tried and True for Nordic and Scandinavian Life
This year I'm particularly drawn to the idea of a neutral color scheme for my dining room table.
With natural woods and cozy textures taking center stage, I think a white or cream runner, speckled with soft grays and beiges, would be the perfect way to tie everything together.
Not only does it add a touch of peaceful simplicity to the space, but it also makes my more colorful ornaments and foliage pop even more. Plus, I can't resist the idea of cozying up with a hot cup of cocoa and admiring the understated beauty of it all.
13. Ginger House Cookie Anyone?
What a fun idea!
The warmth of the gingerbread cookie will perfectly complement the cozy vibe of your table, while the festive table runner will infuse your gathering with Scandinavian charm.
Who says you have to stick to plain dinnerware and boring table arrangements?
This playful and jolly combination will add some whimsy to your festivities and will surely have your guests impressed.
Have fun this holiday season!
Scandinavian Christmas Decor Ideas For an Instant Transformation
I absolutely love all this Scandinavian Christmas home decor! Don't you?
I mean Pinterest is popping here with all these ideas and I'm here for it.
Make sure to follow me on Pinterest for more home decor, organizing and cleaning help!