Whether you're a busy parent navigating the mess and magic of toddlerhood, or an adult looking to maximize your space, theres one thing I've been seeing all over Instagram and TikTok that can make it easier: nugget couch ideas!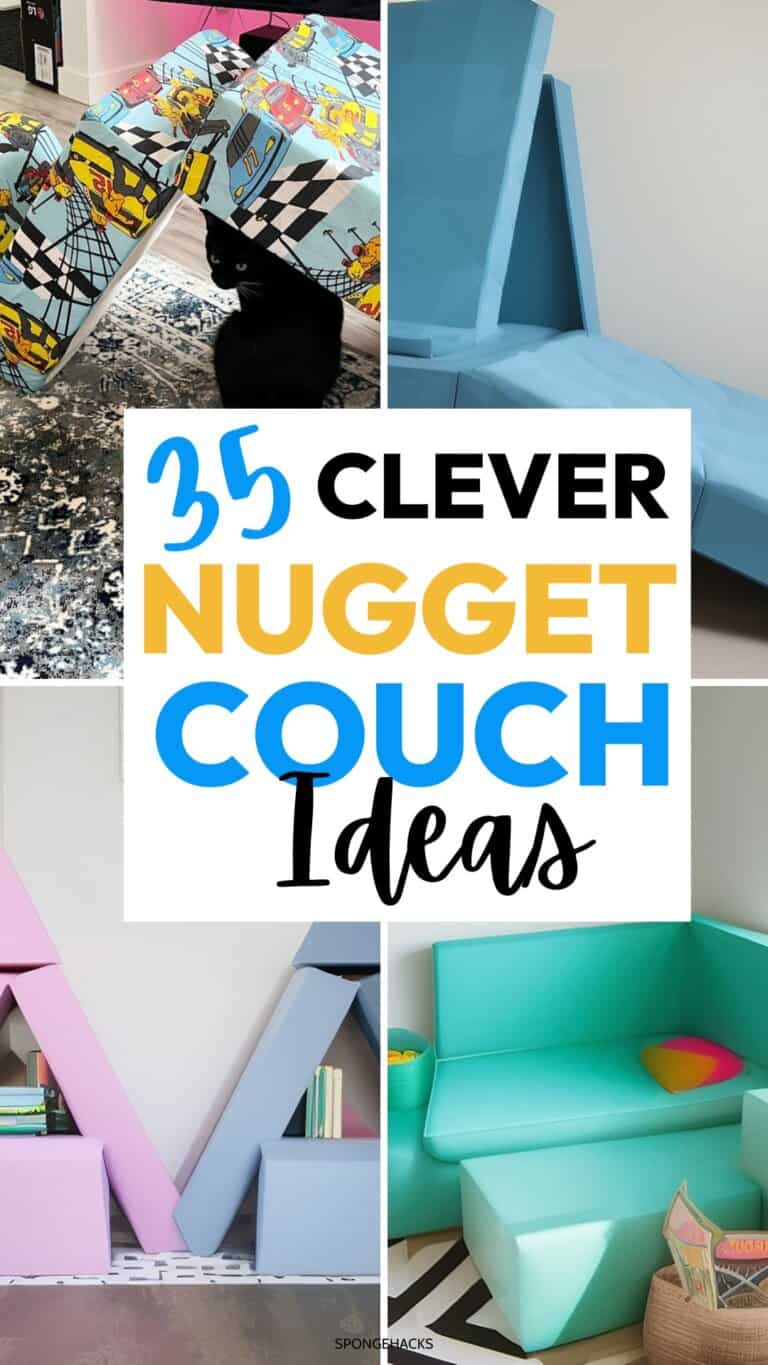 This cute couch set has endless configurations.
It can double as a fort, a bed, as your own personal stage for dramatic readings of "Goodnight Moon," a slide and more.
I actually use mine for our cat!
The nugget couch ideas on this list are the ultimate multi-functional piece of furniture that'll make your living room the equivalent of a Swiss Army knife—stylish, practical, and endlessly adaptable.
So, let's check out what these couches are and check out some genius and fun nugget couch configurations.
What are Nugget Couches?
Make cute creations from these couches! Toddlers love 'em and adults can use them too.
Many sets have half circles, triangles, triangular prisms, squares and rectangles to move around.
Other sets don't come with such variation, but can configure a few different ways like from a bed to a chair to a lounge sort of thing.
These couches are typically made out of foam and wrapped with a premium velvet fabric or micro fabric.
Nugget couches are also called:
These are perfect for your playroom, bedroom or just the living room.
Once you have your nugget couch or Joey Play couch or other type of nugget couch, it's super easy to spot clean. Many companies also use outdoor material making it water proof and spill proof too.
Either way, the slip covers are easy to take off and wash in a jiffy. I've had my sofa chair for three years and the covers look brand new.
And they do well for gifts, Christmas gifts and first birthday gifts!
Our nugget couch is in the living room and since my twins are a older, typically configure it as a chair or fun little fort area.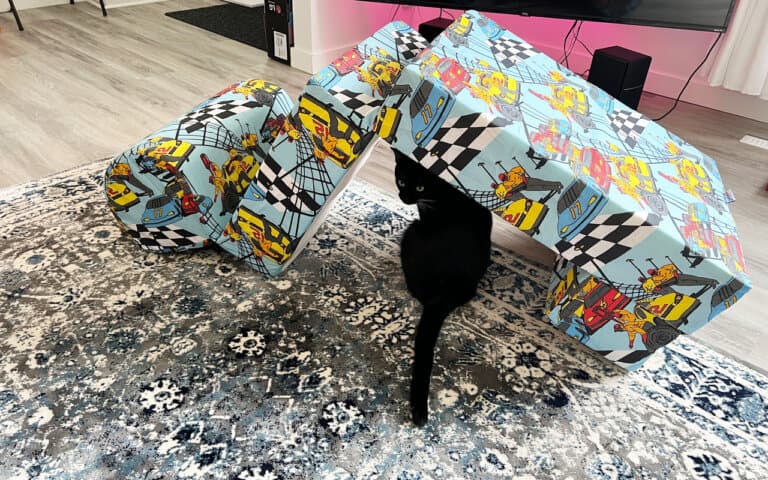 When they aren't using it, the cat likes to sleep on this soft and comfortable couch!
1 Nugget Couch Ideas
The nugget couch we have is a a single couch and great for 1 nugget couch ideas. Let's check out popular configurations for a single couch.
1. Climber Slide
Look –
If your toddler uses your couch as a fort then this is a lifesaver!
What's so fab about this play set up?
Well, its all about the multi-level magic.
A triangle piece serves as the mountain peak to climb over.
And what goes up must come down, but here's the kicker—you choose how.
Feeling daring? Turn that descent into a slide and wheeeeee your worries away!
Love this nugget couch for bored toddlers or kids who just want to see where their imagination takes them.
2. Reading Nook
For all the configurations of 1 nugget couch ideas here, I absolutely LOVE this one.
Don't you?
This is soo adaptable too!
Have a kiddo who's just learning to read?
It's the perfect storytime corner where the only limit is your imagination (and maybe bedtime 😴).
Are you an adult in need of a mental vacay? Who isn't?
What better way to unplug than to curl up in a nest of nugget-y goodness, with just you and your next great read.
3. Comfy Crawl
Even babies can use nugget couches (with supervision of course!).
How cute is this?
Just set up your nugget couch biggest pieces off of your sectional to make a comfy crawling area for your little one to romp around and climb.
It's perfect for them in case they fall and it's not too high where they might be in danger.
This is also great for movie night with the family.
4. Lounge and Read
Ahh! The classic nugget couch configuration!
Turn this multi-positional couch into the dream reading escape. With a few triangle pieces and some long rectangle pieces, you can create a comfy reading are to rest your entire body on.
And it's so worth it. Many moms swear by the nugget couch or alternative play couch companies and use the extra pieces as Christmas gifts.
Gotta love it!
5. Perfect Obstacle Course
If your toddler wants a race, then why not create a cool obstacle course from your 1 nugget couch?
Set up for your children or have a stuffy race around the high mountains from foam.
Trust me, you will use it DAILY to read, sit, jump on and just have some rompin' fun.
6. A Gentle Baby Climber
One of the best nugget couch building ideas for babies is this one – a simple climber to find their stuffies.
This will encourage them to explore and use balance when learning to crawl or walk.
Start with a nugget base, layer it with a cushion, and gently lean a half-folded cushion against it.
This forms the most adorable mini incline for your future mountaineer. It's so cute, you'll want to take a million photos.
Seriously, prepare for some serious Instagram likes, people!
7. Your Own Movie Screening
Now, you might be asking, "How do I transform my cushy, modular nugget couch into my own personal AMC?"
And no, it doesn't involve bribing your kiddo to play usher—though that does sound hilariously cute.
The setup easy: take your rectangular nugget couch pieces and place them upright to form walls around your space.
It's like building a little fort but make it cinematic.
Inside this cozy enclosure, lay down some more nugget cushions, throw in a blanket, grab some pillows, and bam!
You've got yourself a first-class movie seat, complete with surround sound (just add your Bluetooth speaker!).
8. Play Adult
With your nugget couch set, why not just set up as if you are playing adult?
And for the adults? Well, set this up too and pretend to be kids being adults!
So meta but I LOVE it.
9. Perfect for Toddlers
Now for the best nugget couch ideas for toddlers: you can't beat a carnivalesque basketball station!
I mean, on those rainy days, you have to entertain your little one, right?
Well do it nugget style!
The little ones can practice their lay-ups and slam-dunks without the fear of smashing a vase—or an elbow.
The nugget cushions are there to break any accidental falls, so it's all fun and games!
10. All the 1 Nugget Builds
Check out all of these nugget couch ideas for one nugget. There are soo many!
2 Nugget Couch Ideas
Now, let's get ready for some fun nugget couch ideas. These are ideas for 2 nugget couches.
With two of 'em you can make bigger and better configurations!
Let's check them out.
11. 2 Play Couch Climbing Centers
Check this one out!
Create a fun playroom by using 2 nugget couches as a play center.
Build on top of each other and let your children explore and play safely!
12. A Playhouse
Isn't this just the cutest thing you've seen?
LOVE LOVE LOVE IT!
The beauty of this is, you can make it as elaborate or as simple as you like.
Want to add a "kitchen" where the stuffed animals can pretend to cook? Go ahead! Or maybe a "living room" for plushy parties? Why not!
13. Make a Restaurant
Okay –
This is becoming really elaborate but how cool is this?
You may need three nugget couches but you can make most of this with just two.
It's time to buckle your aprons and transform your living room into the best eatery this side of the toy box!
Whether it's a tea party with stuffed animal patrons or a "fancy dinner" featuring plastic sushi and make-believe macarons, the fun is as endless as a kid's imagination.
14. Ultimate Ball Pit
Line up your stairs with the rectangular nugget couch pieces to make them a cushy slide! How fun is that?
Make sure they're secure, because we don't want any wipeouts—unless they're the funny, everyone's-okay kind, of course!
Now let's head to the bottom of the stairs.
Use your remaining rectangular and triangular pieces to build walls, essentially creating a landing pit.
Secure a "roof" with another couch piece to keep those flying balls contained.
Now the fun part – get to sliding!
15. Teeter Totter
Oh, don't you just love this one too?
Perfect for toddlers and adults even!
Make a teeter totter configuration from 2 nugget couches!
It's fantastic for your playroom or sensory room.
16. The Best Seat
To be the princess or prince of the living room!
With these nugget couch ideas for 2, you can create the grandest seating or laying area for your toddler or kid.
Be careful though –
With this nugget couch configuration, you may not be able to view the TV or movie!
17. Pirate Ship
Ahoy matey!
Here's a fun nugget idea – make a pirate ship.
The nugget pirate ship is perfect for treasure hunts and make-believe sea battles, but let's not forget the adult pirates in the room.
Hey, a ship needs its captain, and what captain doesn't enjoy a nice 'grog' (read: wine) while sailing through the unexplored territories of the house?
18. Two Seating Area
This is perfect for my twins! One can sit in one area and the other in the other area.
There's a separate section for them to enjoy their own space to watch a show or movie for family movie night.
19. All the 2 Nugget Builds
Here are all the two nugget couch ideas! Aren't there a lot?
Nugget Couch Fort Ideas
Here are some pretty wicked nugget couch fort ideas for the enthusiastic toddler or kid.
Have fun crafting up these nugget configurations!
20. King Fort
The kiddos can be princes and princesses, dukes and duchesses, or even dragons if that's the flavor of the day.
As for the adults? Let's be honest, we've all wanted to wear a crown and decree that bedtime is cancelled, taxes are forbidden, and ice cream is now a food group.
Periodt.
21. Solid Fort
For a nugget fort build made for babies and toddlers check this one out!
It's simple to make with just a few nugget couch pieces and even if it falls on them, they won't get hurt!
They can just re-build it or create a new looking fort!
22. High-Rise Fort
No hammer and nails required—just your adventurous spirit and perhaps a secret password!
Yes, it's the high-rise fort.
Grab your favorite snacks, some comfy pillows, and perhaps a stuffed animal sentry to guard the door, and voila!
Your nugget fortress is open for business.
23. Fort Hideaway
Let's all be secret now!
Give your toddler a special hideaway fort where they can have a stuffy tea party or just take a quick nap if they want!
It's quiet and dark and if they feel tired, then it's perfect to rest your head too!
24. Ultimate Bunker
Make sure to stock your bunker with all the necessities: snacks, comic books, a walkie-talkie for communicating with the outside world, and of course, a teddy bear for emotional support.
And parents, don't think bunkers are just for the kiddos.
After the tots go to bed, this could be your personal oasis for a glass of wine and some much-needed 'me time.'
25. Snake Fort
This is a two nugget configuration but this looks like an amazing fort idea too!
To make it even more magical, string some lights along the inside of your snake fort.
Imagine reading your favorite book or enjoying a snack inside a glowing, friendly snake!
26. Blankets Please
The best ideas for nugget couch are usually the simplest ones.
All you need to do is drape some blankets over the top of your cushion walls to create the perfect cozy canopy.
Safety tip: tuck the blanket edges under the cushions or use some cute clothespins to keep it in place. We wouldn't want our roof flying off during a fake storm, would we?
Nugget Couch Build Ideas
For the craziest builds you'll see, check out these nugget play couch ideas!
27. Nugget + Build
Get a load of these nugget couch climbing ideas!
With a foldable climbing ladder and your nugget couch, you can create an amazing playroom building area!
I love how there are different sensory items, heights and ways to climb on this contraption!
28. The Chair of All Chair Builds
Turn your nugget couch into the ultimate gaming chair—a chair so epic, it'll be your co-pilot in every pixelated adventure and your cuddle buddy during every cutscene.
Oh yeah!
And don't forget to make a spot for your snacks and a charging port for your controller.
A king or queen needs their sustenance and their sword fully charged, after all!
29. Biggest Triangle
Let's get some nugget couch ideas for climbing! And this is perfect!
For added awesomeness, place some "rewards" at various climbing heights—maybe a couple of soft toys or even some small snacks (pre-packaged for safety, of course).
It's a climb and a treasure hunt rolled into one!
30. City Condo
How fun is this get up?
I don't think the stairs come with this nugget couch set, but the whole thing reminds me of a city condo!
All you need is your city Chihuahua, a fab purse and you're ready to hit the town!
31. Bowling Anyone?
Who says you can't recreate a bowling alley in the coziness of your own home?
All you need to do is clear a space and lay down the base cushions end-to-end, because every good bowler knows the lane conditions are key.
Not that I'm saying you need to be a pro, but a smooth surface never hurt anyone, right?
For your pins, get some simple ones like these to use any time for this set up.
Now, what's bowling without those oh-so-important lane barriers?
Take your remaining rectangular cushions and place them along the sides of your "lane" to keep your game on the straight and narrow.
No gutter balls in this alley!
Just aim, roll, and let the good times knock down those pins.
32. Nugget Couch Slide Ideas
Let's check out these custom slides with your nugget couch!
Ready, set, go!
Make room for the tunnel!
Epic nugget slide!
Nugget Couch Ideas for Adults
Okay – it's time for the adults to play!
Let's get some nugget couch ideas for the big kids.
33. Work Station
Whether you're grinding away on that report, hopping in and out of virtual meetings, or simply brainstorming your next big idea, your nugget couch has got your back. Literally!
Love this configuration set up!
34. Family Reading Nook
Cozy up to a book and your kid in your nugget reading nook!
Create a chaise lounge in the family room and get reading!
35. For the Family Pet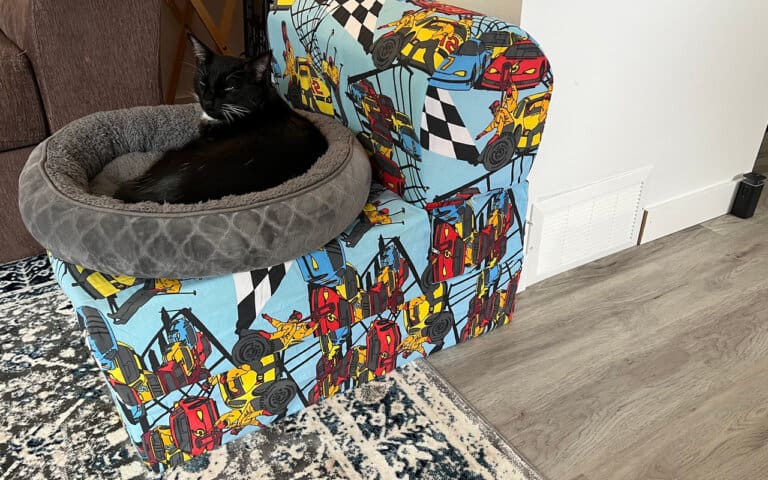 Yes, I had to include our little precious adult cat!
He loves when the nugget chair is in this position so we can put his cat bed on it and he can snooze away!
Time to Get Your Nugget Builds On!
So, I hope you enjoyed these nugget builds! It was fun looking at all the configurations and what you can make with something as simple and fun as a nugget couch or chair!
For more home decor and organizing (and cleaning) ideas, make sure to follow me on Pinterest!